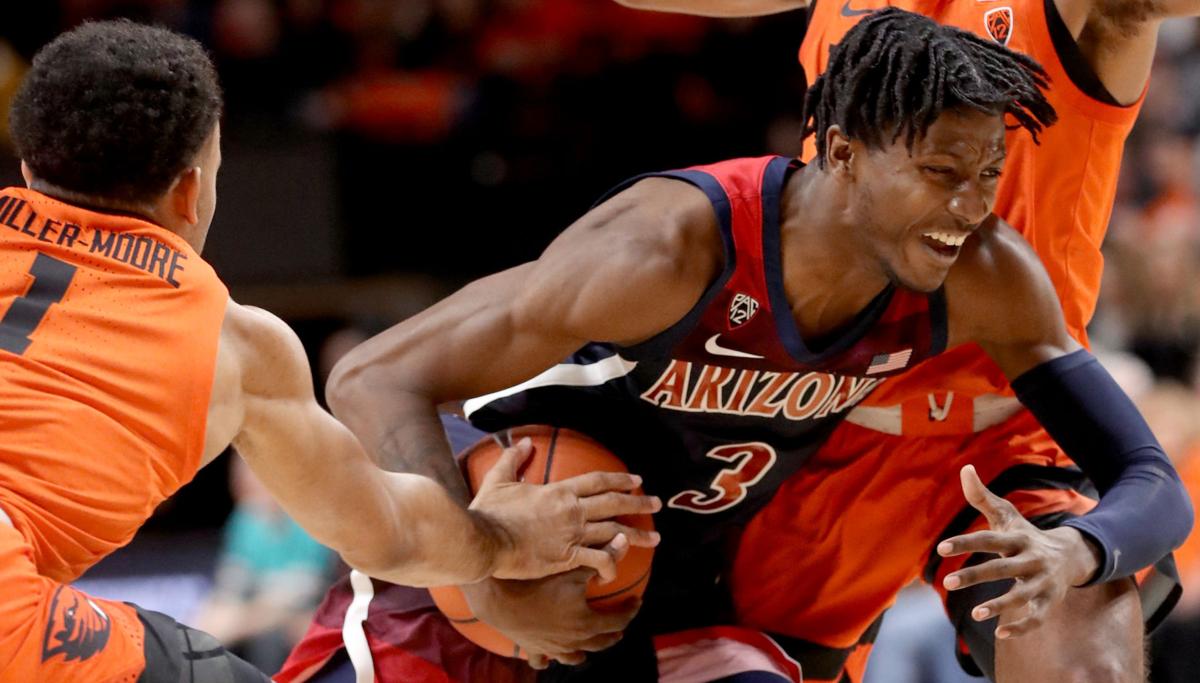 CORVALLIS, Ore. — Seen and heard from No. 24 Arizona's 82-65 loss to the Oregon State Beavers. 
---
Pushing buttons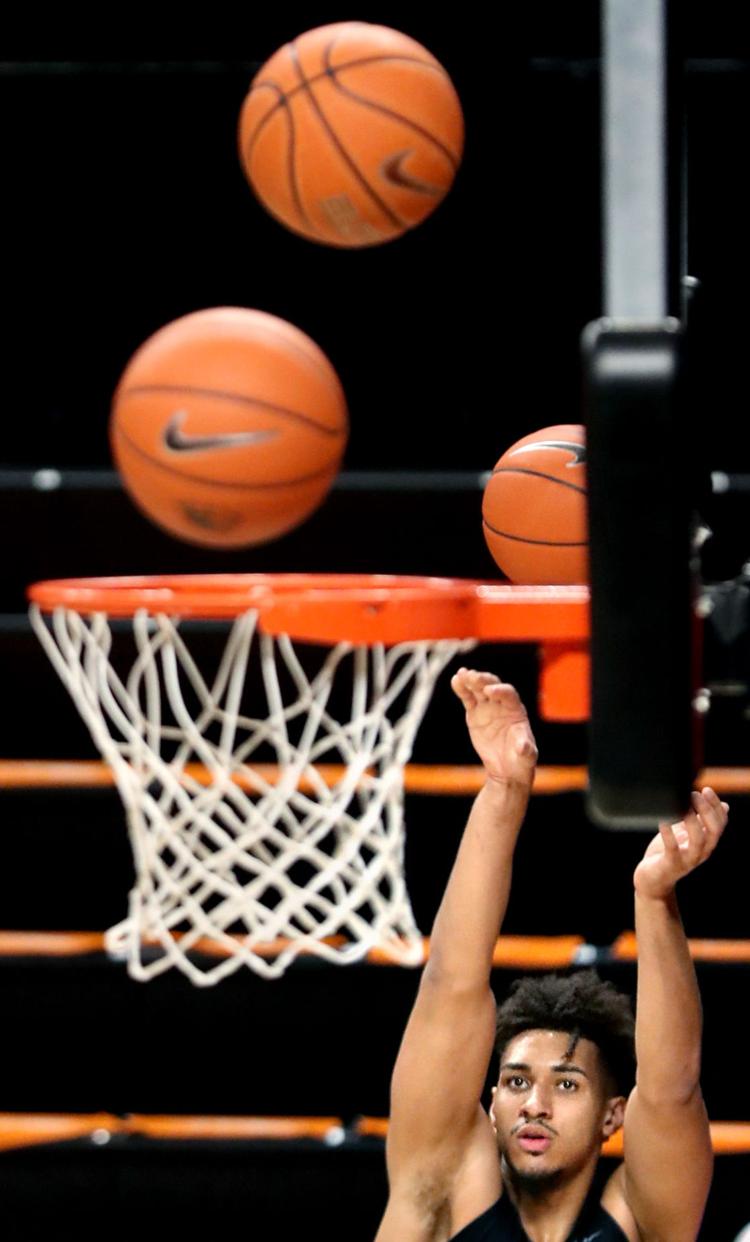 While Arizona coach Sean Miller said didn't change his starting lineup Sunday as he indicated before the game, he's been shaking things up anyway.
In his latest such move, Miller didn't play reserve forward Ira Lee for the first 16 minutes of Sunday's game, playing him after fellow reserves Stone Gettings and Christian Koloko made appearances.
On Dec. 21 against St. John's, Miller did not play Lee or Dylan Smith for the entire second half and, on Thursday at Oregon, he didn't play starting center Chase Jeter for the final 18 minutes.
Bigger changes could be ahead if certain Wildcats don't respond.
"At this point, no," Miller said of changing his lineup. "That doesn't mean that that may not be in our best interest moving forward but right now I think we have a pretty solid rotation."
Immediately, then, Miller threw out Gettings' name.
"I really like how Stone Gettings is playing for us," Miller continued. "He's the one outlier because he missed so much time and having him with us is, especially as his role increases, that gives us a different look, gives us more firepower. And, I mentioned it before we played Arizona State, I think we're a better team with – I know we're a better team -- with Stone and he's done a good job. I thought he gave us some really good minutes against Oregon."
---
Band optional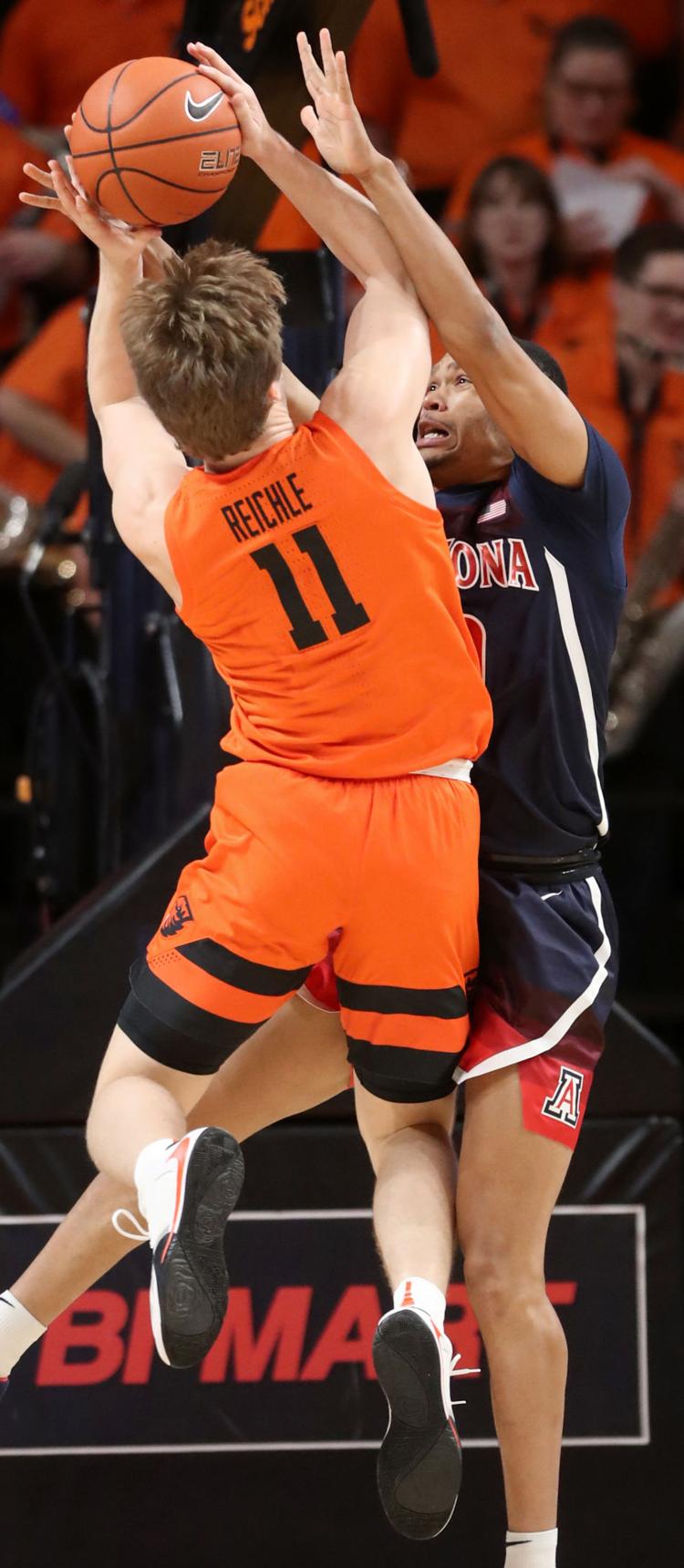 When Oregon State joined the many college sports arenas who are more and more often turning to NBA-style piped in music on top of their bands, the Beavers even installed a DJ stand in a corner of the lower bowl seats.
So during intros, Gill Coliseum featured blaringly loud hip-hop that transitioned directly into traditional band music and the, as the players walked off the court, a band-played national anthem. The dj music then greeted the player intros, synchronized with the overhead video board.
---
Tough draw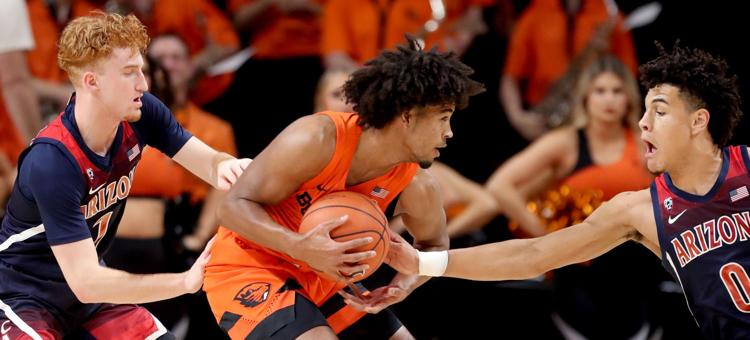 Oregon State's loss to ASU on Thursday likely wasn't the only thing keeping fans away from Gill Coliseum on Sunday, when only about 4,000 people were on hand at tipoff.
A bigger part of the problem is that OSU draws up to half its fans from the Portland area on weekend games, according to OSU publicists Shawn Schoeffler, and those fans aren't as inclined to make the 70-plus-mile commute back late at night before a work day.
"It's not about the opponent for us," Schoeffler said. "It's day and time."
---
Yeah, he's big
OSU fans roaming the Gill Coliseum concourse had a chance to measure themselves with a lifesize photo canvas of Beaver center Kylor Kelley.
"How do you measure up?" the canvas read.
It's safe to say nobody in the building came close. Kelley is 7-foot-1 and, although OSU did not have an official wingspan measurement, his arms stretched at least several inches beyond was at least several inches beyond the 7-foot mark.
No wonder Kelley entered Sunday's game leading the nation in blocked shots with an average of 4.27 per game.
---
On the walls inside Gill Coliseum not only are photo montages of Gary Payton and Gary Payton II, both former OSU standouts, but also a family photograph of the Thompson family.
Stephen Thompson Sr. is an assistant OSU coach, while Stephen Jr. was a standout for the Beavers through last season and now little brother Ethan is the team's second-leading scorer. The brothers' mother and Stephen Sr.'s wife, Amy, joined them for the photo.
"A family sticks together, works together, serves one another, encourages one another in defeat, and celebrates together," the poster read. "OSU is FAMILY."
The Tinkle family also has a strong case for making the Gill walls, considering Wayne Tinkle coaches the team and his son, Tres, is the Beavers' star – except that Wayne's wife played for Montana, and her daughters Joslyn (Stanford) and Elle (Gonzaga) also played elsewhere.
---
1,000 – Career OSU points for Ethan Thompson, who reached the milestone in the second half Sunday.
---
"We've played them tough in Corvallis and Tucson. It's always a battle and we bring out the best in each other." – OSU's Tres Tinkle, on facing Arizona
Contact sports reporter Bruce Pascoe at 573-4146 or bpascoe@tucson.com. On Twitter @brucepascoe