SAN FRANCISCO — Sean Miller took the podium at the Pac-12's annual preseason media day Thursday, and you can probably guess how it began.
"What reaction do you have to the testimony in New York?"
"Do you stand by your statement that you didn't commit any NCAA violations?"
"Is your program in compliance?"
In all, the first eight questions the Arizona coach fielded regarded issues and allegations that have surfaced as a result of the federal investigation into college basketball. Miller answered all of them, in one form or another, by ultimately referring back to his March 1 statement, in which he said he had "never knowingly violated NCAA rules at Arizona."
Miller also declined to comment on the possibility former UA star Deandre Ayton could be declared retroactively ineligible. An Adidas consultant testified Thursday that he paid Ayton's mother $15,000 through a family friend. If the NCAA finds the testimony to be true, the UA could be forced to vacate wins or postseason revenue — even though the program had nothing to do with the reported payment.
"I'm aware a trial is going on, but if you'd like to ask me about our team this year, our program on the court, I'd be happy to answer those questions," Miller said in response to a question about Ayton's status. "Any of the other types of questions, I would ask you to go to the statement that I made in March."
The questions, and Miller's responses, were of zero surprise.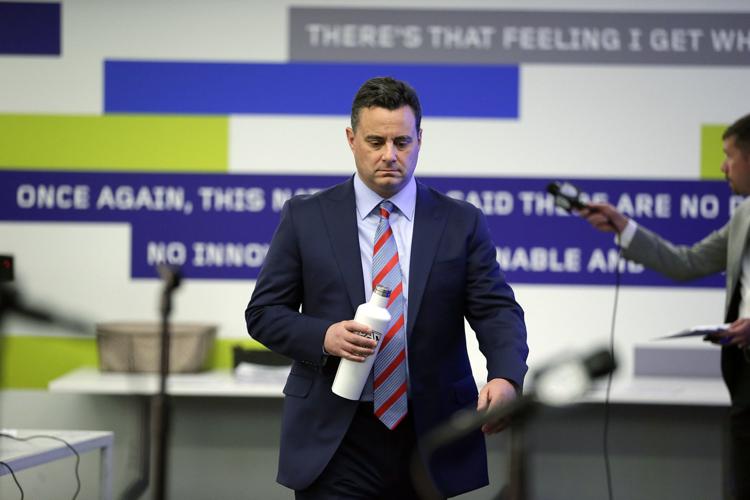 What was a surprise: That Arizona was picked to finish fourth in the league's official media poll. And not because that was such a low prediction for the league's defending champions, a program that has won or tied for the league title four times in Miller's nine-season UA tenure.
It was because, to Miller, the Wildcats should have been picked even lower.
"I was surprised we were picked that high," he said. "I don't look at us as being the fourth best team in the Pac-12. I don't mean that in a negative light at all toward our group, but we've lost eight players from a year ago. There's a lot of teams that have very good players and more experience returning."
Oregon was picked to win the league, gaining 16 of 25 first-place votes among media members who regularly cover the league, while UCLA was picked second and received six first-place votes. Washington was third and, just two points behind Arizona, USC fell into fifth place.
Of course, it is common for coaches to suggest their teams were picked too high so as to lower expectations. Even second-year Huskies coach Mike Hopkins appeared to be testing that strategy.
"You know, I don't know," Hopkins said, when asked about being picked third. "We obviously have a lot of returners but still trying to build, you know."
But while Hopkins has all his starters returning, Miller has a reason to suggest things could be tough for the Wildcats. Arizona was picked fourth in large part because the Wildcats have nobody back from their starting lineup and were hampered in recruiting.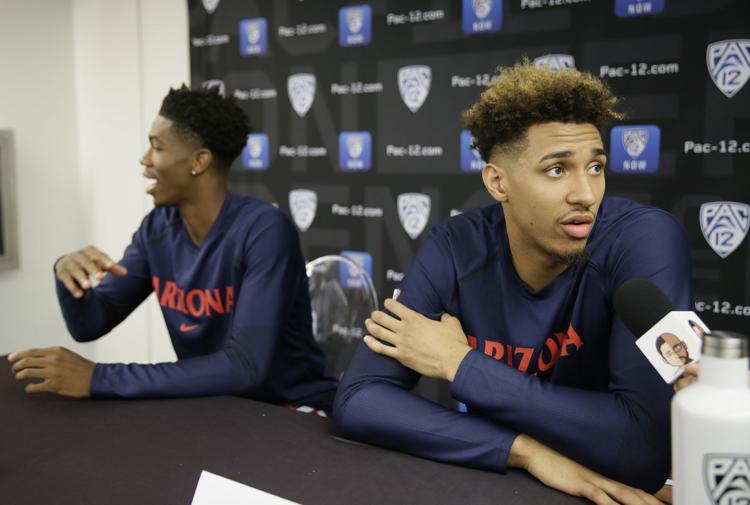 In fact, Miller had to patch together a five-man spring recruiting class just to be able to field a competitive team.
And, as it turned out Thursday, Miller's offseason roster scramble was just about the only thing affected by the federal investigation that he wasn't asked about.
At the time that then-UA assistant coach Book Richardson was arrested on federal bribery and fraud charges as the federal investigation into college basketball was announced on Sept. 26, 2017, the Wildcats were on track to land a top-three recruiting class. They had commitments from five-star guard Jahvon Quinerly and four-star recruits Shareef O'Neal and Brandon Williams, while several other five-star recruits had the Wildcats on their short lists.
But UA quickly dropped off those short lists, while Quinerly decommitted within three weeks and O'Neal decommitted a day after ESPN reported that Miller discussed a pay-for-play scheme. Williams decommitted a week after the report, though he recommitted in May and now heads up the Wildcats' freshman class.
For Miller, that's the good news.
"I think Brandon will be one of the best freshmen that plays in our conference," Miller said. "He's got a 6-6 wingspan, he's 6-2, so he's a bigger guard, can really score, and very dynamic in the open court. I think we'll rely on him a lot, both in his play making and scoring ability, and I look at him as making a big impact."
As he did during Arizona's McKale Center media day last week, Miller said a big storyline with this season's team will be how well the sophomore role players from last season elevate into more featured roles this season.
"If you look at who they were when they were recruited, they were all very good, highly thought-of players, but sometimes the biggest jump you can make in college sports is between your freshman and sophomore year, and we're really banking on that," Miller said. "We need them to be good, and I know each one of the four has really worked hard."
So ultimately, that means guard Brandon Randolph, forward Emmanuel Akot, forward Ira Lee and guard Alex Barcello will determine whether the Wildcats are actually a top-tier Pac-12 team or not.
Even if they don't quite look at it that way.
"We're not worried about it," Randolph said. "We're just playing every game like it's the last and we'll see where it ends up."