NEW YORK — Sean Miller is unlikely to testify in the ongoing federal trial involving college basketball corruption, although the Arizona basketball coach was mentioned at length on a secretly-recorded video shown in court this week.
Judge Edgardo Ramos said Thursday morning that he was unlikely to reverse a previous order that said Miller and LSU coach Will Wade would not have to take the stand in the federal bribery trial against would-be agent Christian Dawkins and Adidas rep Merl Code.
Ramos encouraged defense attorney Steve Haney to put his request in writing, according to a report from Yahoo Sports, but said Thursday that "nothing has changed." Haney asked at the beginning of Thursday's session that Miller be put on the stand.
For the second day, jurors were shown FBI surveillance videos in which Dawkins, Code, co-conspirator Munish Sood and an undercover FBI agent posing as an investor discussed plans about how to pay — and then control — coaches from different college basketball programs.
Federal prosecutors say Dawkins and Code bribed assistant coaches, who then promised to send their players to the men for professional representation. One of the coaches, former UA assistant Book Richardson, pleaded guilty in January to one federal bribery charge. He will be sentenced next month.
The videos shown to jurors Thursday included conversations about the recruitment of two future Duke stars: Zion Williamson, the projected No. 1 pick in this summer's draft; and Marvin Bagley III, a Phoenix product and former Blue Devils standout who was drafted one spot behind Arizona's Deandre Ayton last year.
On one video, recorded in a Las Vegas hotel room in July 2017, Clemson assistant Steve Smith brags about his relationship with Williamson, a South Carolina native. Dawkins and Smith discuss what might be needed to get Williamson to pick Clemson.
"Steve had just had a meeting with Zion Williamson's stepfather," government witness Marty Blazer testified on Thursday, when asked for a summary of the conversation. "Steve was recruiting Zion. Steve was going to try to figure out what Zion's family needed."
Smith says on tape that his proximity to Williamson's family — he grew up in the next town over — would keep Clemson in the conversation.
"It's like me, (North Carolina's) Roy Williams, (Duke's) Mike Krzyzewski" and an unidentified other coach, he says.
Smith jokes on tape that when he took head coach Brad Brownell to visit the Williamson family, he had to pretend he had never been to their home before.
"I finally take my boss over there to do a (bleeping) in-home (visit), so I got (to act) like I've never been there," he says.
Such was the market for Williamson, who was rated the No. 1 recruit in the country. Dawkins says on tape that the race to land the forward is "gonna be crazy."
"Duke is gonna have their resources. UNC is UNC. Kentucky, they have their resources," he says. "So if (it) comes down to (it) … we'll be able to make sure everything's good for the parents and everything like that."
Even though Smith was involved in Williamson's recruitment, Dawkins deemed him too insignificant to pay directly. Blazer, who paid other assistants using money given to him by the FBI, explained Dawkins' logic on the witness stand Thursday.
"They just didn't have any good players at the time," Blazer testified, referring to Clemson. He said the same went for Arizona State, Texas A&M, Alabama and UConn.
Coaches from Arizona and three other schools appeared to make Dawkins' cut.
Jurors on Thursday were shown video of USC's Tony Bland, TCU's Corey Barker and Creighton's Preston Murphy talking to Dawkins about money. Barker receives $6,000 in cash from the undercover FBI agent in one clip, and Murphy picks up $6,000 in cash while wearing a Creighton T-shirt. Blazer testified that Bland received $13,000 from Dawkins in the hotel room, though the Trojans' assistant was out of the video's frame at the time of the exchange.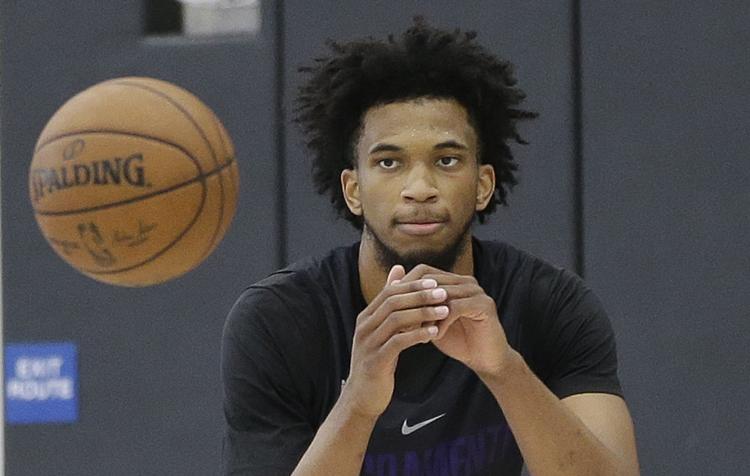 On video, Bland tells the men he will use the money to recruit Bagley, a former Tempe Corona del Sol High School and Phoenix Hillcrest Prep Academy standout who planned to reclassify so he could enroll in college sooner.
"This is the type of dude that (if) you get him, everybody will follow," Bland says.
In Thursday's testimony, Blazer said Bland told them Bagley "wasn't going to go to UCLA, and he wasn't going to go to Duke. Tony was very confident that he had Marvin locked up with USC." Bland told the men that "I need you guys on campus the minute (Bagley) signs, and we'll figure out what he needs when he gets there," Blazer testified.
Blazer said Dawkins worked out a monthly amount to pay Bland. In exchange, Bland promised to use his influence at USC and other schools to help Dawkins.
"Any players that I got connections with, you got them too," Bland says on tape. "I got my hands on three or four programs where I can get them in the door."
Bland, like Richardson, took a plea agreement rather than face trial.
Thursday's revelations came one day after jurors were shown a June 2017 video in which Dawkins bragged about his relationship with both Miller and Richardson. Dawkins boasted on the video that he and Miller had talked and the UA coach told him he was "taking care of everything myself" when it came to Ayton. Dawkins told his co-conspirators and the undercover agent that Miller wanted to "turn everything over" to him.
There was nothing said on the video about any money given to Ayton, and Miller — who has said he's never paid players to attend Arizona and never will — has not been charged with any crime.
Contents of the secretly recorded video weren't enough to sway Ramos, who initially ruled last week that testimony from Miller and Wade would be irrelevant to the charges facing Dawkins and Code.
The trial has so far shown coaches, agents, their runners and other money men discussing the recruitment of high school stars. An October trial focused on Adidas' influence, but Code — an Adidas employee — said on video that it goes beyond one shoe company.
"Nike schools pay, too," Code says on one video that was played for jurors Thursday. "In some form or fashion, Duke, North Carolina, Syracuse, Kentucky, all of the schools are doing something to help get kids. That's just part of the space."