Seen and heard: A familiar face, Rawle Alkins' season debut, Deandre 'granny style' Ayton
Arizona's 88-82 win over Alabama had the vibes of a game in March, albeit both teams were unranked heading into Saturday. The Wildcats and Crimson Tide both are dripping with NBA talent, and it was Rawle Alkins' first game back since breaking his foot in September. Does December basketball get much better?
Here's the best seen and heard from Saturday at McKale Center.
By Justin Spears / Arizona Daily Star
A familiar face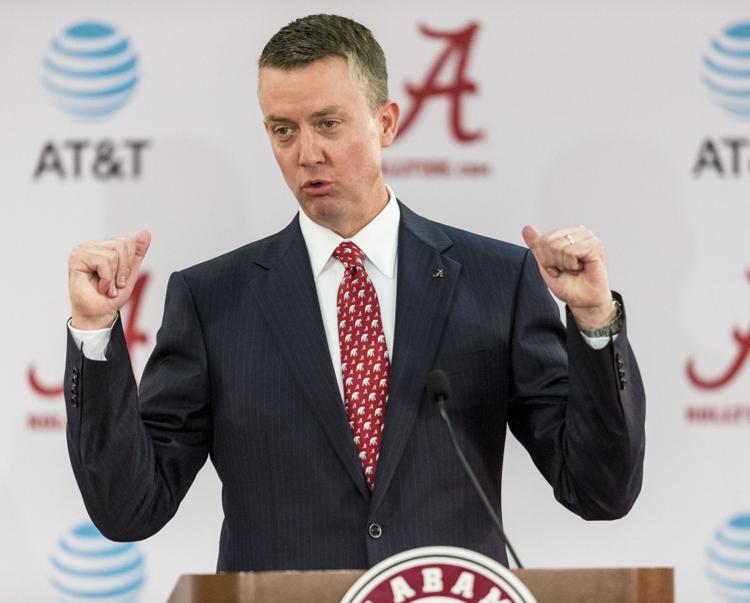 Alabama athletic director Greg Byrne returned to Tucson Saturday to watch the Crimson Tide take on Arizona. Byrne strolled the McKale Center hallways, soaking in his former place of work, and it was as if nothing changed.
Except, maybe, for the bright red pants.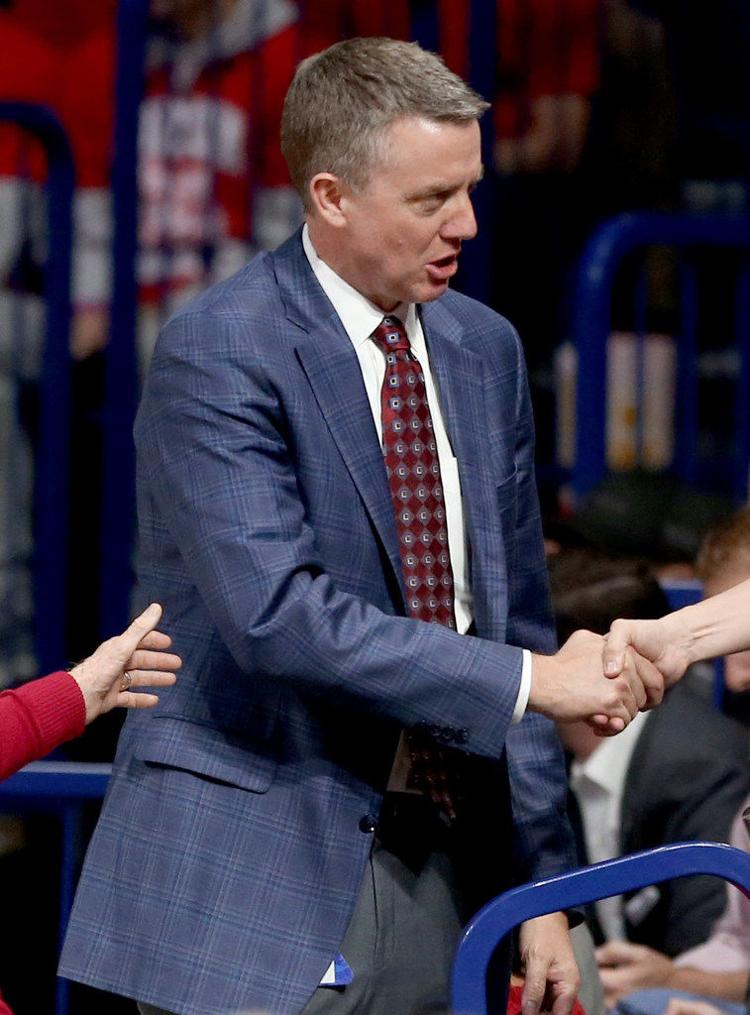 Byrne shook hands and talked with fans, boosters and McKale Center employees.
"Tucson's a great place and we still have a lot of great friends here and wonderful memories," Byrne said.
Alabama is one of the perennial powers in college football — the Crimson Tide are part of the College Football playoff — but Byrne remembers his roots. He said he caught Arizona games after work all season.
"One of the nice things about being in the Central time zone is I get home from the (Alabama) games and watch Arizona kick off. I bet you I watched about nine or 10 of the games, even some of the road trips where we got home in time to watch a little Pac-12 after dark," Byrne said. "A couple nights, it was so hard to stay awake, because the games were so dang late."
Saturday's game between the Cats and the Crimson Tide marked the first time this season that two schools involved in the ongoing federal investigation into college basketball corruption played against each other. Alabama performed an internal investigation of the program and assistant coach Kobie Baker was forced to resign. UA assistant Book Richardson remains on paid leave as he faces federal charges.
Byrne said he's "limited" in what he could say but is taking the investigation seriously.
"Obviously, you're talking about the integrity of the sport and it's something that you take very seriously. … I know here at Arizona and at Alabama as well, we take it very seriously and we have to," he said.
Here's the full interview from The Wildcaster Facebook page:
Deandre 'granny' Ayton
Deandre Ayton has a game day tradition to hit a half-court shot, granny style before the Wildcats head back into the locker room after the first batch of warmups. pic.twitter.com/ULuLO0cM1S

— The Wildcaster (@TheWildcaster) December 10, 2017
UA freshman phenom Deandre Ayton warms up with a strange routine. He brings the ball between his legs and launches halfcourt shots "granny" style.
Ayton connected on his second shot attempt Saturday night. Not bad.
Donald Trump in the hallways at McKale
I will always chuckle at this whenever I walk by it in McKale. Who's house though? pic.twitter.com/LMrRKCnWxK

— Justin Spears (@JustinESports) December 10, 2017
Did you know? President Donald J. Trump's name is written in cement in the lower levels of McKale Center. The patch on the northwest side of the arena reads "D. Trump owns my house!"
Brian Jeffries, the official radio voice of the Wildcats for 31 years, said he never noticed it while roaming the hallways at McKale Center. 
The scrawl has been there since around the mid-1980s, said Tom Duddleston, the UA's former media relations director. Around that time, Trump — then a billionaire businessman and not yet leader of the free world — was a household name. He and then-girlfriend Marla Maples attended a game in McKale Center in 1990, well after his name was written in the cement there.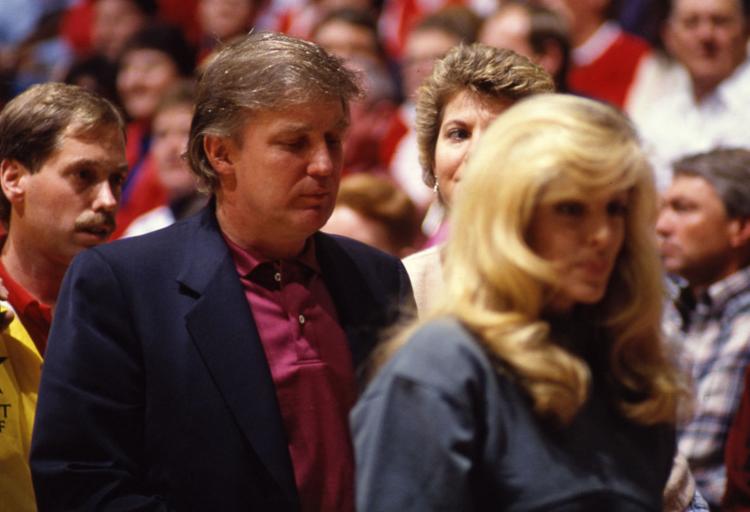 An ovation for Rawle Alkins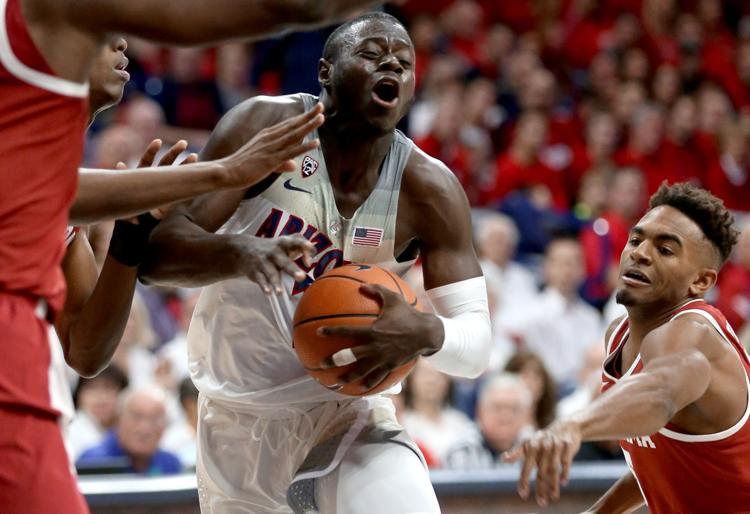 Rawle Alkins made his season debut Saturday night, and Arizona fans couldn't have been more happy. They greeted the UA sophomore with a standing ovation when he checked in three minutes into the game.
Alkins didn't force any shots. Rather, he dished a pass to Parker Jackson-Cartwright for a baseline 3-pointer and hit Dusan Ristic with a pocket pass in the post for a couple of assists in the first half. Alkins finished with seven points, three rebounds and two assists in 22 minutes. Alkins missed the first nine games of the season as he recovered from foot surgery.
Huge ovation for Rawle Alkins checking in for the first time this season. pic.twitter.com/mP4JlsGKuL

— The Wildcaster (@TheWildcaster) December 10, 2017
Brutal signs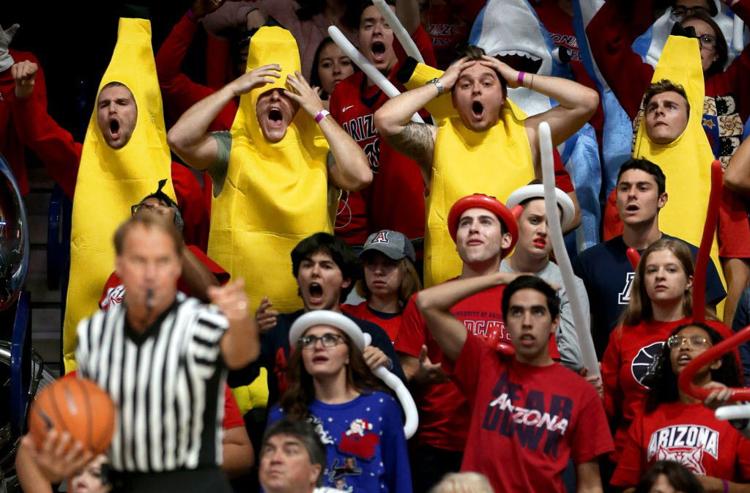 Alabama has a great reputation for its historical football program as well as being in its own world in the country backwoods. So naturally, the Zona Zoo came prepared with a Nick Saban sign that made him look extra hillbilly. 
Views from @ZonaZooOfficial. pic.twitter.com/pXI4xQJKK9

— Justin Spears (@JustinESports) December 10, 2017
What's in a name?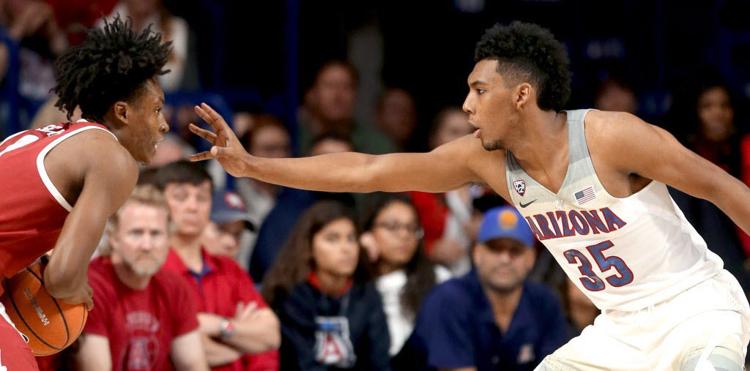 They call Alabama the Crimson Tide, Steely Dan tells us. But why?
Thank a newspaper. Alabama was called the Varsity or Crimson White until in the 1907 Iron Bowl against Auburn. The game was played in brick red mud, and Hugh Roberts, sports editor of the Birmingham Age-Herald, noticed that Bama's jerseys were stained red. The nickname "Crimson Tide" stuck.
The origin story is much the same as Arizona's. The UA went by Varsity until 1914, when a Los Angeles Times reporter wrote that the team fought like wildcats.
Shareef (but no Shaq) watches his future team
2018 Arizona commit Shareef O'Neal finally made his way to McKale Center. O'Neal's high school team Crossroads played in Scottsdale last night. pic.twitter.com/IvkAiF6esB

— The Wildcaster (@TheWildcaster) December 10, 2017
UA signee Shareef O'Neal was in attendance for Saturday's game against Alabama. O'Neal and his family — not including his famous father, Shaquille — watched the game from seats next to Arizona's bench.
The big number
$219.99
Price of the Air Jordan 11 "Win Like '96" shoes that O'Neal gave away Saturday night after defeating Scottsdale Chaparral High School in Phoenix. O'Neal's high school team, Santa Monica Crossroads, won by 13. He gave a little kid his shoes after the game.
These 11s came out today.. I had em and after my game today I wrote a little something on them and gifted them to these kids ✊🏾❤️ shouts to them for being really cool and nice to me pic.twitter.com/kxOr3916yN

— Shareef O'Neal (@SSJreef) December 9, 2017