Seen and heard at McKale Center: A Donnell Harris homecoming, Allonzo Trier's kicks and that Khalil fellow
Dusan Ristic lit up McKale Center with a 3-for-3 performance from beyond the arc. Ristic. 3-for-3. Beyond the arc. You read that right. Plus, a national-title-winning Wildcat was in the house and Kevin Sumlin is still adjusting to his new environment. Here's the best from McKale Center on Saturday.
By Justin Spears / Arizona Daily Star
Ending the drought from downtown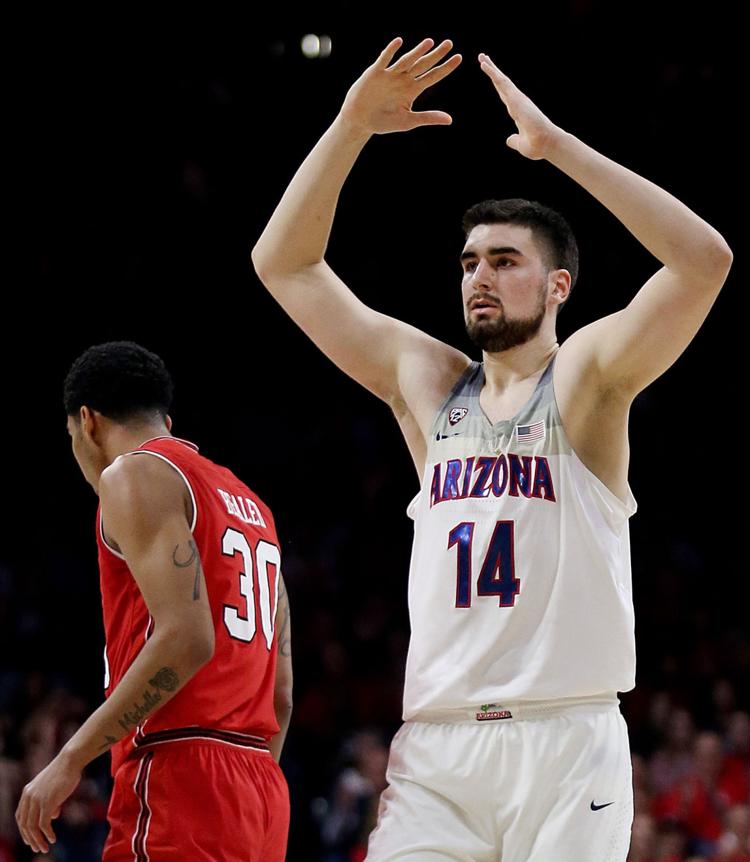 Brandon Randolph was expected to be a spark off the bench for the Wildcats, primarily because of his ability to hit 3-pointers. Randolph was 0-for-January until he knocked one down in the first half.
That wasn't the biggest drought, though. Dusan Ristic hit three 3-pointers against the Utes, his first deep balls since the Wildcats' Jan. 12 win over Arizona State.
Harris in the house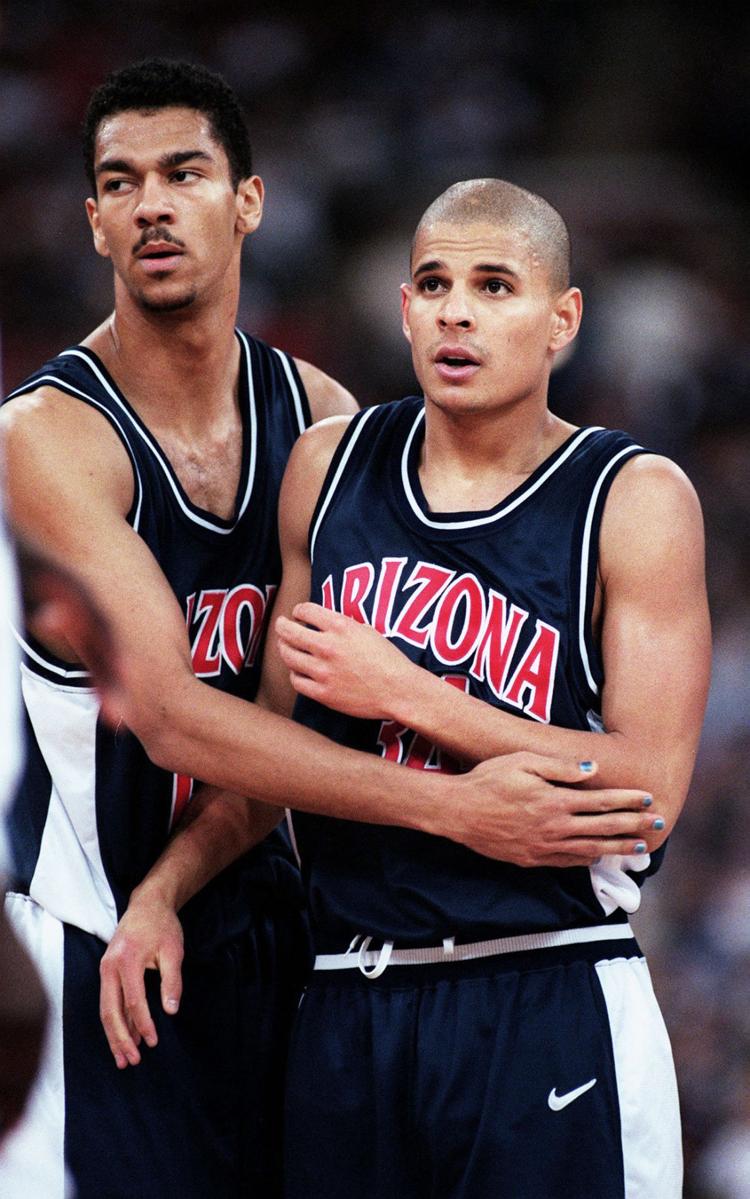 Donnell Harris, a member of Arizona's 1997 National Championship team, took in Saturday's game at McKale Center. Harris played a huge role in the national title game, coming off the bench in place of starter A.J. Bramlett. Harris scored eight points, grabbed seven rebounds and hit four of his eight free throw attempts as the Wildcats held off Kentucky in overtime to win their first — and so far only — national title in men's basketball.
Sick kicks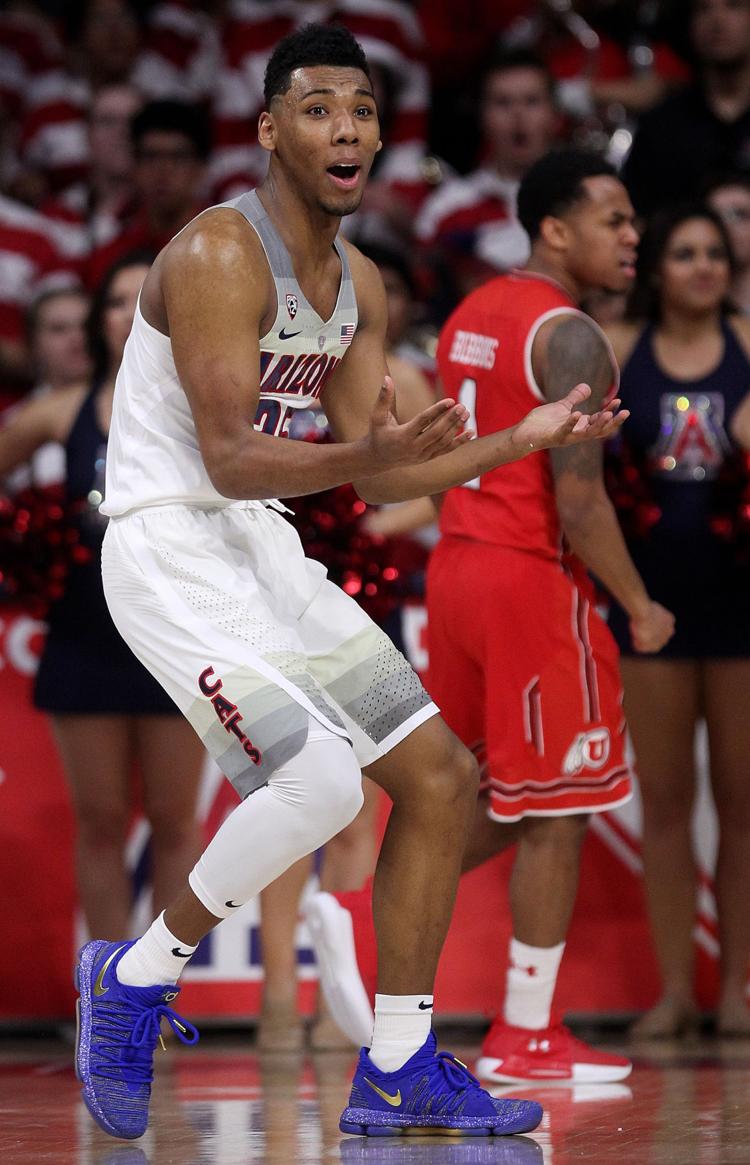 Arizona guard Allonzo Trier is no stranger to wearing top-of-the-line sneakers. While serving a suspension for failing a drug test a year ago, Trier sported a Nike Yeezy 2s. Similar pairs now sell for $5,000 on EBay.
Last season during the NCAA Tournament, Trier claimed that he owned over 200 pairs of sneakers. On Saturday against Utah, Trier busted out the Nike Kevin Durant 10s, the finals edition. The shoes were royal blue with gold accents on the sole and a metallic gold Nike swoosh.
Durant debuted the shoe in Game 1 of last year's NBA Finals.
Gus!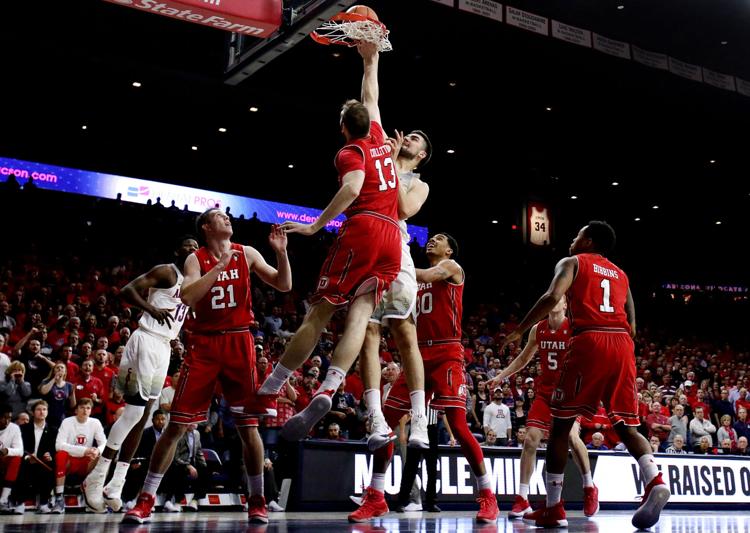 For the second time in as many games, the Wildcats were shown on a Fox channel. Saturday, play-by-play man Gus Johnson called the game on Channel 11 locally. The UA was on Fox Sports 1 on Thursday.
Johnson is known for his smooth delivery, excitability — and style. Johnson sported a slick navy blue striped jacket, shoes and no socks on Saturday.
Longtime Arizona fans may remember Johnson from the 2011 Pac-10 Tournament championship game, when Washington's Isaiah Thomas hit a stepback 3-pointer over Momo Jones to beat the Wildcats.
They said it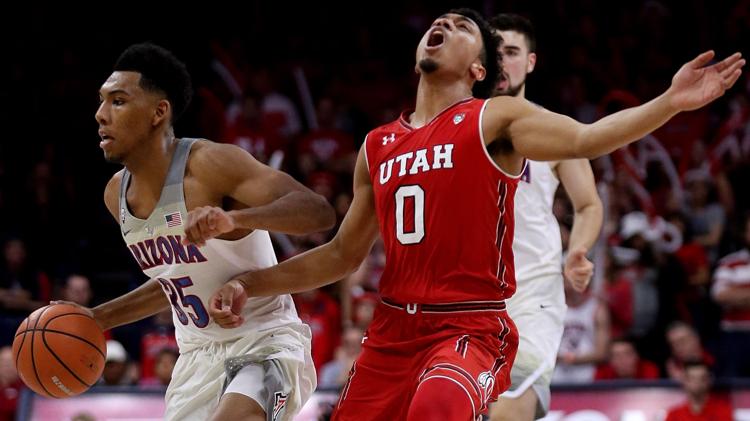 "Refs, you suck!"
— The McKale Center crowd, to Saturday's officials in the second half. The drama started when, with 12 minutes left, Allonzo Trier was called for an offensive foul after Utah's Sedrick Barefield cocked his head back as if he was hit in the face. A slow-motion replay shown on the video board proved that Barefield was acting. Fans were not pleased.
The big number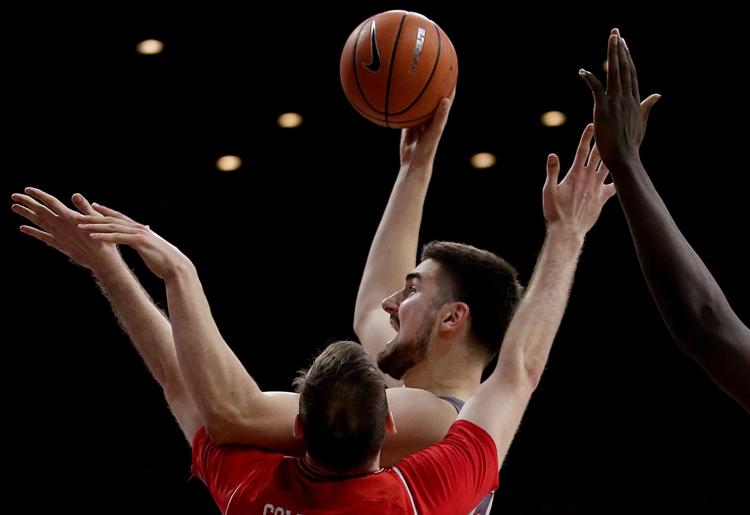 52
Ristic's 23-point performance was not only a career-high, but he also became the 52nd player in program history to reach 1,000 career points.
Khalil somebody
New UA football coach Kevin Sumlin has spent the last two weeks assembling a staff, recruiting and learning his new surroundings. He could be forgiven for confusing his Khalils. Sumlin told a Fox broadcaster Saturday that the Wildcats "got a great leader coming back in quarterback Khalil Mack, and we're playing a lot of young guys so we'll get through spring ball and we'll see."
Khalil Mack is a linebacker for the NFL's Oakland Raiders. Sumlin, coincidentally, was linked to the Raiders' offensive coordinator job before he was named Arizona's head coach on Jan. 14. Khalil Tate, meanwhile, is the Wildcats' Heisman Trophy candidate quarterback.