Seen and heard at Stanford: On Chase Jeter's degree, Bay Area Wildcats and empty seats
The Star's Bruce Pascoe checks in from Maples Pavilion in Palo Alto, California, where the Arizona Wildcats improved to 3-0 in Pac-12 play with a 75-70 win over Stanford.
Quick study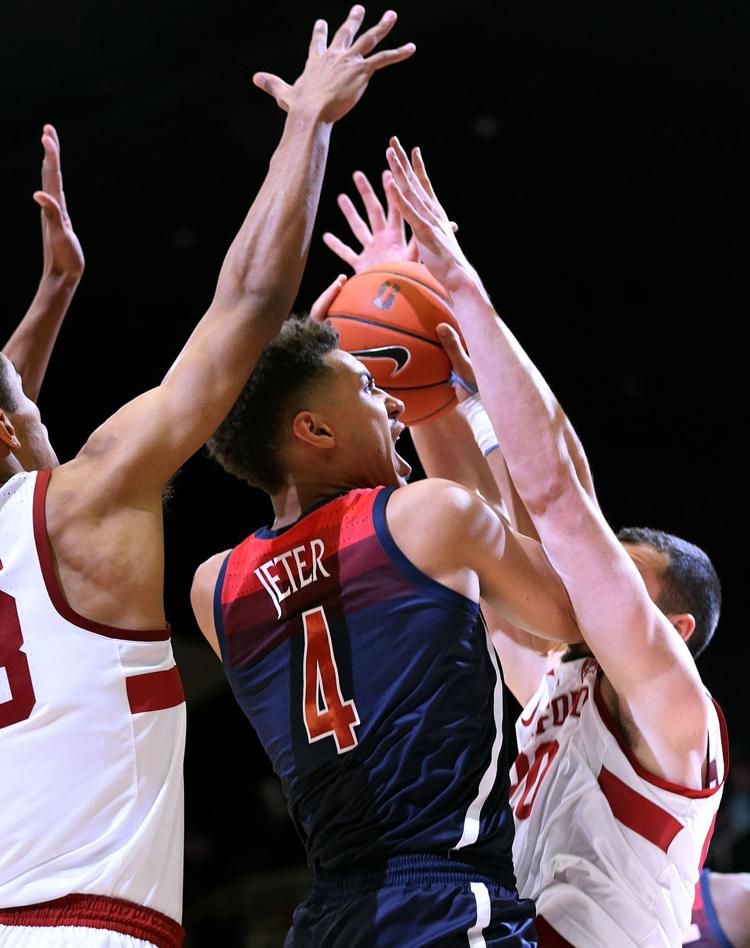 UA center Chase Jeter is now the answer to an Arizona student-athlete trivia question: Which Arizona basketball player picked up his undergraduate degree before playing a full season for the Wildcats?
Jeter was one of 17 UA athletes earning undergraduate degrees in December, but he's only in his first season of competition for the Wildcats after transferring from Duke in 2017.
However, Jeter completed two-plus years of schooling at Duke before leaving, and said last July that all but two of his classes there transferred to Arizona credits.
Jeter spent his junior year as a redshirt at Arizona, and said he also took a lot of classes over the past two summers at UA that moved him closer his general studies degree.
"School comes easy to me," Jeter said.
Jeter will have one remaining year of eligibility to play for the Wildcats and keep pursuing graduate classes if he chooses to.
A quiet evening
A Washington State sized crowd on hand for player intros. (Not as many UA fans as usual either) pic.twitter.com/eqUvY4PSsR

— Bruce Pascoe (@BrucePascoe) January 10, 2019
Even though Stanford's winter quarter started Monday, students were hardly clamoring for good seats.
A half-hour before tipoff Monday, exactly two Stanford students joined the school's band in the courtside student section. By tipoff, the section was still almost two-thirds empty.
Then again, the rest of Maples Pavilion was only about a third filled, too.
And about a third of those who did show up appeared to be rooting for Arizona.
It hasn't always been that way inside Stanford's arena. As he watched the Wildcats warm up Wednesday, UA athletic trainer Justin Kokoskie recalled how Tiger Woods leaped out of his courtside seat to celebrate Nick Robinson's 35-footer at the buzzer to beat Arizona in 2003-04, while the rest of the arena rocked.
"I still talk to Andre (Igoudala) about that," Kokoskie said of the then-UA forward now with the Warriors. "That was incredible. I remember the energy."
But, freebies
Free jersey style rally towels pic.twitter.com/jFME0TBqX3

— Bruce Pascoe (@BrucePascoe) January 10, 2019
For what Maples lacked in basketball atmosphere, maybe it partially offset in free stuff. Fans who showed up Wednesday could collect free jersey-shaped Stanford rally towels, buttons, magnets, keychain schedule cards and all types of posters.
For the more actively inclined, there were also free pop-a-shot stations and lifesize posters of 7-footer Josh Sharma and 6-9 forward KZ Okpala in case anyone wanted to see how their height and wingspan measured up.
Bay Cats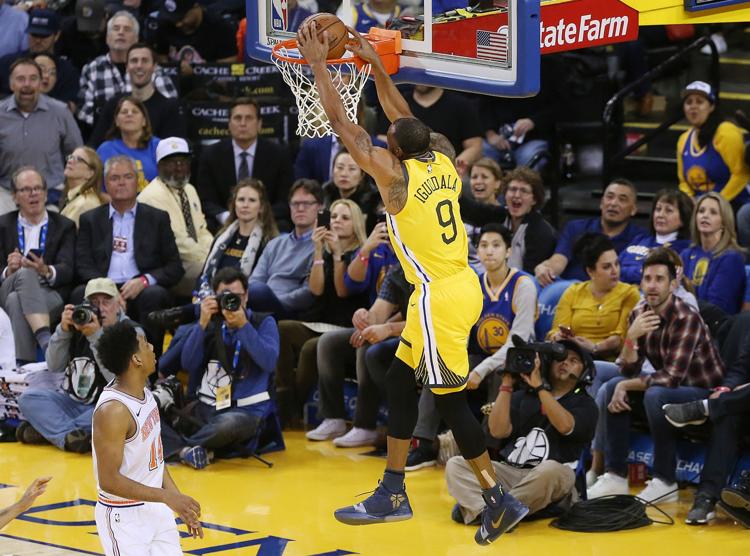 The Wildcats always have fellow alumni waiting for them in the Bay area, and not just the hundreds of red-clad fans who show up every time they play Stanford and Cal.
The Golden State Warriors still have three prominent UA alumni — head coach Steve Kerr, assistant coach Bruce Fraser and Iguodala — while the Warriors also have been hosting even more former UA players this week.
On Tuesday, the New York Knicks showed up with guard Allonzo Trier and assistant coach Jud Buechler, losing 122-95 to the Warriors. On Friday, Lauri Markkanen and the Bulls will face the Warriors. A third former UA player, Rawle Alkins, is on a two-way contract with the Bulls but is with their G League team and was not scheduled to make the trip.
Trier left Oakland before he could catch up with the Wildcats, who were staying in Palo Alto on Tuesday, but said he did meet them at their team hotel in Hartford, Conn., the night before before Arizona beat UConn on Dec. 2, though he wasn't able to stay for the game because the Knicks were also playing
"Went to see all the guys and the coaching staff," Trier said. "I've kept in touch."
Good times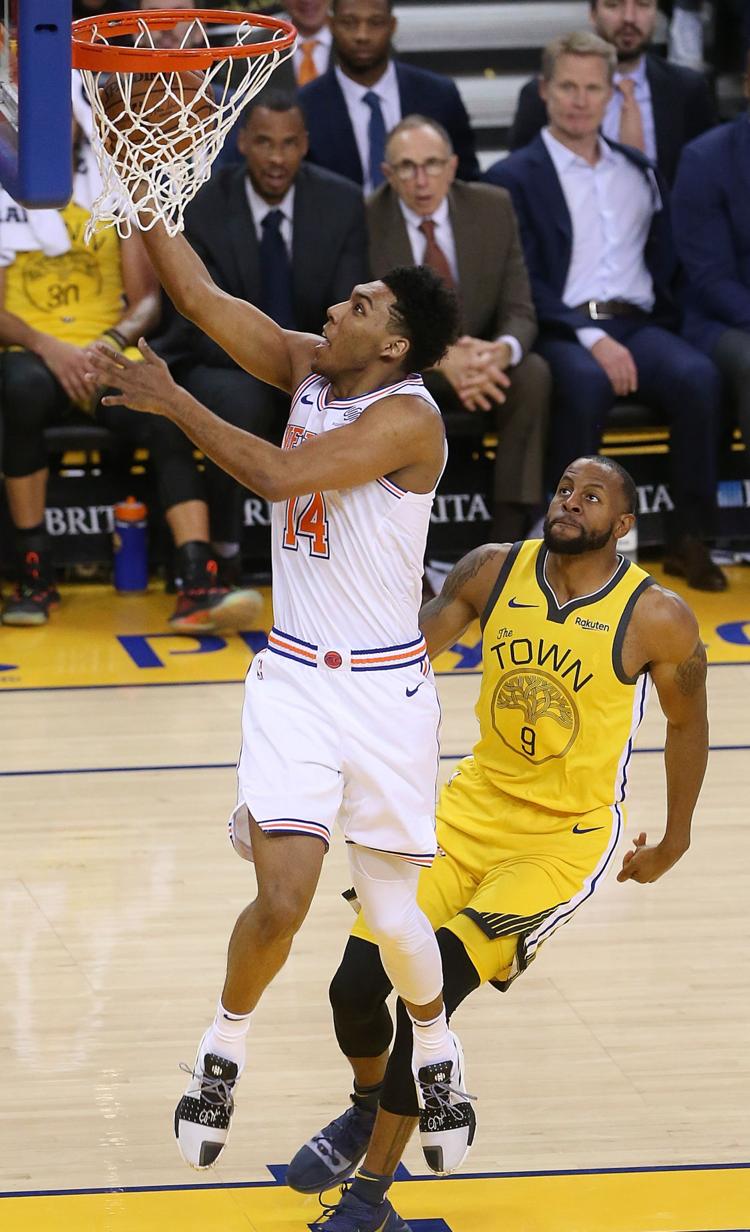 Buechler raced out of the Knicks' locker room shortly after Tuesday's game and headed toward the Warriors' locker rooms, presumably to see Kerr and Fraser.
It wasn't a surprise to see him return about 15 minutes later carrying a wrapped-up bottle of wine.
However, before the Star could ask about the apparent gift and about Trier, a Knicks spokesman said the team wants head coach David Fizdale be the team's only coach who speaks to media.
Trier said he already has a strong relationship with Buechler, even though the two played for very different eras at UA.
"He's a very big pride guy about Arizona, so we stick together about that," Trier said. "He just just takes pride in me being an Arizona guy. A great guy to be around. Great coach, great person, he's really enjoyable every single day."
The big number
18
Free throws Stanford took in the first half Wednesday, only 10 fewer than the Wildcats had given up in an entire game all season (Alabama hit 16 of 28 in its Dec. 9 win over Arizona).
Quotable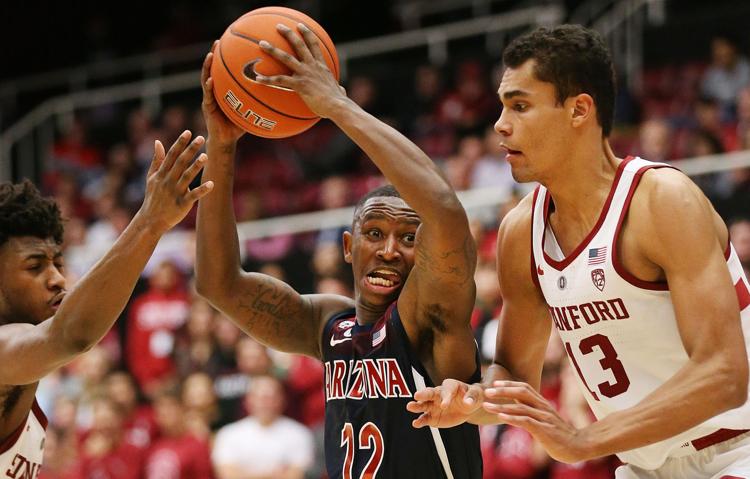 "Thank You For Coming" — Large banner outside of Maples Pavilion, which had thousands of good seats available.