Seen and heard at Talking Stick Arena: Wildcats, Aggies intrigue NBA general managers; the best Bill Walton-isms of the night
The Arizona Wildcats picked up their first big victory of the season in Phoenix on Tuesday night, knocking off No. 7 Texas A&M in a game that came down to the final buzzer. Off the court, though, were several NBA general managers, the Antelopes, a familiar face and of course, Bill Walton.
By Bruce Pascoe and Zack Rosenblatt / Arizona Daily Star
NBA intrigued with matchup
With Arizona playing at the Phoenix Suns' Talking Stick Resort Arena on Tuesday night, the room fittingly was filled with a lot of NBA people. Some front office executives and general managers were in town to scout the Wildcats' game against Texas A&M.
It makes sense — the marquee matchup was between Arizona center Deandre Ayton and Texas A&M big man Robert Williams, who are both projected top-10 draft picks after this season. Others who have been mentioned in future draft projections include Arizona's Allonzo Trier, Emmanuel Akot, Brandon Randolph and the injured Rawle Alkins, as well as Texas A&M forward D.J. Hogg.
Among those NBA people present: Boston Celtics general manager Danny Ainge, Cleveland Cavaliers GM Koby Altman, Utah Jazz GM Dennis Lindsey and Los Angeles Clippers executive Lawrence Frank.
Of that group, a few are very familiar with the sort of NBA talent Arizona produces. Ainge drafted UA guard Kadeem Allen last year, Altman traded for Channing Frye and Richard Jefferson and signed Derrick Williams in recent years, and Lindsey drafted Grant Jerrett in 2013. Frank coached Mike Bibby and Jefferson in his tenures with the Memphis Grizzlies and New Jersey Nets.
The big number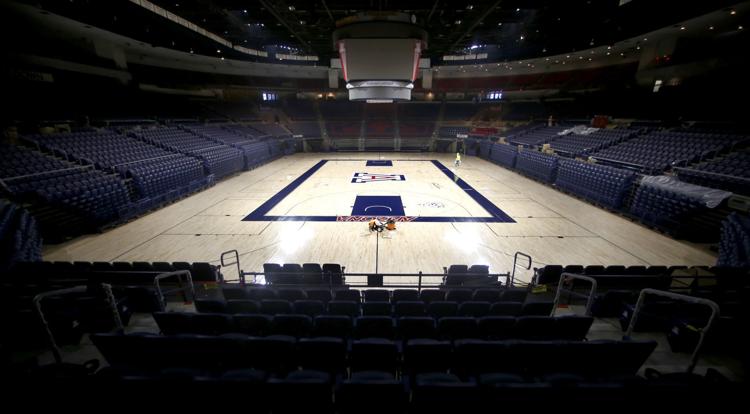 5 to 1
The Tucson City Council's vote in favor of granting McKale Center a liquor license, clearing one of the final hurdles that would allow Arizona to sell beer and wine at UA home games. That's not a problem at Talking Stick — fans were permitted to purchase alcohol on Tuesday night.
Home, sorta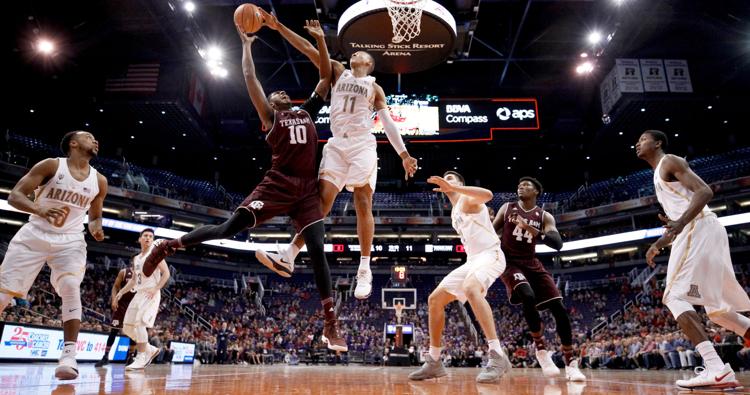 Tuesday's game was the ending of a rare, two-year semi-home-and-home series between Arizona and Texas A&M. The two teams met last season in Houston, 97 miles from the Texas A&M campus in College Station, and returned the game Tuesday in Phoenix, 110 miles from the UA campus.
Arizona coach Sean Miller had never previously taken the Wildcats to a game in Phoenix — only to Tempe for games against ASU, because he prefers to play home games in McKale Center (UA's season-ticket package also requires at least 18 McKale appearances every season).
As a result, UA's last appearance in Phoenix was in 2008-09, when the Russ Pennell-coached Wildcats upset Gonzaga.
UA basketball operations director Ryan Reynolds said Texas A&M wanted to play in Houston, so a deal was set to play both games in "semi-neutral" locations.
Walton-isms
"I'm going to go impale myself on that saguaro." — you know who

— Ryan Finley (@ryan_finley) December 6, 2017
In the last 5 minutes of Arizona-Texas A&M, Bill Walton has: -Compared himself to solar energy-Gushed about a Fleetwood Mac concert-Showed off a picture of Dave Pasch's grandchildren that Dave didn't know he hadHe is a national treasure and I hope he lives forever

— devin kharpertian (@uuords) December 6, 2017
"I love bridges" - Bill Walton 😂😂

— austin rice (@acrice) December 6, 2017
The tag team of Bill Walton and Dave Pasch was on the call for Tuesday's game, and as always, Walton went full Walton.
Some of the highlights included raves about Ayton.
"You just look at him and say 'oh, my God, I believe in evolution,'" he said. "He's the best player at this level since Shaquille O'Neal."
"You just look at him and say 'oh my god, I believe in evolution'... he's the best player at this level since Shaquille O'Neal." -- Bill Walton on Deandre Ayton

— The Wildcaster (@TheWildcaster) December 6, 2017
Walton also referred to Arizona as "The Big Red Machine, the economic engine of the Conference of Champions."
Familiar face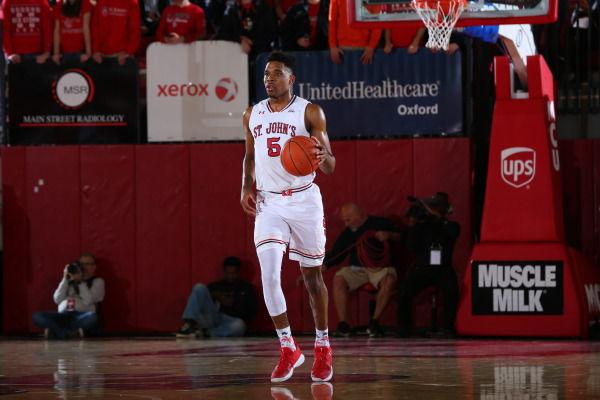 Arizona-Texas A&M wasn't the only game taking place at Talking Stick on Tuesday night.
Following the conclusion of that matchup, St. John's and Grand Canyon faced off for a late-night game.
A former Wildcat started for the Red Storm — guard Justin Simon, who played at Arizona in 2015-16 before transferring to the New York school. Due to NCAA rules, Simon sat out the 2016-17 season, but is thriving now for St. John's as one of the team's best defensive players. He's averaging 9.8 points, 8.0 rebounds, 4.1 assists, 2.9 steals and 1.1 blocks in 33.6 minutes per game.
Simon averaged 7.5 minutes per game at Arizona two seasons ago.
Memories bruin'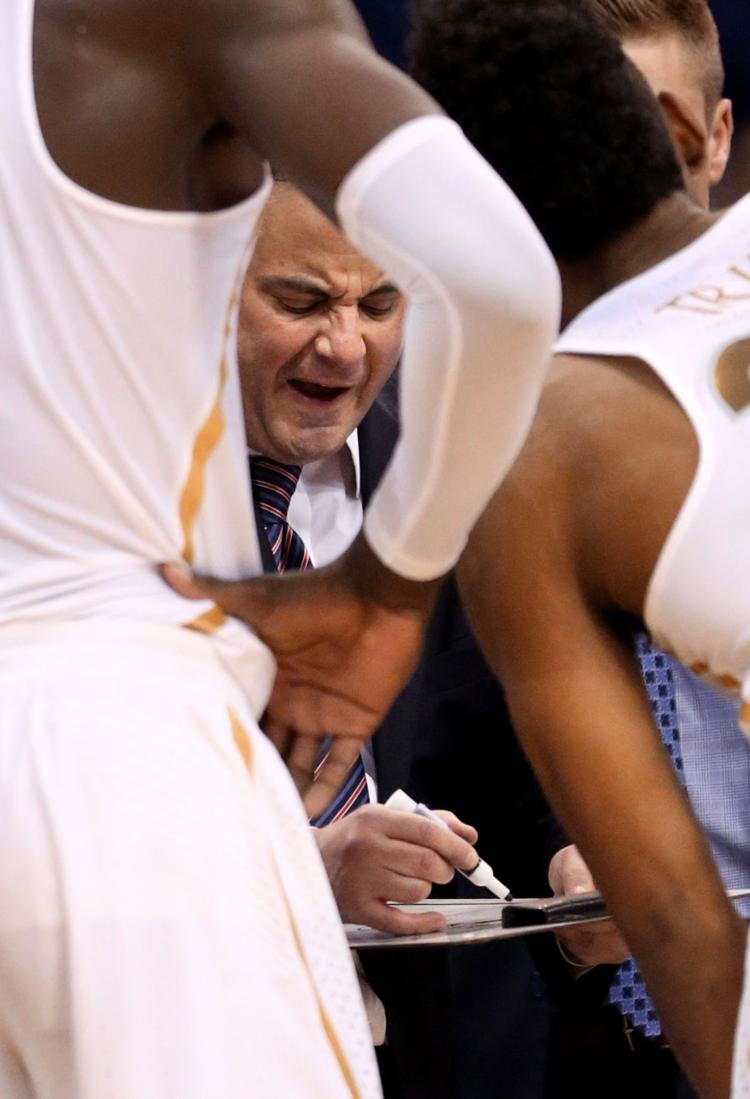 Miller has taken a team to Phoenix and the building now known as Talking Stick Resort Arena before in games that he'll likely never forget.
His Xavier team beat Bob Huggins-coached West Virginia in overtime of a 2008 West Regional Sweet 16 game and then, two days later, was bounced 76-57 by UCLA in an rowdy atmosphere that Reynolds said was "as live of an NCAA tournament setting as I've seen."
Not that losing to UCLA was anything unusual that year. The Bruins had Russell Westbrook, Kevin Love and Darren Collison on that team. UCLA went 35-4 and lost 78-63 to Memphis in the Final Four semifinals.
Assist: Home Depot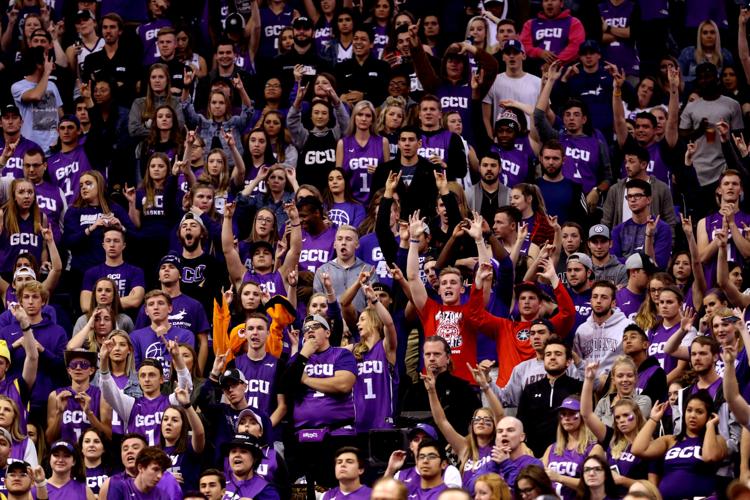 Since Talking Stick Arena is normally configured for NBA games, the key and 3-point line required different markings Tuesday.
But instead of the heavier tape usually put down to mark temporary borders, officials went with standard blue painter's tape. It appeared to hold up early in the game, at least.
LoVett or leave it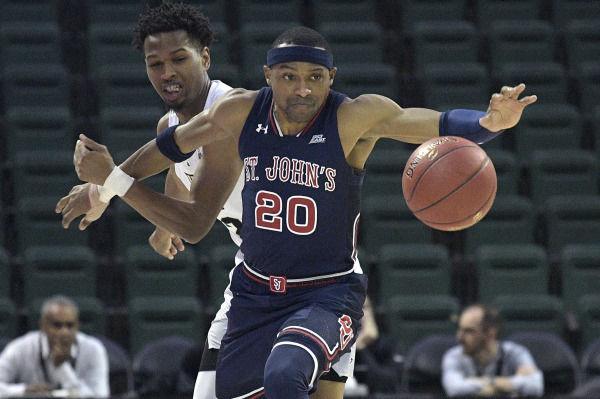 St. John's faced Grand Canyon in the nightcap of Tuesday's doubleheader without guard Marcus LoVett, its second-leading scorer and key defensive stopper. LoVett missed the game with a sprained knee, according to the New York Post.
The Johnnies' trip West is a critical one for national respect. They entered the week at 7-1 but had a chance to play fast-rising Grand Canyon in its home city and then face unbeaten ASU on Saturday in Los Angeles.