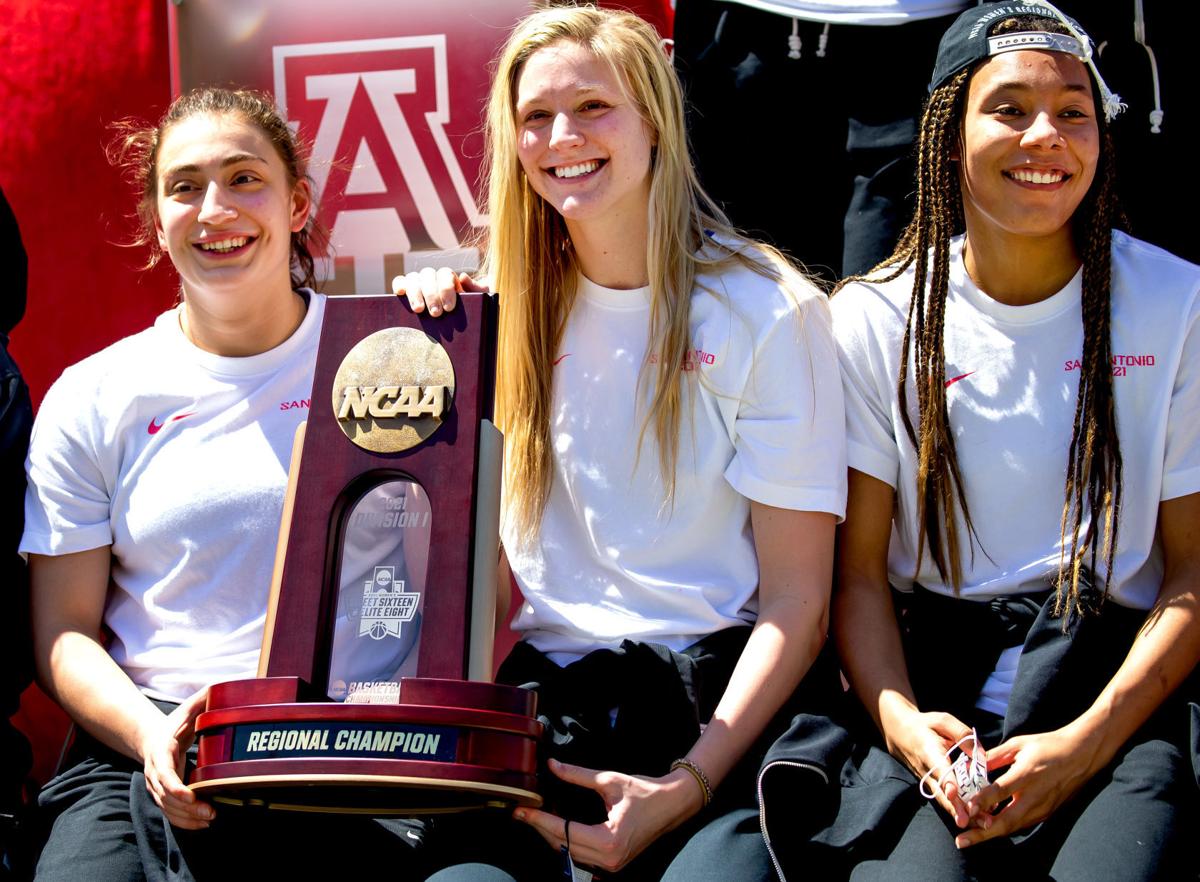 Thomas wants to 'go get the natty next year'
It's no question what star Arizona guard Aari McDonald's plans are for the immediate future. The Pac-12 Player of the Year and Pac-12 Defensive Player of the Year announced before Arizona's run in the NCAA Tournament that this season would be her last with the Wildcats, albeit every player has the option to return because of the pandemic.
The compelling question for the rising Wildcats still experiencing the aftermath of the best season in program history: Does senior wing and All-Pac-12 defender Sam Thomas leave to pursue professional opportunities or stay for one more season and take another crack at winning a national title?
Thomas confirmed her return in front of roughly 2,000 UA diehards sitting in the Zona Zoo at Arizona Stadium on Monday, when, donning a black Final Four hat with a piece of a basket net tied to the buckle of the cap, she grabbed the microphone on the stage set up on the field and announced her decision to play one last season with the Wildcats.
Arizona's four-year captain ended her season-ending speech with "let's go get the natty next year!" and the limited audience erupted with excitement.
Thomas' future at the UA beyond 2021 was always a burning question throughout this season, but she "knew for quite a while" her plan was to always play the 2021-22 season with the Cats.
"It was just if my decision was going to change or not. I mean, why not take an extra year of college playing with Adia (Barnes), playing with my teammates?," she said on Monday.
Like Thomas, Barnes was aware of Thomas' master plan this whole time, but kept the cards close to the vest.
"Well, I knew about that but I had to keep that a secret for months. But I'm so happy," Barnes said. "She wanted to do it here in front of you guys."
What's the significance of Thomas' return? For starters, it provides Arizona a face of leadership with McDonald out of the equation.
Thomas has spent the entirety of her UA career as a defensive specialist averaging just under two steals per game over four years, and found her niche as a glue piece for the building stages of the Barnes era. But she's also capable of scoring at a high clip, which was on display last season, when McDonald was injured and Thomas hung 31 points against Utah in her absence.
"I love you, Sam!""Love you!"Sam Thomas announcing her return to Arizona for next year definitely stole the show at the Welcome Home celebration pic.twitter.com/Q0vDwxIXug

— Alec White (@AlecWhite_UA) April 6, 2021
With Shaina Pellington, Helena Pueyo, Bendu Yeaney and Lauren Ware assuming larger roles next season, having a two-way presence on the wing and multi-year captain alongside soon-to-be senior — and All-Pac-12 forward — Cate Reese bolsters the Wildcats' depth in what is expected to be a loaded Pac-12 Conference next season.
Thomas is looking to duplicate Arizona's NCAA Tournament journey except with a different ending.
"Hopefully do the same thing, except this time win the natty," Thomas said.
Lifelong fan celebrates
If there's anyone who understands what the month of March means to the city on a yearly basis over the last 30-plus years, it's 74-year-old Tucsonan Ruth Perez.
Perez, a retired electronic engineer who worked on microchips and circuit boards for technology, was born on April 29, 1946 at St. Mary's Hospital, about a 10-minute drive from the UA campus. Perez witnessed some of the worst basketball teams — men or women — at the UA, with a handful of games at the historic Bear Down Gym, but she's also watched a number of memorable teams that left their imprint on her Arizona fandom.
If a Wildcats basketball team is playing in mid-March, there's a certain buzz in the air. And that's the double-truth, Ruth.
"You could feel it in the air. I have the chills just thinking about it," Perez said. "Everywhere you went, people were talking about it whether it was at the store or at work. Our bosses didn't even care if we were talking about it or decorating our offices, they didn't care.
"We were for Tucson. We were for the U of A. The whole town was awake. Every year, it's 'Wake up, it's March again!'"
Perez was the third-oldest of 14 children in her household growing up in Tucson. Her father ensured sports would be a source of entertainment or motivation for the family, so they often attended UA basketball games and followed coverage of the Wildcats. Perez was just 2 years old when she attended her first UA sporting event.
Her siblings, nieces and nephews are all UA graduates; Perez attended Pima Community College, but she bleeds cardinal red and navy blue — her passion for the hometown Wildcats never wavered.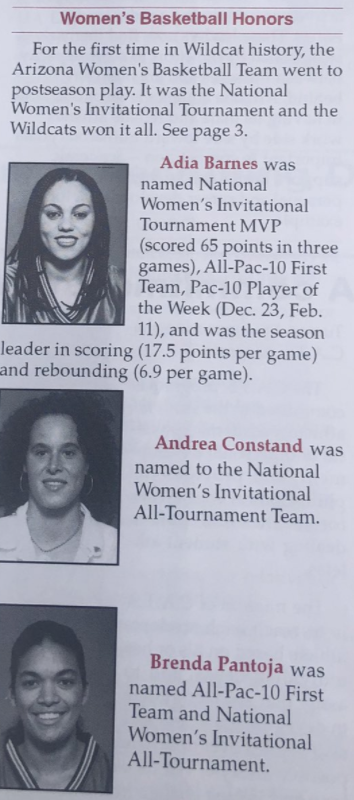 Between taking care of her elderly parents, having children herself and then eventually raising her grandchildren, Perez was a frequent attendee at UA women's basketball games, and was even a season-ticket holder for two decades. She even remembers when the program was under Joan Bonvicini's direction and the under-recruited Adia Barnes developed into a household name and the Pac-10 Player of the Year. To this day, which she brought with her to the celebration on Monday, one of Perez's prized memorabilia possessions is a copy of the April 1996 edition of the "Beardown Bulletin," a magazine-style newsletter for season-ticket holders that highlights the top moments of UA athletics for that month. That edition was from the season Arizona — and Barnes — won the program's first WNIT championship in 1996. The top photo of the game story is a smiling Barnes cutting down the net.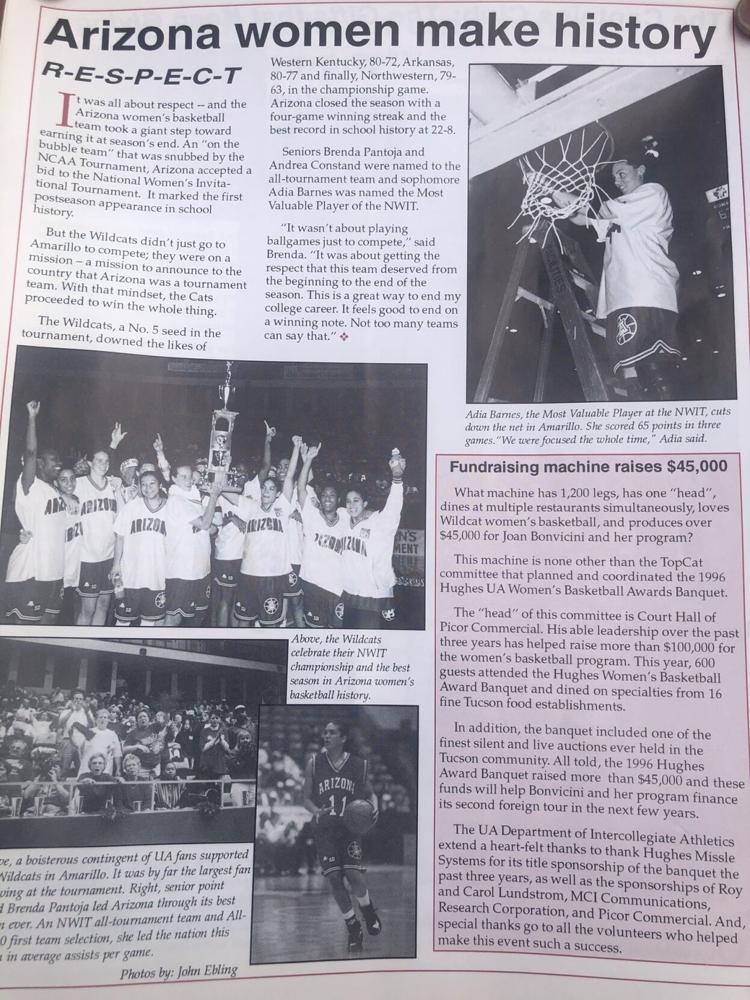 "I've seen her grow up. She's always been awesome. Her beautiful smile is what gets a lot of attention," said Perez. "Her personality, her beautiful smile, she was a go-getter and had no sadness and never let the team down, because she always looked so radiant. That alone just makes her the great lady that she is."
Fast-forward to the new era, Perez saw the similarities in Aari McDonald during her three-year Arizona career.
"They're two of a kind and two peas in a pod. They're identical twins," Perez said. "Despite the age difference, they still think alike. They're always looking at each other and thinking alike, it's amazing."
Unfortunately, Perez's obligations and growing family forced her to discontinue her season tickets a few years ago. The bright side: Arizona's latest postseason run, which drew Perez's grandchildren in to cheer for the Wildcats, coupled with fans not being allowed into games this season sparked desire for Perez to look into season tickets to take the next generation of her family to UA women's basketball games.
"I'm sure we're going to buy season tickets again," Perez said.
Superfan cheers on her heroine
Like any other Tucsonan who grew up rooting for the Wildcats, the men's basketball program was the talk of the town and brought national respect to the Old Pueblo.
Heather Wurr, 26, was a die-hard UA basketball fan, but never attended the women's basketball games at McKale Center until three weeks before the Wildcats won the WNIT in 2019.
A family friend had extra tickets to Arizona's matchup with ninth-ranked Oregon State at McKale Center, Wurr went to the double-overtime thriller with her father, Tom Wurr.
"We were hooked after that," she said. "They bring a different energy to the basketball court that I've never seen before and that's what really hooked me."
Wurr then attended Arizona's WNIT run, but was unable to watch the championship game live at McKale.
"It's been our thing ever since then," Wurr said. "It was really sad to not be able to go to games this year, but obviously it was a safety concern."
The one UA player that caught Wurr's eye was McDonald, because of her ferocious defense and amusing speed.
"I was just absolutely entranced by how much of a powerful player she is. She's the one who really got me interested in watching women's basketball," Wurr said. "She's such a winner, it's amazing to watch her and be inspired; it makes me want to be a better person, watching her be so good at what she does."
Wurr wanted to support her favorite player, so Tom dug up a jersey with McDonald's number (2) on it, disassembled another jersey to match the custom McDonald jersey and took it to an embroidery shop to get Arizona's star's last name on the back. Voila, Wurr had her favorite player's jersey.
Wurr met McDonald at a meet-and-greet event for fans and members of the team. The opportunity didn't go to waste.
"I ran up to Aari like, 'Please sign my jersey!' She was so excited and said, 'I have to tell my mom about this. People have a jersey with my name on it? And bought it specially made?' I am such a fan and now I have to watch WNBA games."
Since Wurr has only ever cheered for the Wildcats, she's a free agent for a favorite WNBA, but she has one in mind.
"I'm going to watch whatever team Aari gets drafted to, that's going to become my team," she said.
Romero declares April 4 as 'UA Women's Basketball Day'
One of the more vocal fans during Arizona's run to the national championship game was Tucson mayor Regina Romero, who declared April 4 "Arizona Women's Basketball Day" after the Wildcats' underdog victory over top-seeded UConn in the Final Four on Friday night.
Romero congratulated the team in person at Gate 8 of Arizona Stadium on Monday once the team exited the bus leading up to the celebration.
"We thank the team for showing little girls everywhere that with hard work and dedication, everything is possible," Romero said in her speech. "What an amazing way to punctuate Women's History Month by making history here for the University of Arizona."
Romero added in her celebration speech how sports — regardless of class, race, religion and background — is the "greatest equalizer."
"The U of A women's basketball (team) is our great equalizer here in the city of Tucson."