Seen and heard: Brandon Randolph goes berserk from 3, Wildcats continue home cookin'
The top sights and sounds from McKale Center on a night when the Arizona Wildcats stormed back in the second half for another home nonconference win.
Getting the party started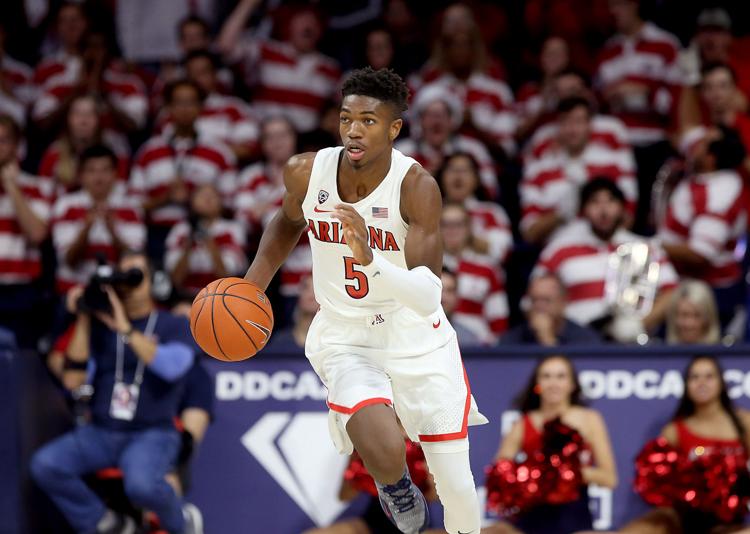 When the halftime buzzer sounded Thursday, McKale Center was the quietest it's been all season. Maybe it was because Arizona trailed 41-29.
The Wildcats shot 38 percent from the field and committed 11 turnovers in the first half. Utah Valley had 19 points off UA's turnovers in the first 20 minutes.
Sean Miller must've said something personal to the Cats in the locker room, because Arizona started the second half on a 16-2 run behind Brandon Randolph's four 3-pointers. After the Wildcats took a 45-43 lead, both teams were in a back-and-forth battle in the second half with UA eventually pulling away late in the game.
The last time …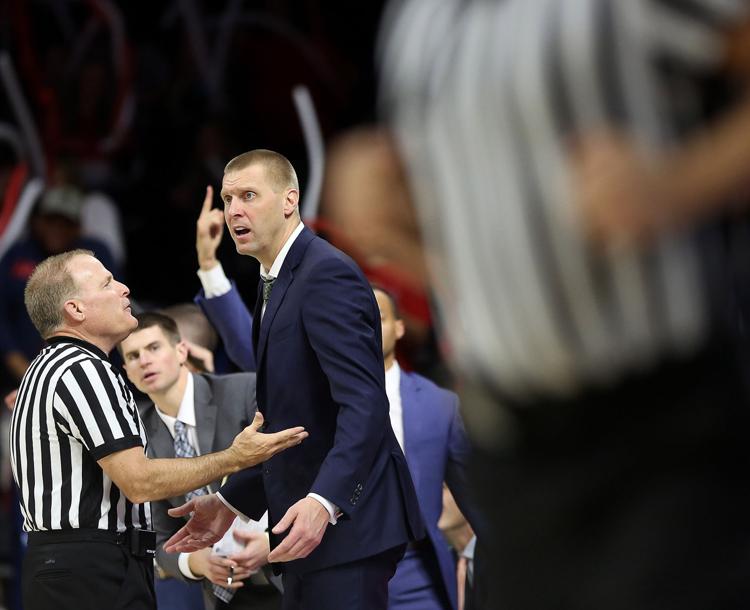 The last time Utah Valley head coach Mark Pope stepped into McKale Center before Thursday night, he was a player for the Washington Huskies. Pope played at McKale Center in 1992 and 1993, and recorded a combined 22 points and 11 rebounds in two games.
Washington lost games, 85-51 in 1992, and 93-76 in 1993. Those Arizona teams featured Damon Stoudamire, Khalid Reeves, Corey Williams and Joseph Blair. Pope is now 0-3 at McKale.
A big number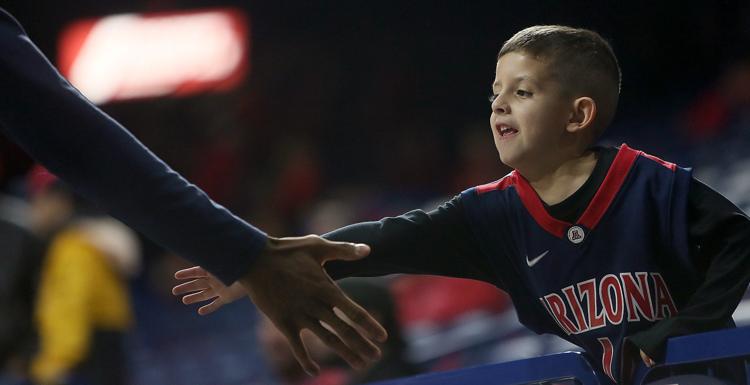 56-10
Arizona's record in the month of December under Miller.
Kicks of the night
These Arizona Wildcats KDs are 🔥 #KicksOfTheNight pic.twitter.com/Bn4GOvkazN

— Justin Spears (@JustinESports) December 7, 2018
Arizona received a batch of custom-made UA Nike shoes from the Kevin Durant line to start the month.
Arizona director of equipment operations Brian Brigger tweeted a photo on Dec. 1 of the Wildcats receiving an order of KD 11s from Nike.
The kicks have a granite-colored base with a navy blue trim on the toes and heals, and the Block "A" on the outside half of the shoe. Randolph and Ryan Luther were two of several Wildcats that broke out the new kicks.
The stock edition can be found on Nike.com for $150.
Moment of silence
Before the Arizona pep band performed the national anthem, McKale Center held a moment of silence for George H.W. Bush, 41st president of the United States, and U.S. Marshal Chase White.
Bush, the U.S. president from 1989-93, died on Nov. 30 after his lengthy battle with Parkinson's disease.
Bush was 94 years, 171 days old when he passed away, making him the longest-lived president in U.S. history.
White was serving a warrant in Tucson when he was fatally shot by 26-year-old Ryan Schlesinger on Nov. 30. White was the first deputy U.S. Marshal killed in Tucson in 66 years. White had worked for the Marshals Service since 2015 and was an Air Force reservist who had been scheduled to deploy just a few days after his death.
White's family received a $100,000 donation from The Tunnel to Towers Foundation, which helps families of fallen first responders.
Another big number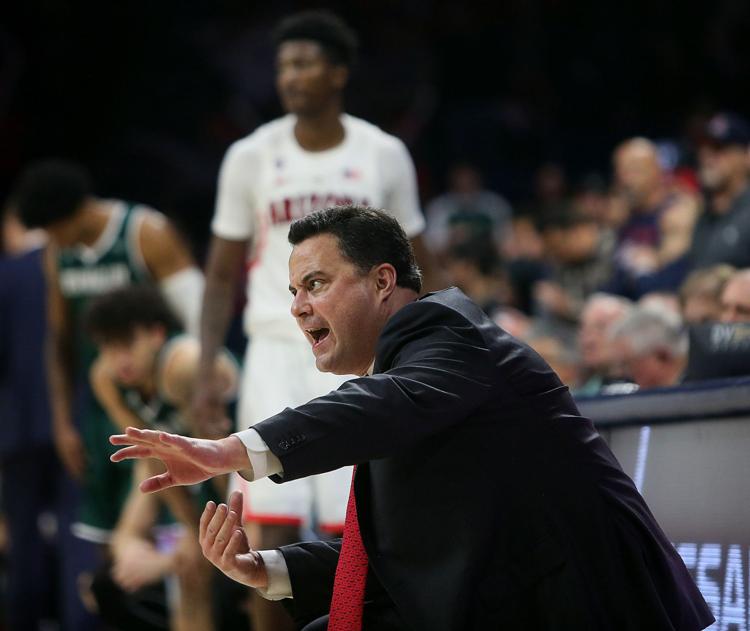 87-3
Arizona's home record since the start of the 2013-14 season, best in the nation.
Mannion shows out at Hoophall West
Nico Mannion (@niccolomannion) went CRAZY on ESPN tonight...dropping 33 points and 7 dimes 😤#HoophallWest #APlayersProgram #BearDown pic.twitter.com/6PKDgaqpY3

— Who's Next (@WhosNextHS) December 7, 2018
Arizona signees Nico Mannion and Terry Armstrong will participate in Hoophall West, a basketball showcase that began Thursday night and will run through late Saturday at Chaparral High School in Scottsdale. On Thursday night, Mannion played against California's San Joaquin Memorial, which has top 2020 guard Jalen Green.
The game was broadcast on ESPN2 and Mannion was up for the challenge. The five-star point guard finished the night with 33 points and seven assists as Pinnacle High School defeated San Joaquin Memorial 90-69.
Armstrong will play against LaMelo Ball and Spire Institute at 7 p.m. Friday. Mannion and Pinnacle will face California's Rancho Christian School at 7 p.m. Saturday.
The biggest number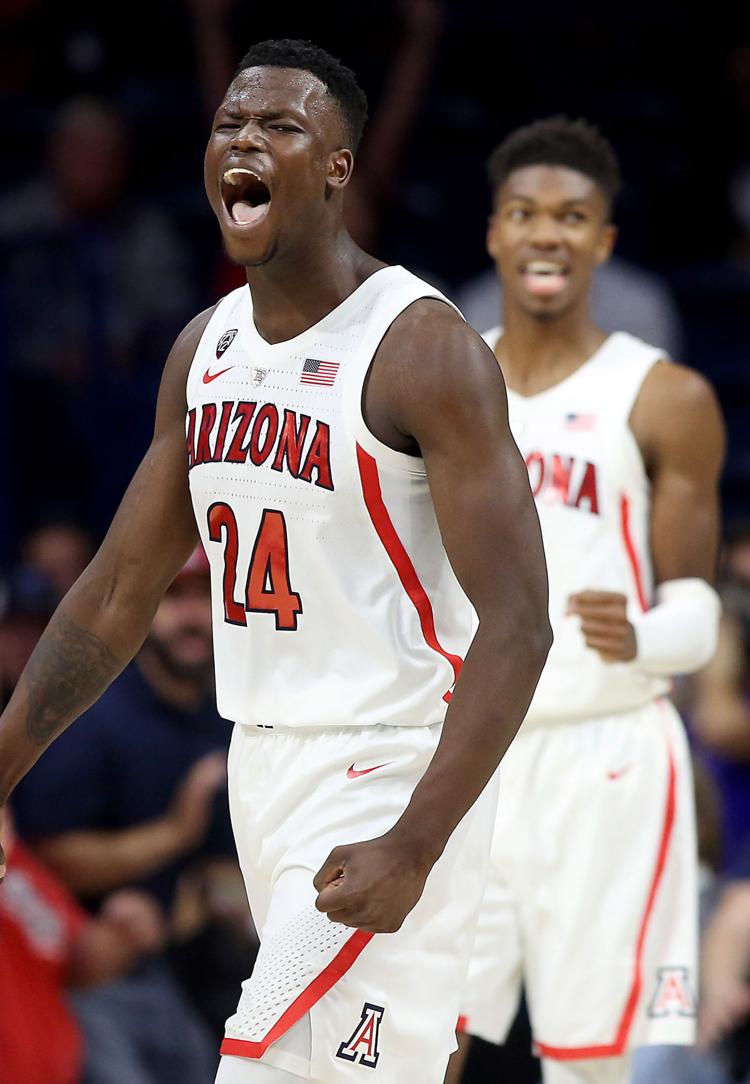 13,926
Round-trip miles Arizona will have traveled this season after its upcoming trip to Tuscaloosa to take on Alabama on Sunday. The team flew 5,798 miles to the Maui Invitational and 5,054 to Hartford, Connecticut, when it faced UConn. In the upcoming trip to Alabama, the Wildcats will fly 3,074 round-trip miles.