Seen and heard: Deandre Ayton still on record pace, fingers crossed for Rawle Alkins
The Arizona Wildcats got back in the win column with a 91-56 blowout over Long Beach State on Wednesday night. From Deandre Ayton's near double-double, to Rawle Alkins' status and some mid-week woes for the home crowd, here's what was seen and heard at McKale Center.
By Zack Rosenblatt / Arizona Daily Star
Double trouble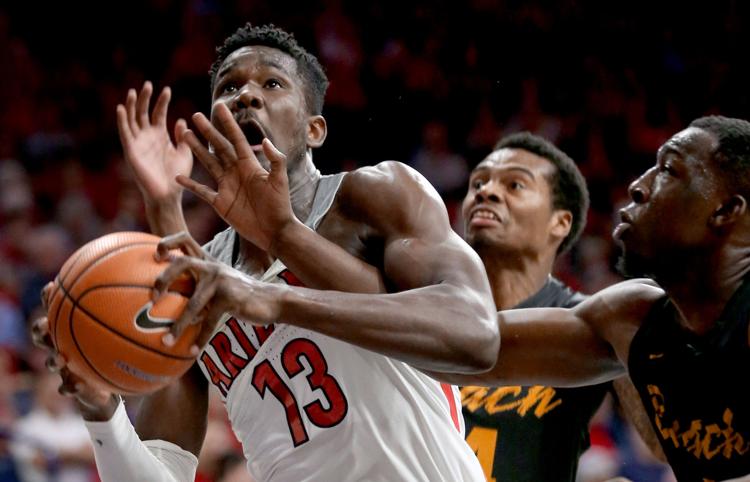 DeAndre Ayton is 19 years old, a freshman, and doing things that have never been done in the history of basketball at Arizona. It helps that there's never really been a player like him at Arizona before.
He's 7-foot-1, 250 pounds with a 7-foot-5 wingspan, starts at power forward, and was declared a likely top-5 NBA Draft pick before he even stepped foot on a college court.
Ayton has so far lived up to the hype. Statistically, to this point in a career, there's never been anybody like him.
Before Wednesday's game, he was already the first player in UA history to record double-doubles in five consecutive games. After managing 13 points and nine rebounds against Long Beach State in a 91-56 win, he fell one rebound short of his sixth double-double of the season.
The Arizona freshman record for double-doubles in a season is 12, held by Al Fleming, who played for the Wildcats in the 1970s, and Michael Wright, who was a freshman in 1998-99.
Perspective: It took Aaron Gordon 20 games to amass his sixth double-double; it took Lauri Markkanen 36 games. It took Kaleb Tarczewski, a four-year starter, 116 games to record his sixth double double.
Wednesday was Ayton's seventh game with the Wildcats.
"Not a lot of people have ever seen a guy like that walk in the door," UA coach Sean Miller said. "He's a freshman."
The big number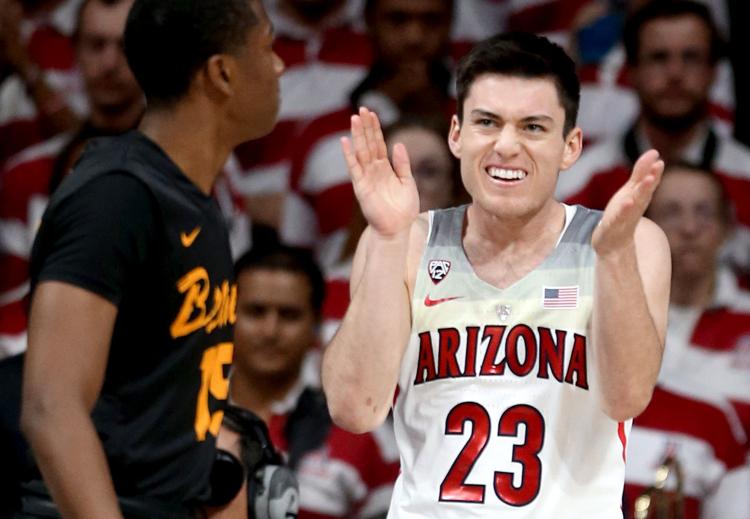 44
Non-conference home games won in a row by the Wildcats after Wednesday's win.
He said it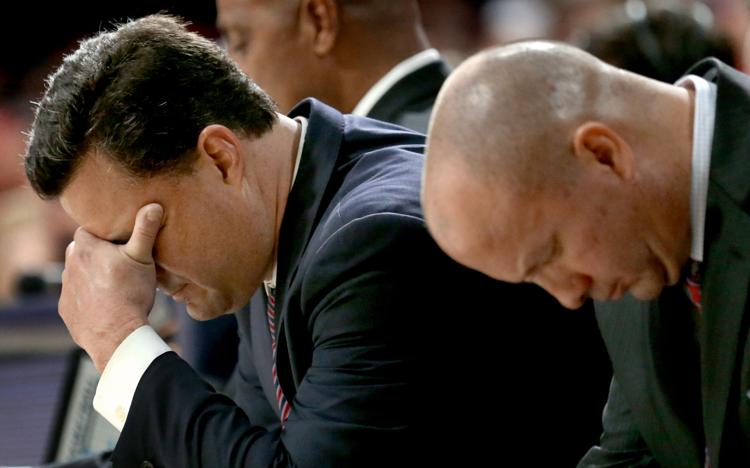 "I have my fingers crossed that Rawle can finish off here and we can get him back here in the near future. ... He's a big part of our team, bigger than maybe anyone realized. There's such a drop-off emotionally, a drop-off physically" without him. — Miller about the possibility of the Wildcats getting injured sophomore Rawle Alkins back in the lineup soon
Football's Big Three
Khalil Tate & Allonzo Trier dap up: pic.twitter.com/lNUThs1wHe

— Ari Alexander (@AriA1exander) November 30, 2017
The future of the Arizona football team's offense, defense and special teams sat courtside for Wednesday's game, in seats typically reserved for celebrities and notable alumni.
To be fair, Arizona quarterback Khalil Tate is a celebrity in his own right nowadays. The UA star was in the Heisman Trophy conversation earlier this season, after all, and even received a comment on his highlight reel by NBA star LeBron James.
Tate is a big enough deal that Arizona guard Allonzo Trier went out of his way to shake Tate's hand before the game.
Tate was joined courtside by freshman linebacker Colin Schooler, one of the best young playmakers in the Pac-12, and kicker Lucas Havrisik, the freshman who converted a 57-yard field goal earlier this season.
The trio left before the game ended, though, departing as Arizona's lead surpassed 30 points.
Celeb status
Thank you to everyone who came to the installation ceremony today! I am so excited for the @UofA's future! #UofAPres22 pic.twitter.com/nIZUj5LugN

— Robert C. Robbins (@UofAPres) November 29, 2017
Tate might have been the biggest celebrity in the stands on Wednesday, but he wasn't the most important Arizona-affiliated person in the building, at least not on this day.
A few seats over from Tate sat UA president Robert Robbins.
Earlier on Wednesday, Robbins was officially installed as Arizona's 22nd president on the UA campus.
Robbins, who has been on the job since June, has been an active participant in Arizona athletics, taking part in ZonaZoo activities at football games and making appearances at the Friday pep rallies before home football games.
At one point, Robbins was shown on the jumbotron and received rousing applause.
He was distracted, though, trying to get Tate to stand up with him.
The quarterback did not oblige.
Losing sight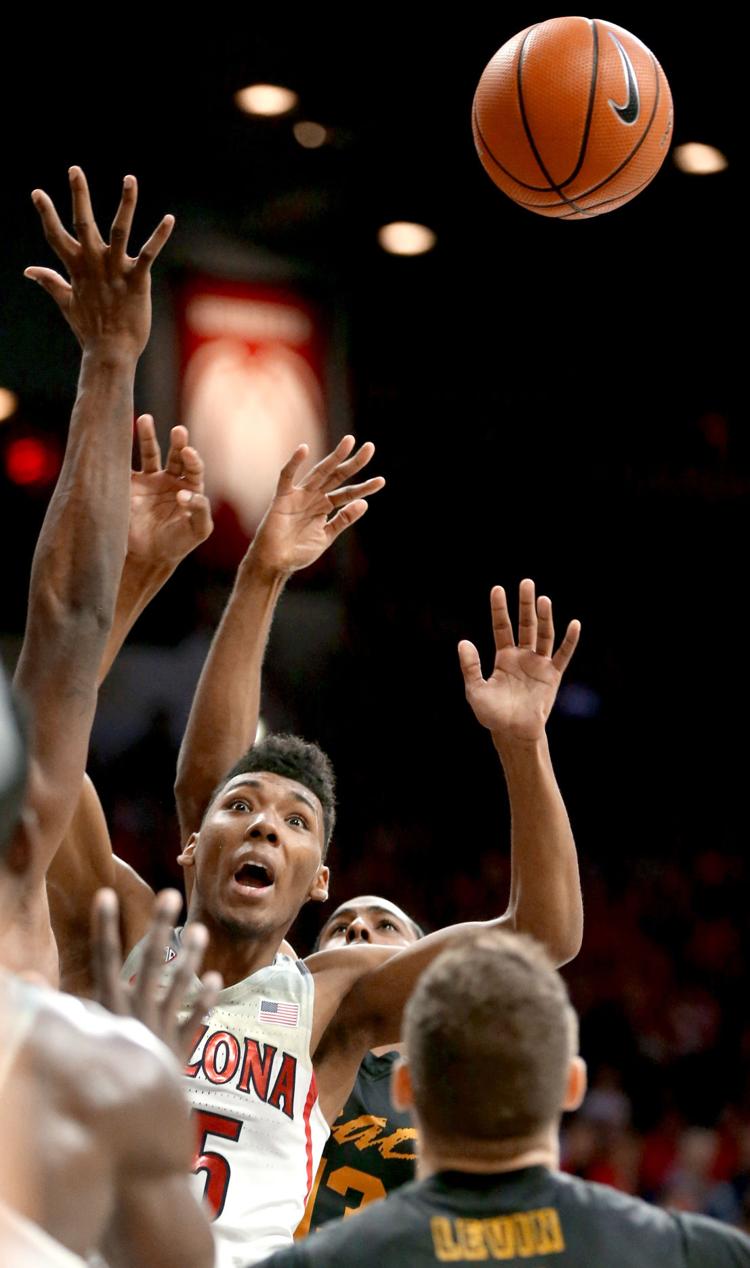 Play was stopped briefly as Long Beach State went down by nearly 40 points with only a couple minutes left, after LBSU forward Quentin Shropshire lost a contact out of one of his eyes.
On the next possession, he played without it, than during an Arizona free throw, a Long Beach State staffer came to the scorers table with saline solution and a mirror for Shropshire to put the contact back in.
Big heads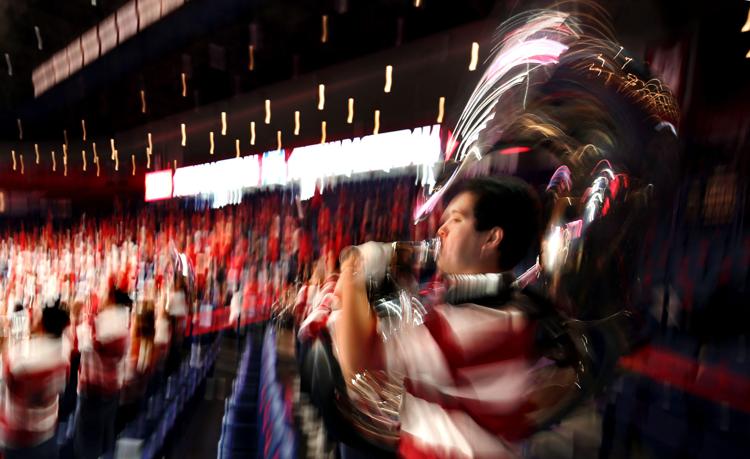 The ZonaZoo always gets creative with its big heads, and tends to alter the roster of posters each year to coincide with trends in pop culture.
Some new additions this season included posters of actor/comedian Aziz Ansari, "Pickle Rick" from the TV show "Rick and Morty," and the famous photo of Arizona alumnus Rob Gronkowski with a cat on his head.
Mid-week woes
Kind of a late arriving crowd here at McKale Center tonight with at tip between Arizona and Long Beach State pic.twitter.com/EswHMDC7Y7

— Matt Moreno (@MattGOAZCATS) November 30, 2017
The Wildcats crowd used to be problem-proof at McKale Center.
That is, coming off a win or a loss, struggles or success, no matter the day of the week or the time, Arizona usually sells out at home. The Red-Blue scrimmage is often filled to capacity.
Coming off three losses, with a Wednesday night tipoff ... it wasn't quite the crowd Tucson is accustomed to.
The announced crowd was 13,626, though the stands probably filled a few hundred less than that, and the ZonaZoo student section wasn't filled up, either.
Before Wednesday, the Wildcats averaged 14,147 per game in their first three home games of the season. McKale holds a capacity of about 14,500 fans.