Seen and heard: Fouls, flops, an out-of-body experience, and the McKale Center baby race
Saturday's noon game at McKale Center between the Wildcats and Ducks offered an absurd number of foul calls, a baby race for the ages, an out-of-body experience and of course, more Bill Walton. Here's the best from No. 17 Arizona's win over Oregon.
By Justin Spears / Arizona Daily Star
Fire start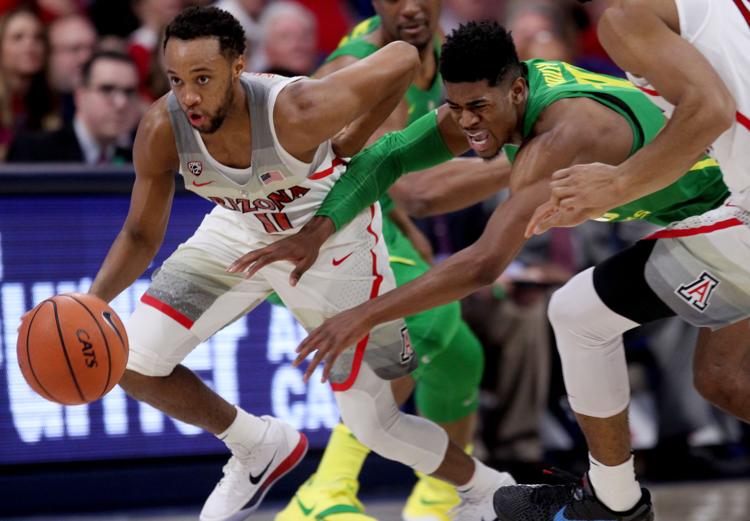 Arizona struggled the last time it played a noon game, a week ago at Colorado. The Wildcats started slow, trailed by as many as 18 points, and fell to the Buffaloes on the road.
Saturday was a different story. 
The Wildcats hit their first six shots, two of them 3-pointers. The McKale Center crowd went nuts when Deandre Ayton drew a double-team and kicked a pass to Parker Jackson-Cartwright for a baseline 3. Oregon shot 80 percent from the field in the first five minutes, but still managed to fall behind by 10 points. 
He said it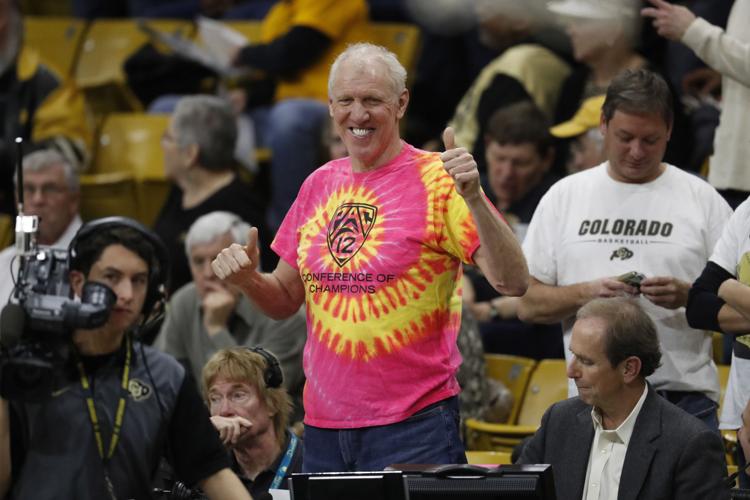 "Burn sage, not coal." 
— ESPN analyst Bill Walton
The little number
7
Number of times Walton mentioned "sage" on the air Saturday, according to Star contributor Frank O. Sotomayor (@Cat1Zona on Twitter). Walton also mentioned Johnny Cash, Stephen Foster, Isaac Newton, throwing it down and — of course — the conference of champions. 
Dónde está Dave?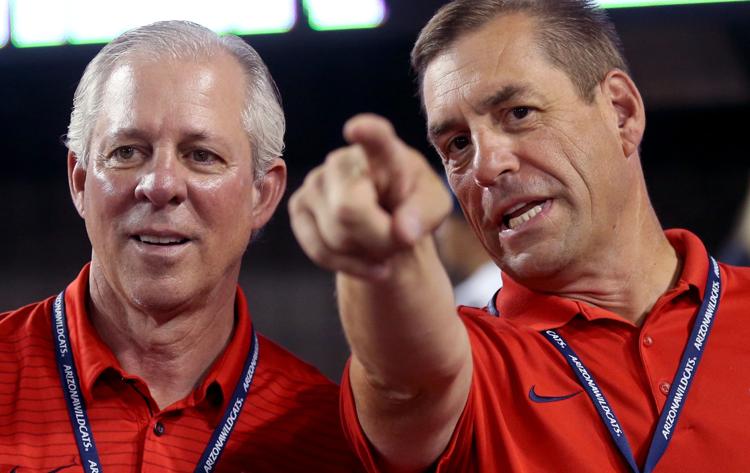 UA president Robert C. Robbins watched Saturday's game from his courtside seats — this time without UA quarterback Khalil Tate and linebacker Colin Schooler, who were both in attendance for the Oregon State game this week.
Arizona athletic director Dave Heeke, however, was MIA for a second straight game. Heeke is off searching for Arizona's next football coach.
Baby race!
Speedy Scarlett got some wheels!!!! pic.twitter.com/Q7x3pI7SuT

— Justin Spears (@JustinESports) January 13, 2018
It's a tradition unlike any other. Infants dressed up in red shirts with numbers on their backs took part in a baby race at halftime Saturday, with the winner earning $529 to put toward a college fund. The contestants — Blue Eyes, Jack Jack, Jacob and Speedy Scarlett — crawled 10 feet while the crowd cheered. Like Arizona against Oregon State on Thursday, the racers had a sluggish start. One kept looking at his dad and another was so star struck by Wilbur T. Wildcat that she didn't crawl an inch. Speedy Scarlett, who definitely ate her Wheaties Saturday morning, won by a large margin. Her reward? Mom let her play with her phone.
Flops + missed calls = angry Miller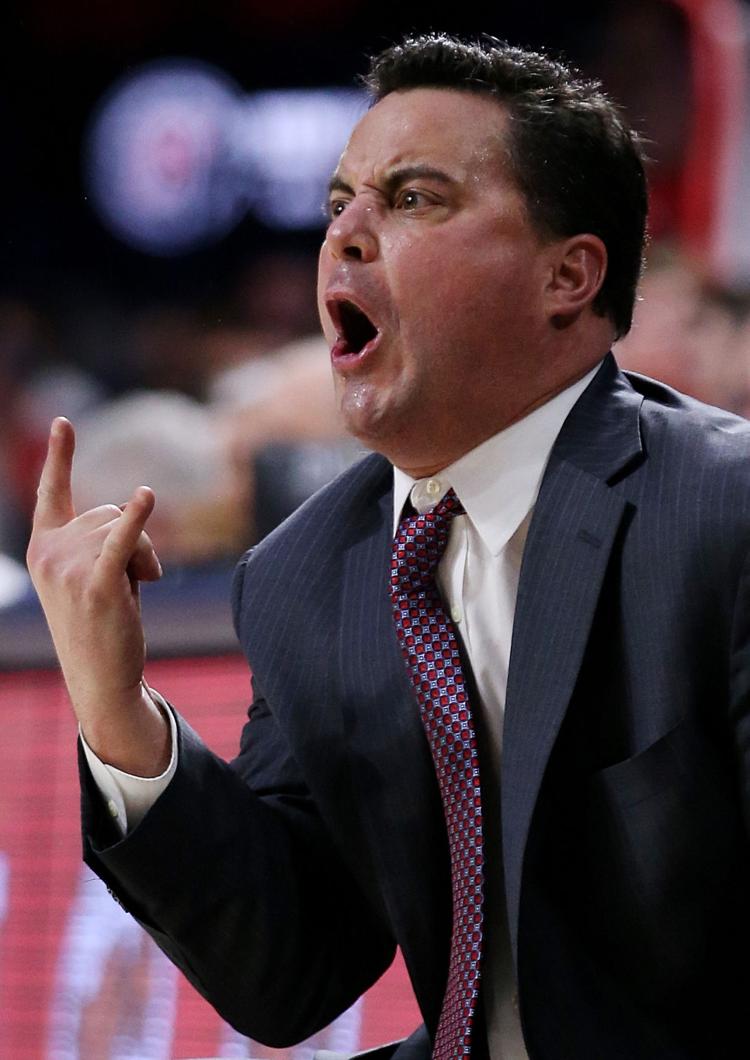 Tensions flared early in Saturday's game, and Sean Miller had what he called "an out-of-body experience."
The Wildcats had a double-digit lead in the first half when Oregon started clawing back. The Ducks drew a handful of (questionable) offensive fouls, causing McKale Center to erupt. Payton Prichard appeared to sell one call by flopping on the floor. At the end of the first half, an Oregon defender slapped the ball out of Rawle Alkins' hands and out of bounds for what should have been Arizona's ball. An official saw it differently and awarded the ball to the Ducks.
That's when Miller blew a gasket. Miller and his assistants remained on the court for a few long minutes at halftime, trying to make their case to officials. Operations director Ryan Reynolds had to stand between the coach and the officials; he eventally got Miller into the locker room.
Arizona fans reacted accordingly and doused the officials with boos.
The big number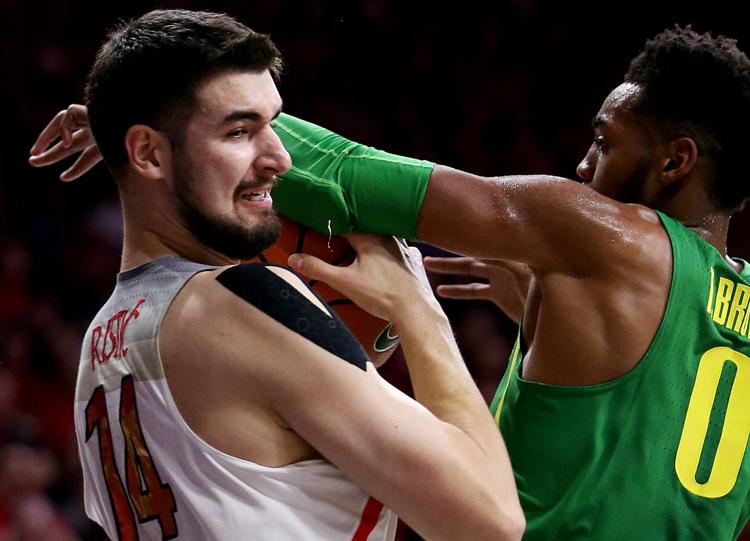 51
The number of combined fouls assessed to Oregon and Arizona.
He said it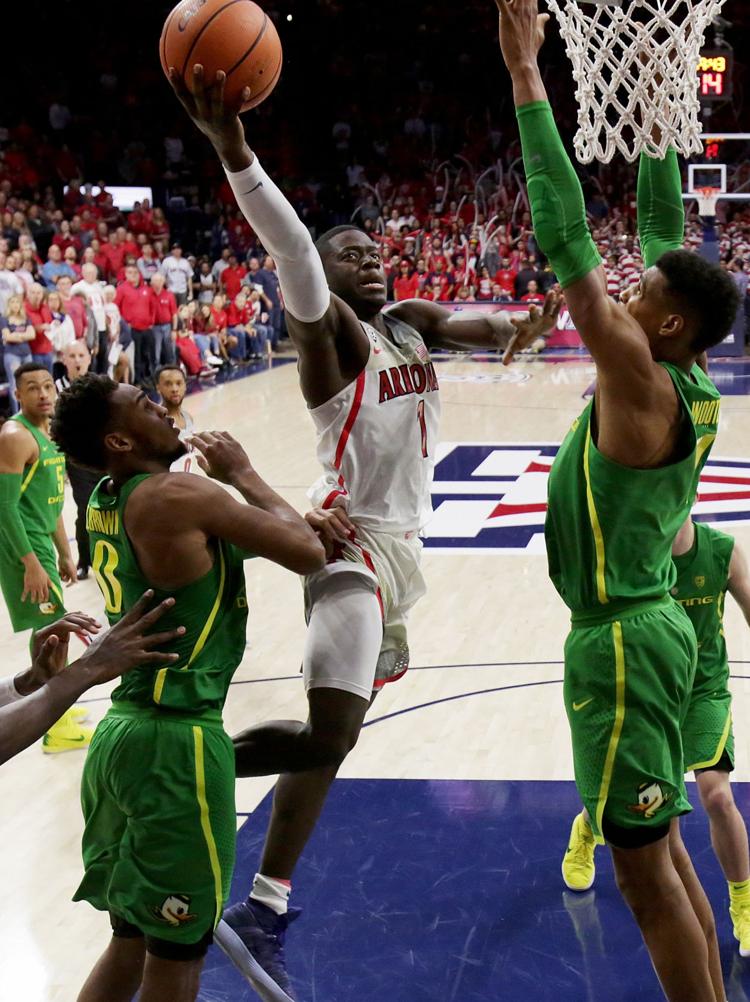 "When Arizona lost, it felt like the world ended."
— Rawle Alkins on remembering Arizona losing to Oregon in 2016 when he was on a recruiting visit in Tucson