Seen and heard from 'Shooter's Gym': That McKale Center buzz, Remy Martin ... the player, and a moment of silence
The No. 3 Arizona State Sun Devils were at McKale Center on Saturday night to offer up the most expensive ticket in town — and it didn't disappoint.
By Justin Spears / Arizona Daily Star
Zona Zoo, where are you?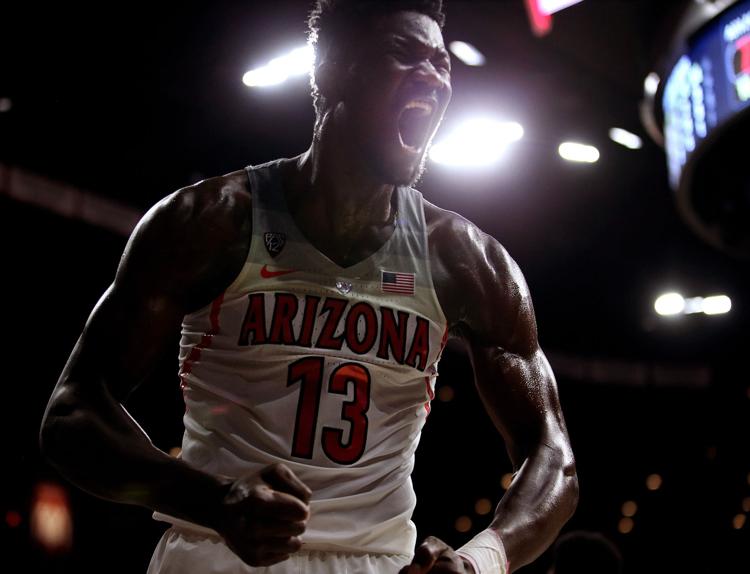 Saturday's game between No. 3 Arizona State and No. 17 Arizona had a little bit of everything — except for a student section.
The ZonaZoo wasn't at Saturday's game because of winter break, robbing all of us of a battle between UA students and ASU coach Bobby Hurley.
That didn't stop the McKale Center staff from distributing giant-head posters of random characters and UA players, and with a sold-out crowd, the fans didn't disappoint.
Most expensive seat in town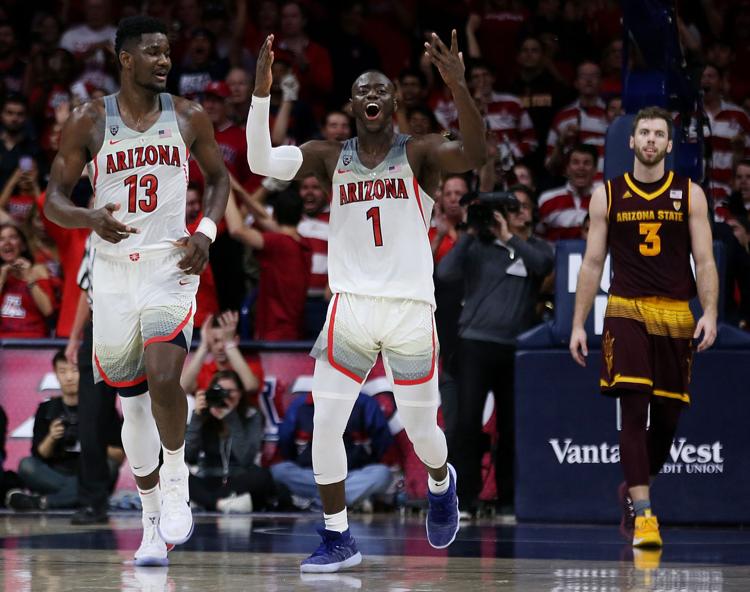 Saturday was a hot ticket.
On Craigslist, there was an offer for two tickets to the ASU-Arizona game along with a Cherry Garage parking pass. The price? A hefty $1,500 per seat. What else can you do with that money? That's roughly four PlayStation 4s and 150 Caniac combos from Raising Cane's.
Remembering Coach Kindall
Moment of silence for Jerry Kindall before the ASU-Arizona game. pic.twitter.com/bgr0Q4ApCQ

— Justin Spears (@JustinESports) December 31, 2017
Prior to tipoff, McKale Center held a moment of silence for UA baseball legend Jerry Kindall. The three-time College World Series champion coach died Dec. 24, three days after suffering a massive stroke. He was 82.
Kindall's memorial service will be held at noon Thursday at the Victory Worship Center, 2561 W. Ruthrauff Road. The public is welcome to attend.
Remy sparks Devils
No, McKale Center wasn't serving alcohol just in time for the rivalry matchup. ASU brought a player — guard Remy Martin — who shares a name with the notorious champagne cognac.
Martin has been one of the biggest breakout players on his own team and in the Pac-12. And Saturday, Martin was just the spark ASU needed.
Martin entered off the bench with ASU trailing Arizona 12-7 and proved to be a pest right away. The freshman finished with 11 points on 5-of-13 shooting.
The two Remy Martins aren't to be confused with rapper Remy Ma, who joins French Montana and Fat Joe on the track "All the Way Up."
Does your head hurt yet? Ours do, too.
Remy Martin checked in the game for Arizona State and couldn't help, but think of the alcoholic beverage. pic.twitter.com/zUbABAhrOA

— The Wildcaster (@TheWildcaster) December 31, 2017
Little chirps
Sean Miller says it doesn't matter if @ZonaZooOfficial is present or not, McKale Center never disappoints in big games. pic.twitter.com/JWody0dLlV

— The Wildcaster (@TheWildcaster) December 31, 2017
 ASU entered Saturday's game undefeated, and with great success comes a extra fan support. The UA's planned "red-out" was interrupted by a smattering of Devils fans in yellow shirts and the occasional "A-S-U" chants. Each time the crowd tried to cheer for the Devils, Wildcats fans drowned them out with "U-of-A" chants.
It should be interesting to see what the environment is like on Feb. 15, when the Wildcats and Sun Devils play at Wells Fargo Arena in Tempe.
"Shooter's Gym"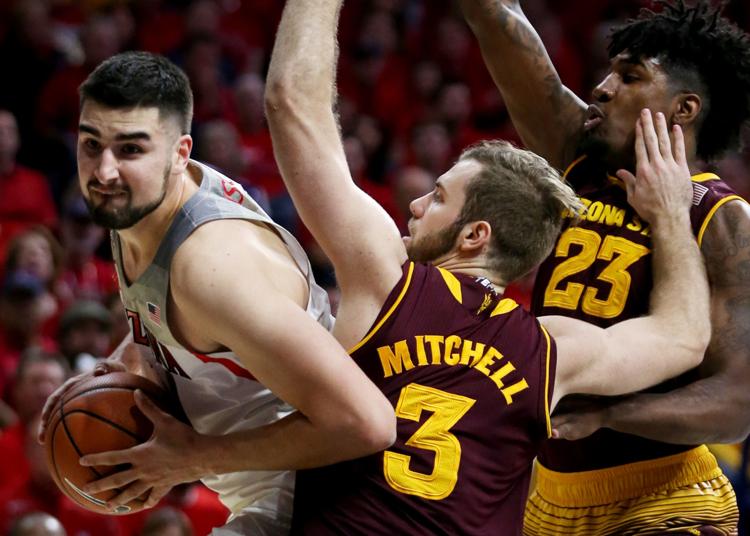 During warmups, ASU forward Mickey Mitchell broke out two different-colored shoes: mustard yellow on the left foot, maroon on the right. Mitchell looked over at one of the team managers sitting on the bench and said, "this is a shooter's gym." The Ohio State transfer then proceeded to hit eight 3-pointers in a row.
Mitchell wasn't nearly as hot during the game. While he scored 10 points, he shot just 4 of 11 from the field and missed the only 3-pointer he attempted.
It's an Adidas thing. pic.twitter.com/vCwU2eC3Uh

— The Wildcaster (@TheWildcaster) December 31, 2017
Overheard from an ASU player during warmups: "This is a shooter's gym." *Proceeds to hit eight 3s in a row* 👀

— Justin Spears (@JustinESports) December 31, 2017
The Big Number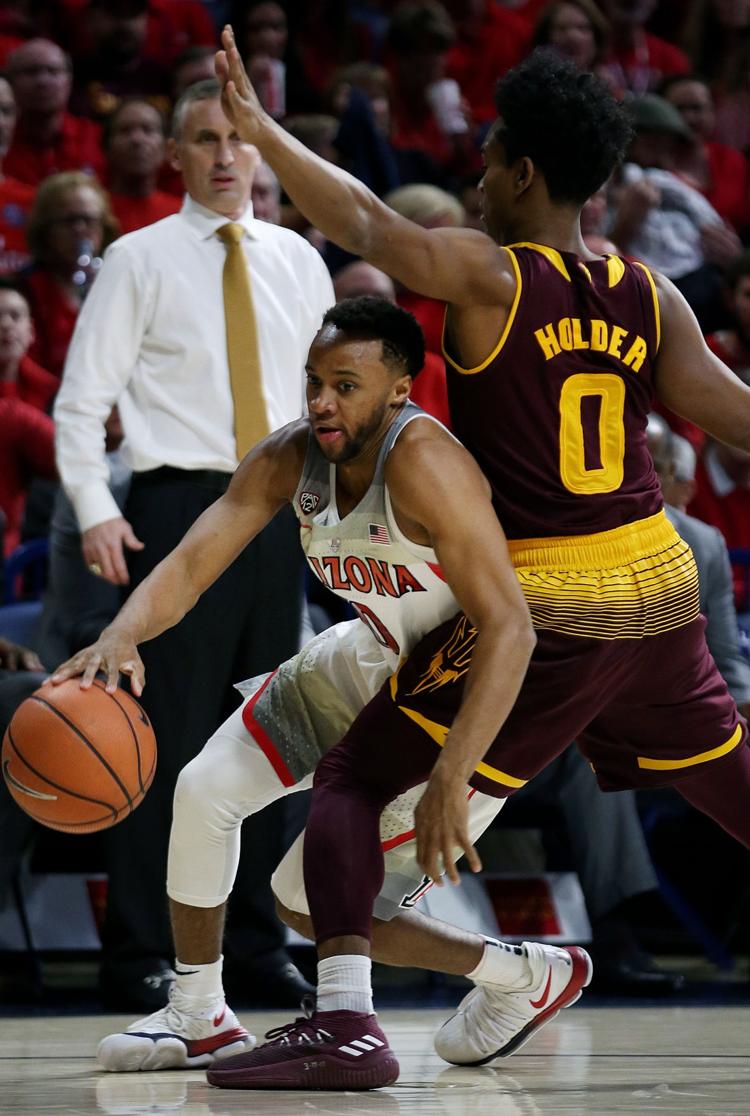 0
With the Sun Devils falling to Arizona and No. 1 Villanova collapsing against Butler on Saturday, there isn't a single undefeated team left in college basketball.
Tweet of the night
GREAT WAY TO START OF THIS NEW YEAR!!! LETS GOOOO U OF A !!!!!🔴🔵 Just the beginning #SAVAGELIFE

— Rawle Alkins (@Iam_RawleAlkins) December 31, 2017