WACO, Texas — The Star's Bruce Pascoe shares what he saw and heard from No. 12 Arizona's 63-58 loss to No. 18 Baylor Saturday morning. 
---
Thanks to its hosting of first-weekend NCAA Tournament volleyball games, Baylor was forced to start Saturday's game at 11 a.m. local time — exactly the same time its football team kicked off with Oklahoma in the Big 12 Conference championship in Arlington, Texas.
It was immediately clear how much this hurt the Bears. More than half the fans in attendance Saturday were rooting for the UA.
Baylor tried to mitigate the problem by giving out free tickets for the game, showing the football game on the videoboard during timeouts and halftime, then hosting a watch party in an adjacent building after the game.
Heck, Santa even showed up and, for those who didn't want to face him directly, holiday cards, markers and a Santa Mail postbox were also available.
---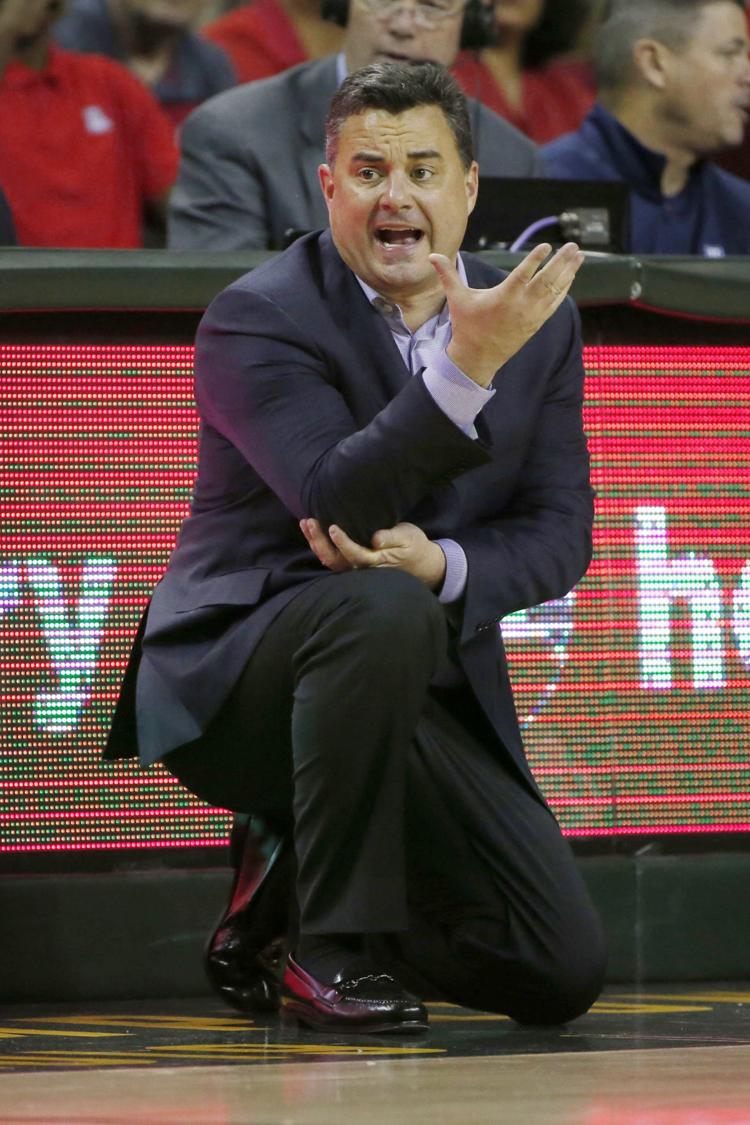 In December 2014, Waco pastor Jason Phillips — a Tucson native — made the nine-hour trip to El Paso to watch the Wildcats beat UTEP. Two seasons ago, he made a three-hour drive to Houston to watch them beat Texas A&M at Toyota Center.
But on Saturday, the Wildcats appeared in Waco for the first time in 22 years.
"I did not think this would happen," Phillips said. "I thought I would always have to make a drive or watch on TV."
---
Earlier this week, UA coach Sean Miller expressed doubt about the impact Nico Mannion and Josh Green could have on the floor Saturday. Mannion had been having back spasms and Green was sick, but both returned to the floor and played their normal minutes Saturday.
Mannion suffered back tightness and spasms in the Wooden Legacy event last weekend and missed three practices earlier this week, UA trainer Justin Kokoskie said, while Green also sat out two practices with a strep throat and an accompanying virus.
Kokoskie said both returned fully to practice on Friday after a long week of rehab, adding that Green lost 10 pounds at one point.
"Nico was working hard on it all week," Kokoskie said before Saturday's game. "Josh is feeling good now but he was sick all week. He was in and out of doctor appointments."
Meanwhile, Kokoskie said there is no timetable for forward Stone Gettings to return after suffering a concussion and facial fracture against Penn on Nov. 29. The concussion is the primary issue in holding Gettings back, since he can wear a protective mask over the facial fracture.
---
If anyone had trouble waking up fully in time for Saturday's tipoff, a little Waco history suggested a cure: Dr. Pepper, what Waco proudly calls "the nation's oldest major soft drink."
The unique 23-flavor soda was first concocted by Old Corner Store pharmacist Charles Alderton in Waco in 1885, a year before Coca-Cola was invented and eight years before Pepsi, according to Waco's Dr. Pepper museum.
The drink was first marketed as having (unsubstantiated) health benefits, was marketed as a nonalcoholic alternative during the prohibition and, of course, later touted for its stimulative effects.
"Drink at 10, 2 and 4 to renew energy," one early 20th-century ad suggested. "Serve your bridge guests or evening porch-callers. Nothing else is quite so refreshing when you're tired."
---
Dr. Pepper isn't the only thing fans looking for something else to do in Waco could study.
The area also has a huge Texas Rangers museum, saluting the nation's oldest law enforcement agency, with exhibits featuring all manner of weapons, tales of the rangers and even movie memorabilia inspired by them.
While that Texas Rangers museum doesn't include Nolan Ryan, the legendary pitcher is featured down the street at the Texas Sports Hall of Fame along with other athletes from all sports who have impacted the state.
And, in 2015, then-President Barack Obama created the Waco Mammoth National Park out of a 5-acre dig site on the outskirts of town where the remains of 24 Columbian mammoths have been discovered since 1978, some dating back 65,000 years, according to the Waco Tribune-Herald.
The site is now jointly managed by the National Park Service, Baylor and the city of Waco.
---
Since then-President Ronald Reagan opened Baylor's golden-domed Ferrell Center by speaking to 11,000 people in 1988, the event center has been more than just about home to Baylor's basketball and volleyball teams.
Among the speakers to appear at the Ferrell Center have included Archbishop Desmond Tutu, Margaret Thatcher, Barbara Bush and Gen. Colin Powell, while Barack and Michelle Obama attended a 2013 memorial service for first responders killed in a nearby fertilizer plant explosion.
Musical guests have included Garth Brooks, George Strait, Neil Diamond and Hootie & the Blowfish.
The $10 million, 150,000-square-foot center is named for Charles Robert Ferrell, a Baylor student who died in an automobile accident in 1967.
---
Missed Arizona 3-point shots on 18 attempts.
---
"Texas is a football state first off and those guys are doing phenomenal right now, so I expected it. But I didn't think there would be that many Arizona fans. I thought it would be kind of neutral." — Baylor guard MaCio Teague
Contact sports reporter Bruce Pascoe at 573-4146 or bpascoe@tucson.com. On Twitter @brucepascoe