See how USC made Pac-12 Tournament history in Las Vegas with its win over Arizona, how much Larry Scott's hotel suite is worth, and what Richard Jefferson and Dusan Ristic had to say following the UA's exit. 
The last time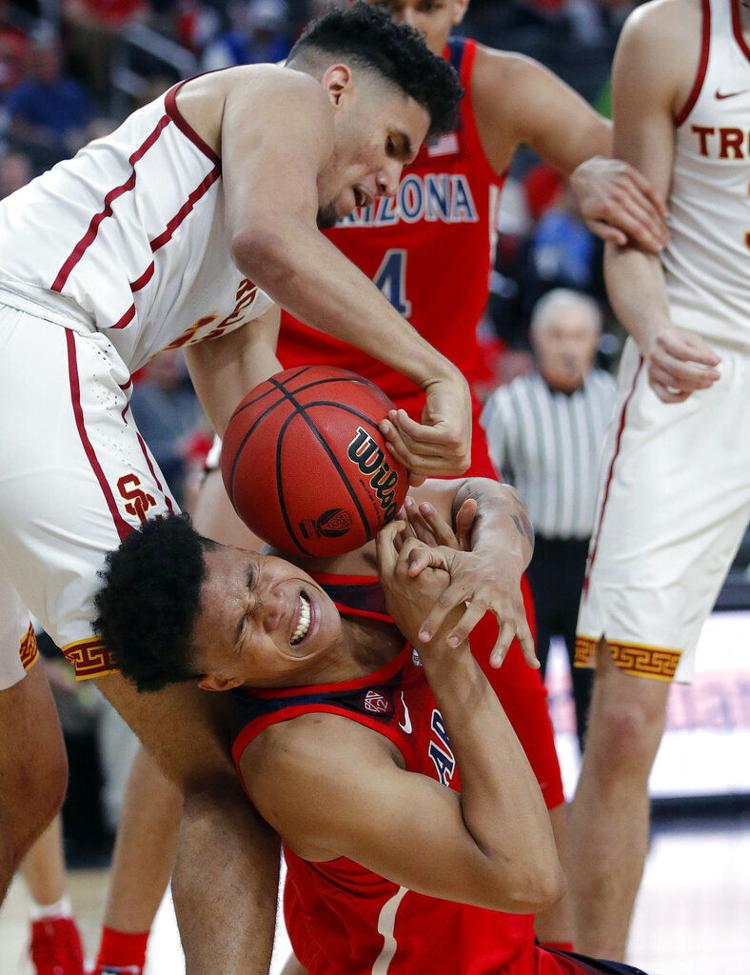 Arizona has dominated Las Vegas — and the Pac-12 Tournament — under coach Sean Miller. Well, until Wednesday. The Wildcats' loss to USC means that for the first time since 2016, the conference tournament didn't end with the Wildcats cutting down the nets. Arizona had at least made the semifinals every season since it moved to Vegas in 2013. 
The last time Arizona was eliminated in the first round of the Pac-12 Tournament? Miller's first year, 2010, when it was the Pac-10 Tournament and was held at Staples Center Los Angeles. Arizona to UCLA, 75-69, with Nic Wise (16 points) and Derrick Williams (14 points) leading the way offensively. 
Their first time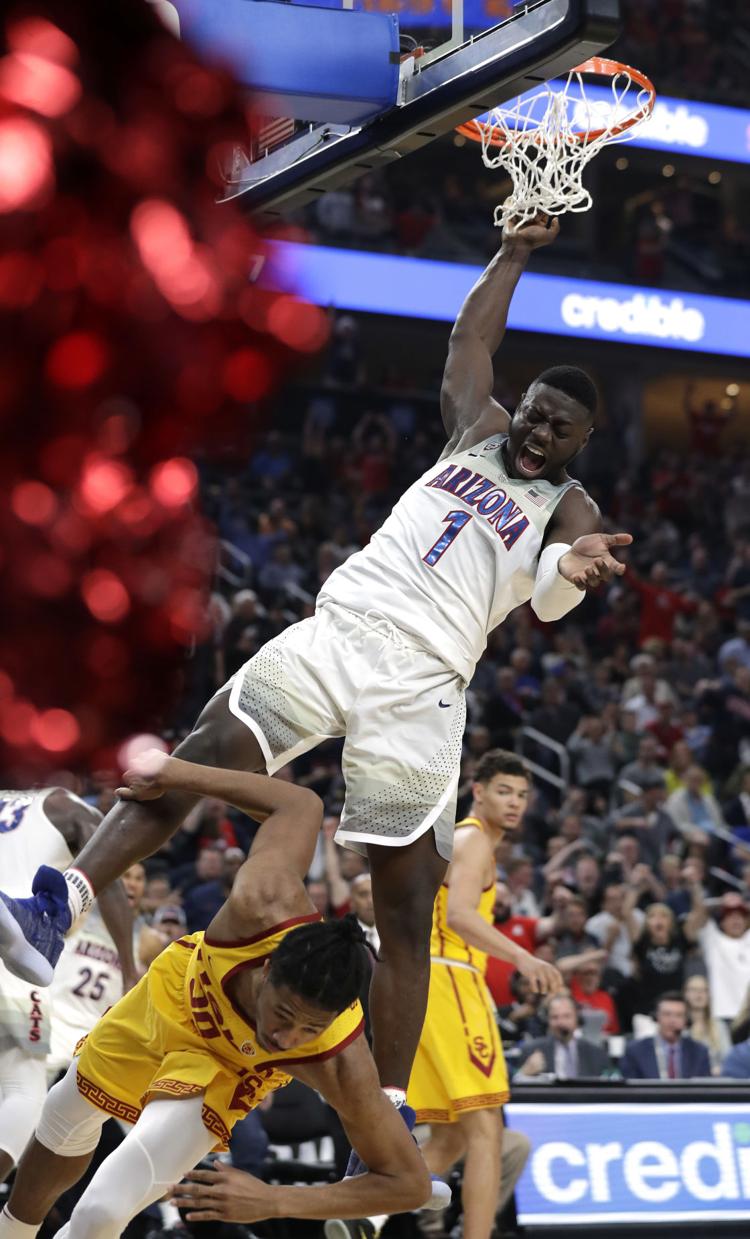 Wednesday's loss to USC was Arizona first in six all-time conference tournament matchups between the schools. Last year, Arizona took down USC in the Pac-12 Championship, which included Rawle Alkins' dunk over Trojans guard Elijah Stewart, which checked in at No. 1 play on "SportsCenter."
He said it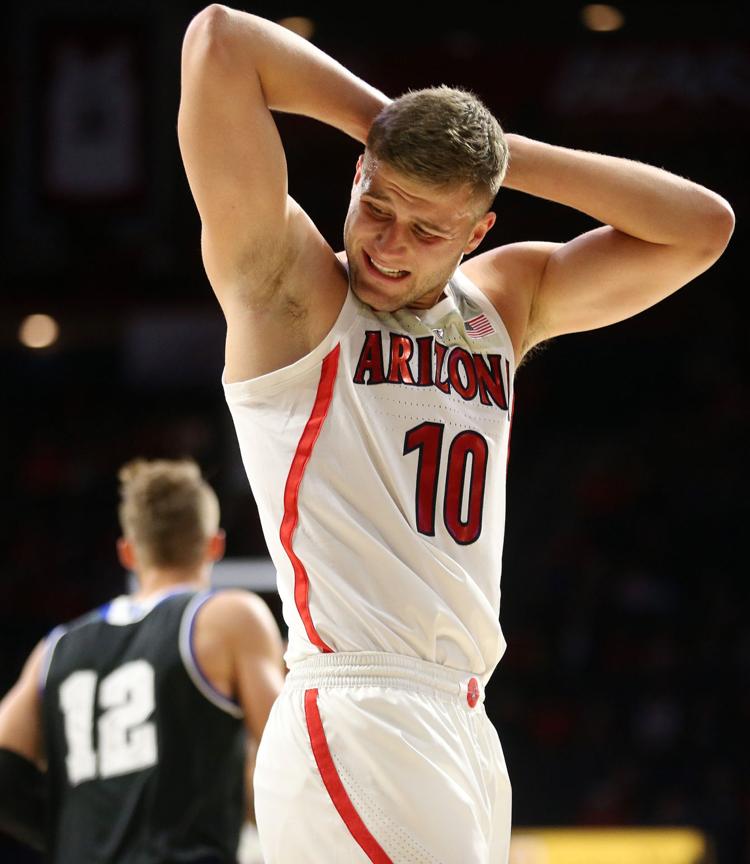 "I loved my time here. Being recruited here and hearing all of the great things about it, I'm just grateful to be a part of it. We're disappointed, but I wouldn't do anything or change anything about my last year. I loved being here with my teammates, Coach Miller, the coaching staff, the fans. Everything was top notch." — Ryan Luther, reflecting on his graduate season at Arizona
The big number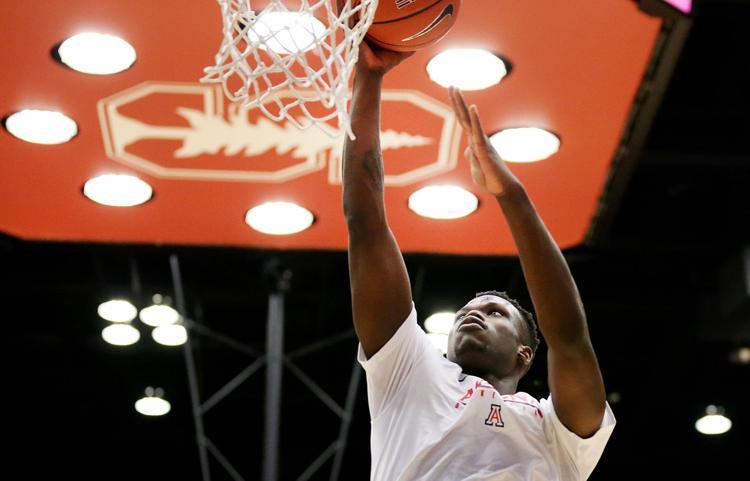 .764
Arizona's winning percentage this season when Emmanuel Akot was part of the program. The Wildcats were 13-4 with the sophomore forward on the team.  
The (much) smaller number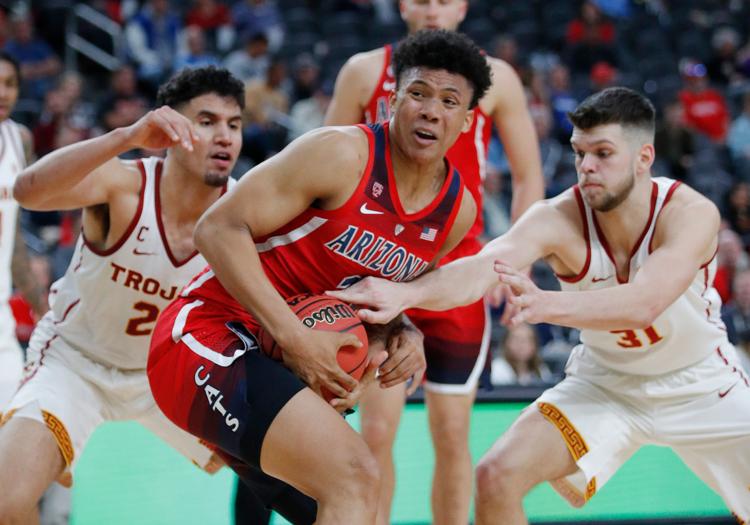 .266
Arizona's winning percentage since Jan. 14, when Akot — who was still starting but playing fewer minutes — announced plans to transfer. The Wildcats went 4-11 during that stretch, their victories coming against Oregon State (Jan. 19 and Feb. 28), Cal (Feb. 21) and Stanford (Feb. 24). Arizona lost seven straight conference games between Jan. 24 and Feb. 21, the most since the 1982-83 season. 
Be like Bill
Fans that attend the #Pac12Hoops Tournament can purchase a Bill Walton conference of champions tie-dye t-shirt right outside the arena. pic.twitter.com/sUAR6KcPFp

— Justin Spears (@JustinESports) March 13, 2019
Just outside of the main entrance to T-Mobile Arena sits a Pac-12 "fan center" complete with a hoop for a 3-point shooting contest, photo booths and merchandise stands. One piece of gear stood out among the rest: A tie-dye "Conference of Champions" T-shirt similar to the one worn by longtime basketball analyst Bill Walton. Want one? Travel to Vegas or visit shop.pac-12.com, where the shirt is $24.99. 
Walton's World, Part 2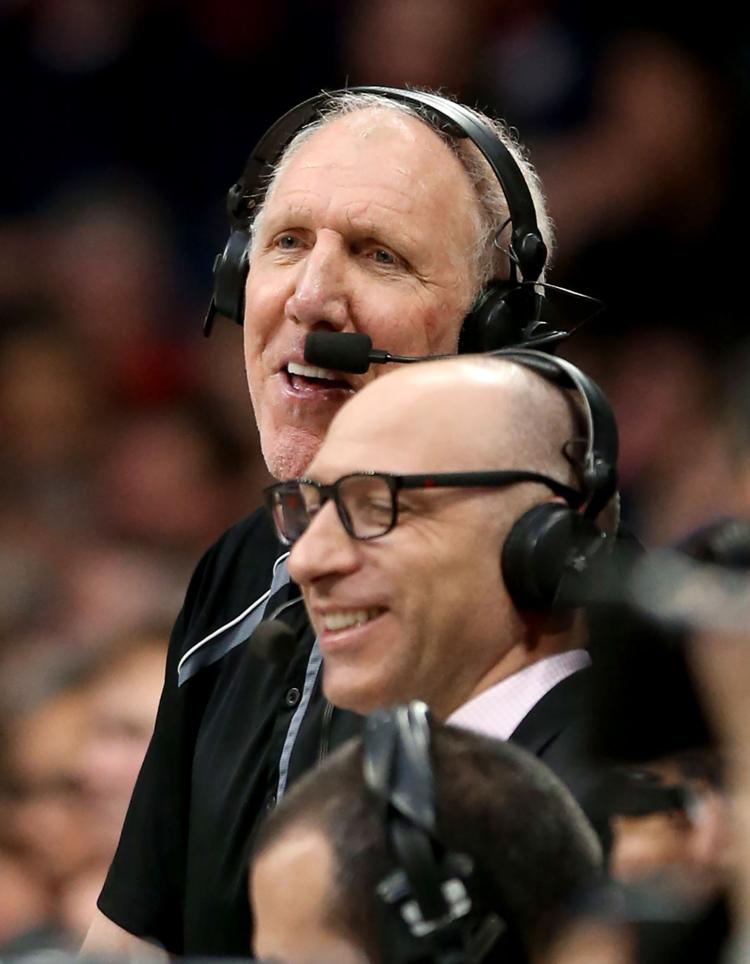 We'll just leave this tweet from ESPN's Dave Pasch riiiiight here;
Vegas bound for 3 straight nights with Bill Walton, followed by 2 straight nights with Jeff Van Gundy in Houston/San Antonio, followed by 4 straight months in a straight jacket.

— Dave Pasch (@DavePasch) March 13, 2019
RJ in the house
RJ in the house! pic.twitter.com/Z2KG2A6FCU

— Justin Spears (@JustinESports) March 13, 2019
The Pac-12 Tournament began in 2002, one year after Richard Jefferson was taken in the first round of the NBA Draft. With his playing days behind him, Jefferson hit Vegas. Jefferson spent Wednesday as part of the Pac-12 Networks' pregame show, joining host Mike Yam and fellow analyst Casey Jacobsen. Jefferson has been doing television work since October, when he retired from the NBA following 17 seasons. The engaging, entertaining Jefferson has also had some input about this week's college admissions scam, which included USC and Stanford, among other schools. Actress Lori Loughlin was arrested among 33 parents and charged with conspiracy to commit mail and wire fraud to get her daughter, Olivia Jade Giannulli, admitted to USC. Investigators say Loughlin agreed to pay up to $500,000 to get both of her daughters in school.
Jefferson, who donated $3.5 million to the UA for the construction of what is now Richard Jefferson Gymnasium, had a little fun with the scandal.
Damn these guys got off cheap.. I paid a ton more to make sure Lil Rich and Phx get in to U of A and it's not even that good of a school ...😂😂🤦🏽‍♂️#rjvgym https://t.co/A9unwuw7lu

— Richard Jefferson (@Rjeff24) March 13, 2019
Living large
Got $7,500 per night? You can live like Larry Scott. 
The Pac-12 commissioner is spending this week at the Las Vegas Sky Villa suite inside Aria Resort and Casino, per The Oregonian's John Canzano. Scott's 3,370-square-foot, two-bedroom suite includes an indoor marble jacuzzi, a stocked bar, a powder room, luxury airport transportation, a complimentary laptop, access to a private pool and elevator, champagne, chocolate-covered strawberries and 24-hour butler service.
Per the report, the suite is comped by Aria for the Pac-12's recent expenditures — including the conference tournament in Las Vegas.
Fair enough. But Scott's luxury lifestyle continues to be a bad look for a conference facing on-field (and on-court) issues and continued problems with the Pac-12 Networks. 
Tweet of the day
It's easy to support the players when they're winning, and even easier to criticize them when they're losing. Bottom line, these guys deserve a lot of credit considering what they've been facing off the court. @APlayersProgram will bounce back in no time. 🐻⬇️

— Dušan Ristić (@ristic_dusan) March 13, 2019