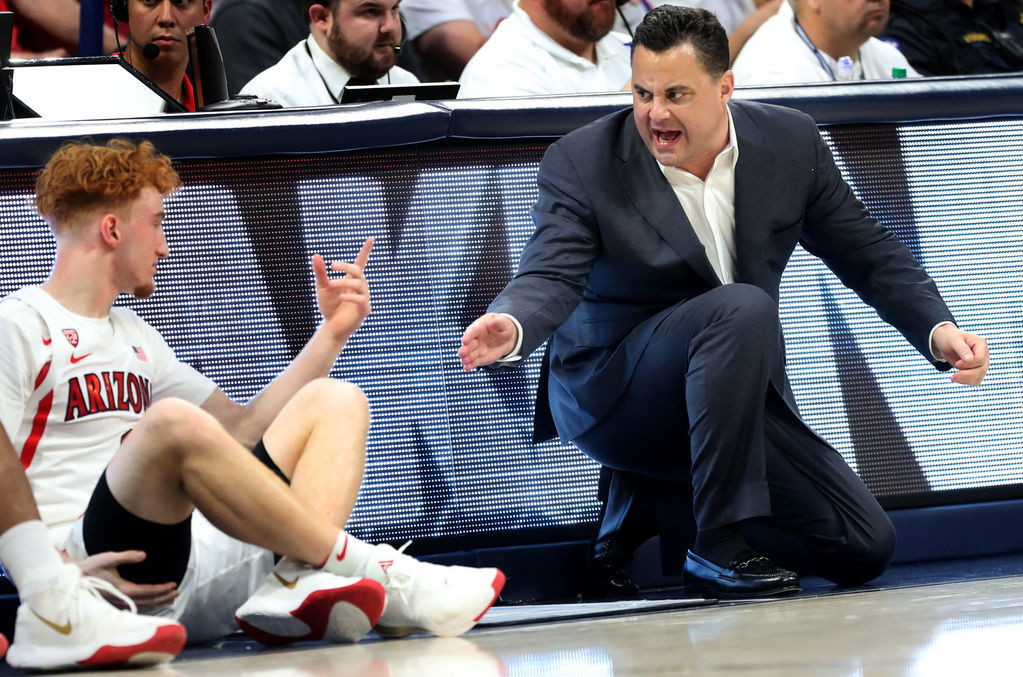 With the Arizona Wildcats' final two home games coming up this week, maybe it's time for a little rebranding exercise.
The Wildcats' "Senior Day" has been outdated for years, arguably decades — exceptions such as Dusan Ristic and Parker Jackson-Cartwright in 2018 notwithstanding.
The vast majority of Arizona freshmen never become Arizona seniors, leaving early for pro basketball or to play at another school. In recent years, "one-and-done" has taken on a new meaning with grad transfers who arrive and depart sometimes even more quickly.
"When you celebrate Sean Elliott's great career — when he came in as a youngster and you watched him grow from his freshman to his sophomore, junior, senior year," Arizona coach Sean Miller said, "that's what senior night was at that moment.
So, how about just calling it Departure Day? (or, using a local twist, maybe even Day of the Departed?)
Or an entire weekend of events: Thank You Thursday. Farewell Friday. See Ya Saturday. Just not Senior Day.
"You could make that case" to change the name, Miller said. "That could be in the future as well."
If any program is going to make the change, it might as well be Arizona.
Of the 35 high school signees who have come and gone during Miller's 10-plus seasons with the Wildcats, only seven stuck around for four seasons — a rate of just 20%. (The departures include Ray Smith, who medically retired. He graduated from the UA last spring.) There are six high school signees on UA's current roster, and at least half of them are expected to leave before their eligibility expires.
Two years ago, Miller even took the microphone during Senior Day ceremonies to acknowledge the early departures of Deandre Ayton, Allonzo Trier and Rawle Alkins.
This year, he's already confirmed that freshman point guard Nico Mannion will be leaving. He declined to do the same when asked Tuesday about the expected departures of fellow freshmen Josh Green and Zeke Nnaji. Arizona is only expected to honor players whose eligibility is expiring.
"We won't really address that until the end of the season and that's really the only fair way to do it," Miller said. "When it all ends, each of them will go their own way and whatever they need from us, we're going to give it to them. But it's tough to put that as part of the equation before the last game ends."
The only change this year, Miller said, is that Wildcats will now celebrate the event before Saturday's game against Washington instead of afterward.
It's a tradition that began in an era when the oft-dominant Wildcats rarely had to worry about losing home games — the Pac-10 also was less competitive then — though Miller said it wasn't about the potential game result.
"I think there's a number of reasons to change it now," Miller said. "Coach (Lute) Olson established a way of doing it after a game which I really, really loved for a long period of time and it's not about whether you win or lose the last game.
"It's more along the lines of everything's over and it's a good feeling to be able to celebrate with the families of those that have been here and have sacrificed and given your program a lot."
Miller said Saturday's 8 p.m. tipoff was also a factor, since a postgame ceremony would require fans sticking around late into the night.
"I think for us to do it prior to the game is right in the year 2020," Miller said. "It's just like a lot of things. You have to adjust to the times."
Green returns to practice
Green, who missed the Los Angeles trip last weekend with a sprained SI joint in his lower back, practiced in noncontact drills Monday and is expected to play Thursday against Washington State.
Miller said Tuesday that he won't know Green's status for sure until he goes through full-contact drills. Miller talked before Tuesday's practice, and UA typically does not issue injury updates between news conferences and games.
Green tried to practice last week after suffering hard falls against Oregon on Feb. 22, but didn't feel he was ready. Green continues to have a green light when he does.
"It's two parts," Miller said. "As the head coach you rely on (UA athletic trainer Justin Kokoskie and team doctors) first and foremost, and then once you get their expert opinion on the health and well-being of the athlete, then it really falls on the athlete.
"You know, each of these guys is different. They're all at a different age. Each injury represents different challenges. Some guys like to fight through, other guys you know want to be closer to 100%. So the second thing is we have to listen to the student-athlete as well."
Miller has 'regret' over ejection
In his first media appearance since being ejected Saturday in the Wildcats' 69-64 loss at UCLA, Miller said he regretted the incident.
"It took almost 550 games for that to happen to me, but that's not going to help our basketball team," Miller said, referring to his 547 previous ejection-free games between Xavier and Arizona stints. "The fact that we spotted UCLA three points, and that they converted three of the four technical free throws, that's a detriment to winning. (It was) putting everybody in a tough position — our staff, players, etc., and I certainly regret it."
Miller was tossed for picking up two technical fouls, the last with 12:28 to go. Arizona wound up being outscored 12-4 at the end of the game and coughed up three turnovers in the final 99 seconds.
Asked what he said to official Tony Padilla during his second technical, when Miller was considerably less animated than during his first technical foul, Miller said:
"I don't know," Miller said. "I certainly rubbed them the wrong way. And that's really all my comment. I don't want to get suspended or fined and it's over with.
"Like I said, the thing that I regret the most is that I wasn't able to be there for the final 12 minutes. Our team deserves better. Everybody deserves better."
Miller got his first technical in the first half, when he argued that UCLA's Cody Riley fouled Mannion under the basket. ESPN broadcasters Bill Walton and Richard Jefferson both said it was a clean block after viewing replays of other angles.
"Maybe I missed it," Miller said when told of their comments. "I mean, from my perspective I thought Nico got fouled and if he didn't, I was wrong."
Stoudamire named WCC Coach of Year
Former Arizona star and assistant coach Damon Stoudamire was named the West Coast Conference's Coach of the Year on Tuesday after guiding Pacific to 23-9 record and a tie with Saint Mary's for third place in the league.
"It was only a matter of time," former UA guard Jason Terry tweeted. "Congrats my brother, my mentor. Well deserved."
Stoudamire, who played for Arizona from 1992-95 and coached at UA under Miller between 2013-15, arrived at Pacific for the 2016-17 season in the wake of an NCAA investigation for violations under previous head coach Ron Verlin.
The school announced three months before Stoudamire's arrival that it would self-sanction six scholarships over a three-year period, limiting Stoudamire's ability to restock the Tigers' talent level.
Stoudamire's assistant coaches include Jaydee Luster, who spent the 2012-13 and 2013-14 seasons as a graduate assistant at Arizona after his playing career at Wyoming ended.
The Tigers earned the No. 4 seed and two byes in the WCC Tournament, so they'll open on Saturday at the Orleans Arena in Las Vegas. If they win that game, the Tigers will face top-seeded Gonzaga on Monday in the WCC semifinals.
Be the first to know
Get local news delivered to your inbox!