Arizona coach Sean Miller tried to take questions only about what happened on the court Thursday night, but there wasn't a whole lot to say about that.
The Wildcats lost their fourth straight game for the first time in a decade, this time to first-place Washington and the Huskies' swarming zone defense.
The final was 67-60, with Arizona (14-9, 5-5 Pac-12) shooting 37.7 percent and turning the ball over 20 times, and, well, that was that.
"They play their zone really well," Miller said.
But, in largely the same way he's been since Arizona was first implicated in the federal investigation into college basketball back in September 2017, Miller swatted away several attempts to ask about the latest off-court issue to hit his team.
Arizona moved to fire assistant coach Mark Phelps this week for a reported NCAA rules violation. Miller said he wouldn't discuss questions about off-court issues.
Those questions arrived anyway, including one about how the team was coping without Phelps, who was also suspended for two games a year ago — and Miller declined to comment about that. He did, however, confirm that assistant basketball operations director Austin Carroll will assume Phelps' role, much like he did last season in the absence of Book Richardson. Richardson was arrested as part of the FBI's investigation into college corruption, and the UA eventually fired him.
This week, though, UA was speaking for Miller. On Wednesday, the school issued a statement saying that Miller supported the move to fire Phelps — but didn't include a statement from Miller. Asked about that, and what he felt of the university's actions, Miller said "I support the statements that went out."
Finally, when an ESPN reporter asked Miller what level of concern he had that he would be subpoenaed in the federal trial in April, Miller had heard enough. As he walked out of the interview room, Miller said: "I'm not gonna comment on that. Thank you guys. I appreciate it."
Before Miller's interview session, though, senior guard Justin Coleman did address the loss of Phelps. He spoke as if it hurt.
"We love Coach Phelps. He's still part of us as a team," Coleman said. "The time he was here, he taught me to be a better player, better man. ... A couple of guys reached out to him and told him how much they appreciate him as a coach and as a guy. He's a great person in the program."
Miller did respond when a reporter told him that Coleman had expressed concern.
"Our players are young people in college," Miller said. "They're very emotional. When you go through a long season, sometimes several seasons, you grow attached to people and of course they're attached to each other and people that work with them."
In any case, Coleman said the Wildcats needed to "move forward and continue to get better."
That's not an easy thing for them to do at the moment.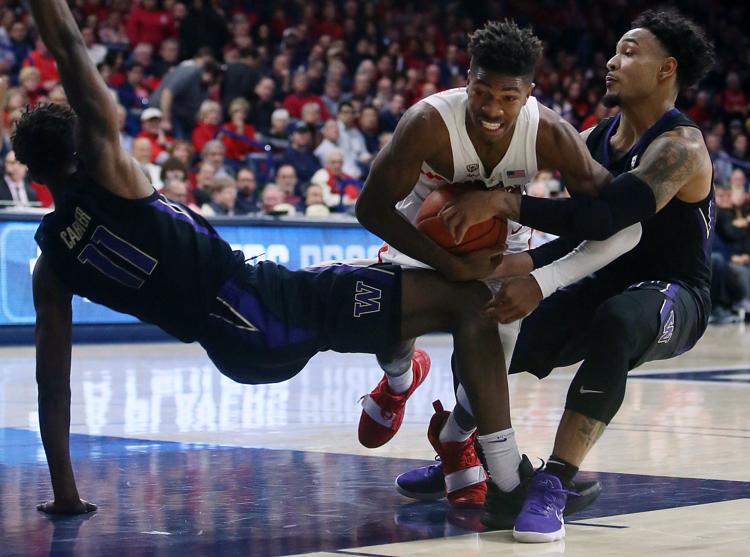 Phelps' absence Thursday was the latest in four key absences that have affected the Wildcats over the past month: First the departure of forward Emmanuel Akot, who has since decided to transfer to Boise State, then the loss of center Chase Jeter for two games with a sore back and now the loss of guard Brandon Williams to recurring knee trouble.
Williams' absence left the Wildcats with only eight players available who were recruited with scholarship offers. Miller started Ryan Luther and Jeter inside, leaving Ira Lee off the bench along with guards Devonaire Doutrive and Alex Barcello.
Then the Wildcats trotted those guys out against one of the best defenses in the country. For a while, things worked out: The Wildcats turned the ball over on their first three possessions but kept pace throughout the first half.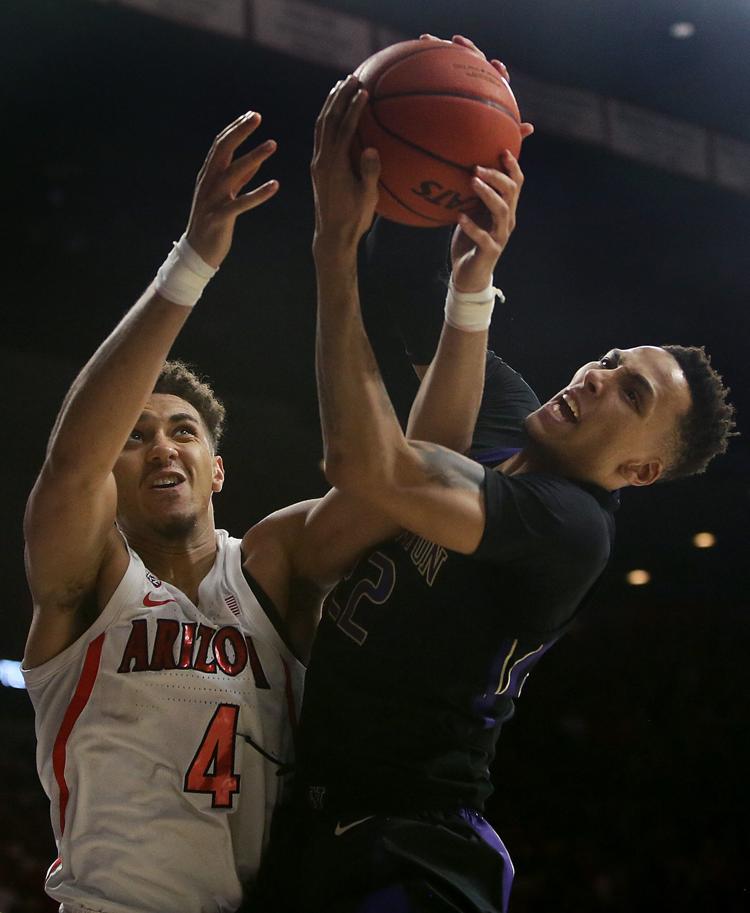 At halftime, UA trailed just 29-28, having outrebounded the Huskies 16-12 and allowing Washington to score only six points off the Wildcats' 11 turnovers.
But things slowly unraveled in the second half. Washington (19-4, 10-0) went on a 10-2 run after halftime and its offenses gradually heated up. The Huskies shot 52.9 percent over the first 12 minutes of the half, with reserve guard Naz Carter scoring six points on 3-for-3 shooting.
The Huskies then took a double-digit lead, 56-45, when David Crisp hit a jumper with 7:30 left in the game. The Wildcats didn't get much closer until Coleman hit a 3-pointer with nine seconds left.
Arizona wound up shooting just 37.7 percent and was only 4 of 18 from 3-point range. Coleman led the Wildcats with 16 points on 4-for-8 shooting, with four assists to just one turnover, and still tried to shoulder some of the blame.
"I gotta do a better job of taking care of the ball and putting my teammates in the best position to be successful," Coleman said.
Miller wouldn't let him have it.
"I know Justin Coleman played his heart out but we didn't make enough perimeter shots and weren't efficient enough," Miller said. "We weren't able to get the good defensive rebound when we really needed it."
Miller then transitioned into the rest of his post-game news conference.
"If you guys would like to answer questions about tonight's game, I'd be more than happy to answer them," he said, "but I'm not gonna comment on anything related to off the court."