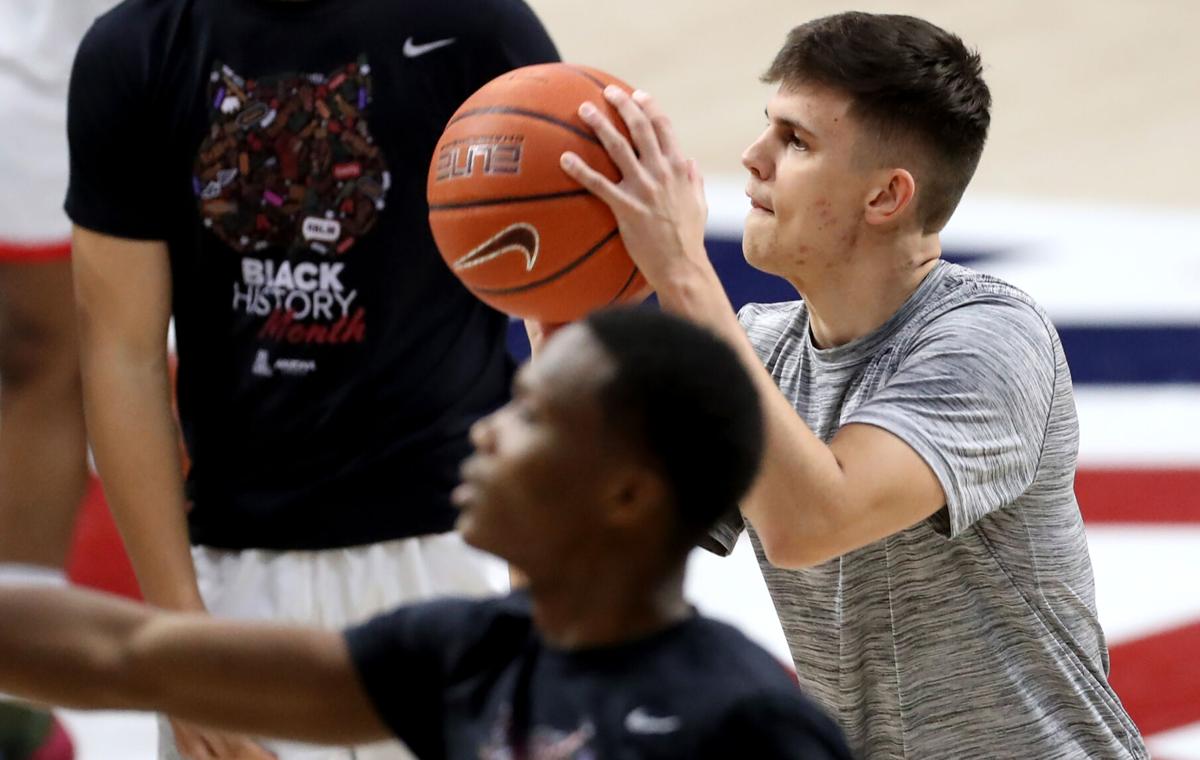 Thanks to the NCAA clearinghouse and the presence of James Akinjo, it was hard for the Arizona Wildcats to show who Kerr Kriisa really was last season.
The Estonian import sat out the Wildcats' first 17 games because the NCAA penalized him for arrangements that had been made for him to play club ball in Lithuania. He first appeared in early February during a 21-minute stint at Utah, missing both shots he took but dishing two assists to no turnovers in 19 minutes.
Two days later, he went 1 for 4 at Colorado, making the highlight reels when he jumped in front of veteran point guard McKinley Wright on a fast break to take a charge. A week later, he hit 4 of 9 3-pointers against Oregon. Kriisa finished the eight games averaging 5.5 points while shooting 36.8% from 3-point range.
He was tough. He could shoot. But with Akinjo averaging 34.9 minutes en route to the Pac-12's first team last season, Kriisa was not the point guard.
That was despite having a first name steeped in "Point Guard U" history, carrying a first name given to him by a father who admired Steve Kerr during his Chicago Bulls playing days. And despite his histories with a Lithuanian youth club and the Estonia national program.
"I think if you've watched my videos enough, then you know that I was always on the ball and I was a point guard," Kriisa said.
Last November, after Kriisa briefly returned to play in a EuroBasket qualifier for his national team, Russia coach Sergei Bazarevich even said of veteran player Yevgeny Baburin that his "main task was to cope with the Estonian leader."
That would be Kriisa. Estonia's point guard.
And now, Arizona's point guard.
UA coach Tommy Lloyd called Kriisa as much during his preseason media day address Thursday. Combo guard Pelle Larsson, who started at point guard for Utah last season, said he figures he'll be playing on and off the ball this season.
"I think we have some guys on the team that (coaches) expect to be doing a lot of things — point guard, shooting guard, or whatever is needed," Larsson said. "But obviously Kerr is the only guy they have listed as a point guard."
Akinjo went off to Baylor this season, leaving Kriisa as the Wildcats' primary point guard, while Larsson and Georgia transfer Justin Kier have combo guard backgrounds. Wings Dalen Terry, Bennedict Mathurin, Shane Nowell and Adama Ball all have ballhandling ability, but aren't listed as point guards.
That's fine with Lloyd, who says he never understood why there was a "narrative" about Kriisa not being a point guard considering how he can move and handle the ball quickly while also being a good shooter.
"And the way we're moving our bodies and moving the ball, I think he's going to be adept at making the reads we need to be made on ball screens," Lloyd added.
There's no doubt Kriisa is OK with the role. Having already accepted the pressure of playing where Steve Kerr is a legend — and putting on Kerr's No. 25 jersey — Kriisa is also comfortable leading a team.
He doesn't know any other way.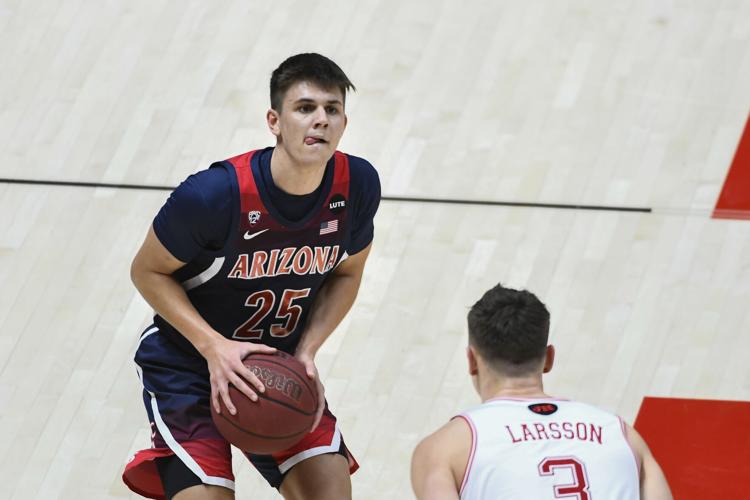 "Before last year, I never played a two-guard position. I've been a point guard all my life," Kriisa said. "I don't know who took this narrative either. It's really weird."
As with so many other uncertainties during the transition from Sean Miller to Lloyd last spring, it just wasn't clear initially during the offseason if Kerr would be in that role — or at Arizona at all.
On the same day that UA announced it was hiring Lloyd to replace Miller, Kriisa told ESPN that he would be entering the transfer portal. He withdrew a week later, having said he already trusted Lloyd "100%."
Akinjo entered the transfer portal a day after Kriisa did, eventually heading to Baylor. But Kriisa said the resulting opportunity did not factor in his decision.
"I wanted to go to a place where I was wanted," Kriisa said. "It was everything about Tommy. The way he plays, the way he talked to me, how he sees me on the team, how he sees the whole team as a unit, what he wants to change here. All these kinds of things really got me excited and I wanted to stay here."
Saying he didn't want to discuss a freshman year that "wasn't easy," Kriisa was motivated enough after deciding to stay that he spent more time in Tucson than any other UA player.
Kriisa returned home to Estonia for only two weeks in the late spring while several of the Wildcats' other returnees — including Bennedict Mathurin (Canada), Oumar Ballo (Mali) and Azuolas Tubelis (Lithuania) — played in the FIBA U19 World Cup in Latvia. UA newcomers trickled in at various times over the summer.
That left Kriisa to receive even more tutoring.
"Tucson was very quiet during the summer so there was a lot of focus on basketball, working out with Tommy and the new staff, trying to get to know them," Kriisa said. "They were giving me a lot of new drills, working on my weaknesses, so it was really a productive summer."
But, in his typically to-the-point manner, Kriisa indicated he isn't taking anything for granted as the season approaches. Yes, he's the point guard and, yes, he's been embracing Lloyd and the Wildcats' new system.
But the season is still more than a month away.
"Time will tell," Kriisa said. "I don't know. I haven't played a single game for Tommy yet. I haven't played a game for the system yet. But hopefully it will turn out to be good."
Contact sports reporter Bruce Pascoe at 573-4146 or bpascoe@tucson.com. On Twitter @brucepascoe