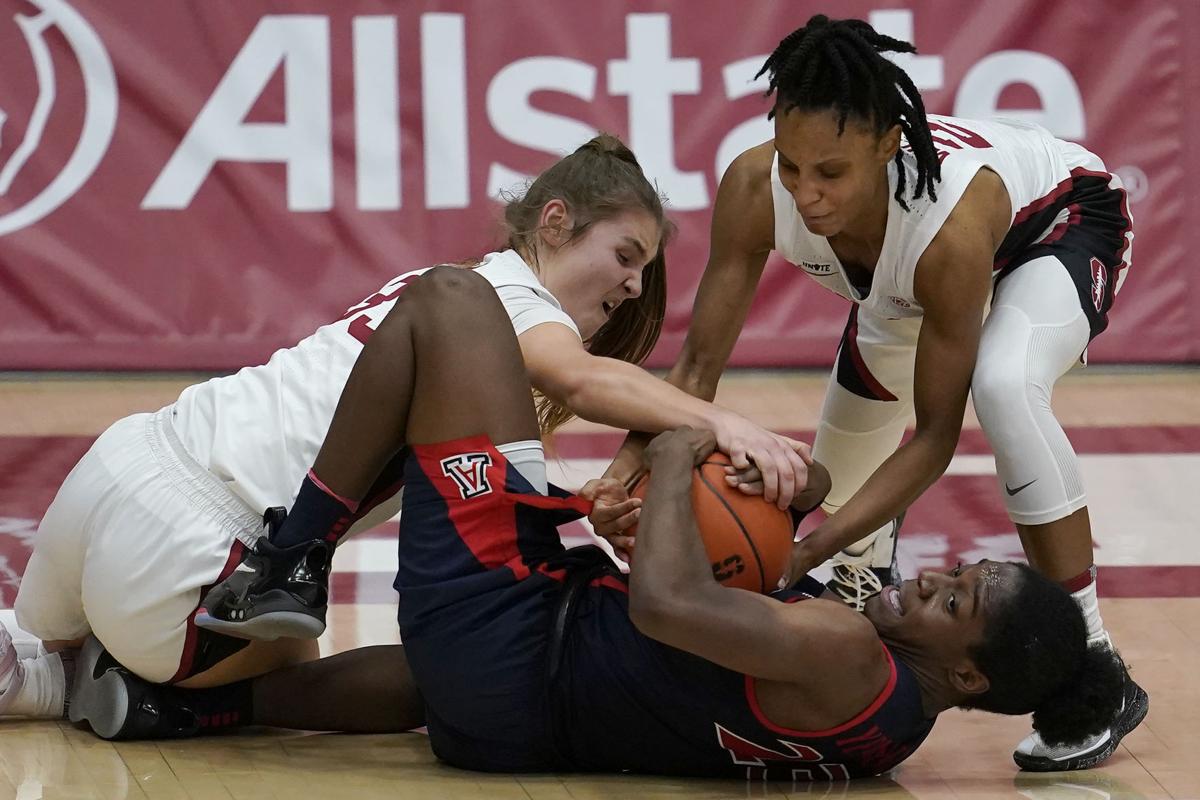 The Arizona Wildcats knew Monday night's game at Stanford wasn't going to be easy.
Arizona hadn't won in Maples Pavilion in 20 years, and Stanford — ranked No. 4 nationally — was playing some of its best basketball of the season.
Adding to the pressure, the Pac-12 title was on the line. Arizona was going after its first crown in 17 years, while Stanford was going for its 24th.
In Monday's 62-48 win over the UA, the Cardinal did things few other teams in the league do. They took the ninth-ranked Wildcats out of their game — though the 14-point loss seemed much closer at times.
The teams were tied 13-13 at the end of the first quarter, and Stanford led by six points — 31-25 — at halftime. Even ESPN's studio analysts were stunned. Stanford didn't look like Stanford, and Arizona had disrupted the Cardinal.
Part of the reason for Arizona's success was shooting. The Wildcats hit 5 of 13 3-pointers in the first half. Then it stopped: In the second half, the UA attempted only eight 3s, missing them all.
Arizona had virtually no second-half offense — except for Aari McDonald. The star guard kept the Wildcats within striking range in the third quarter, and Arizona trailed by seven with 1:34 left in the period. Then Kiana Williams hit a 3-pointer and Lexie Hull hit two free throws to give Stanford a 12-point lead heading into the final quarter.
Arizona cut the lead to 10 points twice in the fourth but couldn't get any closer. McDonald finished with 20 points on 8 of 24 shooting. She missed all six of her 3-point attempts.
Arizona shot just 30.9% from the field.
"They are a really smart team coached by one of the best coaches in the country (Tara VanDerveer)," McDonald said. "They just play solid percentages, which is hard. They kind of mess with people's minds. I definitely have to encourage my teammates to get up more shots. … we've just got to convert and focus."
Arizona's defense held Stanford to its second-lowest scoring output of the season and forced 16 turnovers.
In the end it was the little mistakes that hurt. The Wildcats didn't box out on a missed free throw and Stanford kicked it out and knocked down a 3-pointer. Arizona was driving for a transition basket, but a pass to Bendu Yeaney missed.
UA coach Adia Barnes said the Cardinal "force you into your weaknesses."
"I think they made Aari really work to take pull-up jumpers, which is a really hard shot with congestion. It wasn't easy," Barnes said. "For us, we needed some other people to be able to score. When we're getting Aari to take 24 shots, it's hard. First of all, fatigue. It's hard to do that and to go press the ball the whole time. The other thing is, we need some other productivity. I think that Sam (Thomas) did a really good job staying aggressive. But I think with the way she played, we need to get her more than nine shots. I think that they made us pay for the little mistakes. … We were getting stops, but then we couldn't go score."
Slow start
McDonald missed her first seven shots Monday night. That's not unusual for prolific scorers.
"Great players have amnesia," she said. "If I missed seven shots, I'm going to keep shooting. I'm pretty sure my coaches and my teammates are backing me up — telling me to keep shooting. Down a stretch, I start to get hot and I start to feel it, but I'm going to keep shooting."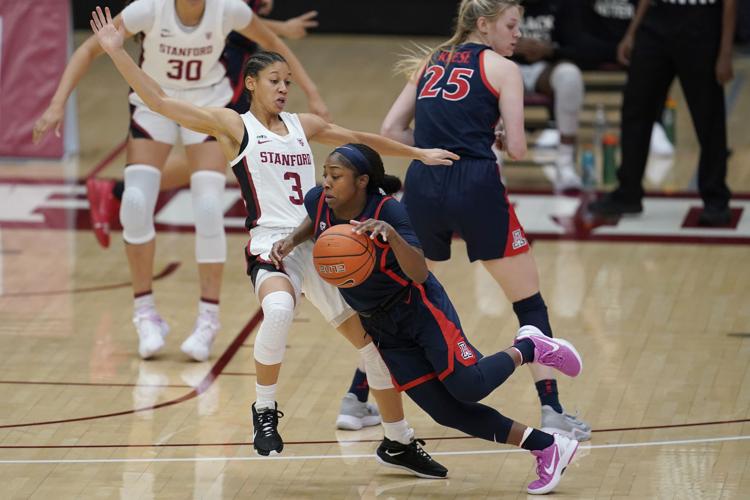 McDonald has scored in double figures in every game she has played as a Wildcat, 84 in a row. It's the longest active streak in the nation and the longest in the Pac-12 since 2000.
McDonald found other ways to contribute. Before scoring her first field goal, she grabbed two rebounds, had three assists, drew a foul and knocked down both free throws she attempted.
The upside
Arizona plays at ASU on Sunday in the teams' regular-season finale. With a win, the Wildcats will secure second place in the Pac-12. The last time the Wildcats finished that high was 18 years ago. The following year, they ended up in first place.
"I think we've worked really hard to get where we're at. I mean, if you look at a couple years ago, we were chosen to finish last. I think we've come such a long way," Barnes said. "I wish we would have just performed a little bit better. But I guess what I'm happy about our team is we fought; we didn't give up. We were playing hard. Things weren't falling, we were making mistakes, but we were trying. I think that's the thing — they were playing with passion, didn't hang their heads when we took punches. Those are the things I'm proud about, because that's who we are and that's my team."
Rim shots
Arizona may get another shot at Stanford in the Pac-12 Tournament. How could the Wildcats pull off a win?
"Hit more shots, minimizing a couple of our mental mistakes like going under on shooters — that's the difference in the game," Barnes said. "I think that we can play with anybody. I think they're capable. I think we showed at periods we can beat them. But you know, they're really good; we have to play well. We can't have a lot of mental mistakes and little lapses or lulls of five, six minutes without scoring. … Stanford is really good. They're like an offensive machine. They have size and inside athleticism. We have to go shoot the ball; we have to box out and stop the ball in transition. … We have to play better to beat the Stanfords."
McDonald has been named one of 10 semifinalists for the Naismith Defensive Player of the Year award. The reigning Pac-12 Defensive Player of the Year is the only league player on the list.
McDonald is averaging a league-best 2.5 steals per game. She had three against Stanford.