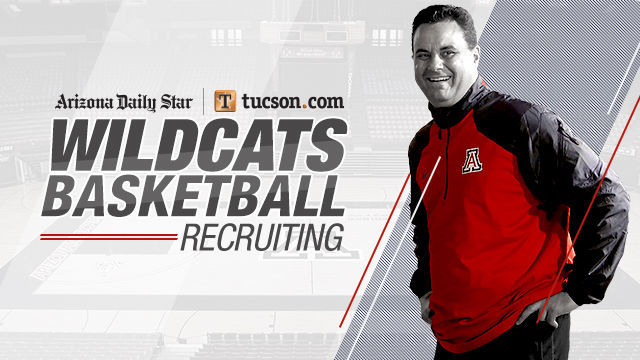 Four-star Los Angeles point guard Brandon Williams announced Saturday he will play for the Arizona Wildcats, after all.
Williams decommitted from UA on March 2 and took subsequent visits to Gonzaga and Arizona but announced at the Ballislife All-Star Game that he re-committed to the Wildcats.
"The whole thing with me was being extremely happy with a program where I know I'm most comfortable with and where I know my heart first led me," Williams said during his announcement. "That was with coach (Sean) Miller and the University of Arizona."
Rated No. 37 overall in the class of 2018 by ESPN and No. 31 by 247Sports, Williams was sidelined when he committed to the Wildcats in June 2017, having had surgery to correct a congenital bone issue above his knee in January 2017.
Williams returned to the court last fall and played well as a senior for Crespi High School last season even as he initially had his playing time restricted because of the injury. He scored 52 points in one overtime game, and averaged 24.7 points and 2.7 assists for the season.
"First and foremost they're getting a quality individual," Crespi coach Russell White said at the Ballislife game. "He's gone through tons of adversity. Handled it with utmost class.
"Talent wise he's the cream of the crop. He's gonna be ready to go. He's excited. I know he's gonna do some good things. He can pass, he can score. He can dribble. And he's worked on his defense a little bit but he knows that."
Williams' play last season only served to increase his recruiting attention when he decided to start looking around again in March. He visited Oregon two weeks ago and Gonzaga last weekend, realizing he could have played alongside veteran combo guards Payton Pritchard at Oregon or Josh Perkins at Gonzaga.
Instead, Williams chose to play at Arizona, where he will battle grad transfer Justin Coleman and returning sophomore Alex Barcello for the starting point guard spot.
Williams' decision gives Arizona five players in the class of 2018 and more certainty at the point guard position. UA lost Parker Jackson-Cartwright and returned only Barcello from last season at the spot but has since landed both Williams and Coleman, a transfer from Samford who was a second-team all-Southern Conference pick last season.
Arizona now has 11 players lined up for next season, also including new additions Devonaire Doutrive, Omar Thielemans and Ryan Luther.
The Wildcats are still searching for more depth up front, and are listed in the top three of five-star forward Jordan Brown along with Cal and Nevada.
Arizona's chances of landing Brown appeared to look better when Brown canceled a planned visit to Nevada, since he has only one left to take. However, Brown lives nearby in Roseville, Calif., and can always visit Reno unofficially should he opt to take an official visit instead to Tucson.
Be the first to know
Get local news delivered to your inbox!