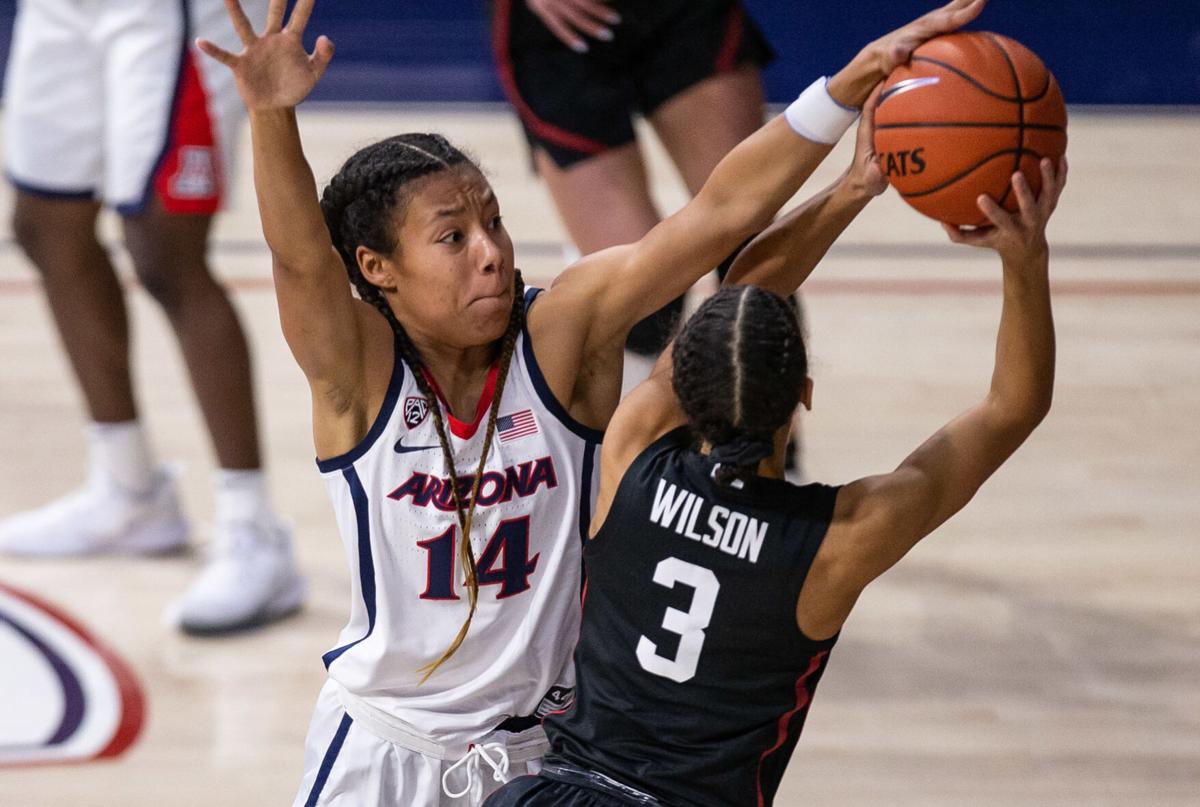 Sam Thomas set her feet and braced for impact. Oregon's 6-foot-5-inch Nyara Sabally was about to crash into her.
Thomas closed her eyes and — boom — hit the deck. A few seconds later, Thomas sprung back up.
Part of it is fearlessness. Much of it is knowing what she has to do to help her team.
"I'm definitely scared when I'm standing there and I know about to take a charge and it feels like the play is going so slow-mo and I know I'm about to get hit," she said.
"It's definitely a little bit nerve-wracking, but then she gets a foul (and) we get the ball. I think just little things like that — the motivation behind it. That's what makes me really want to do it.
"The whole team loves charges. Every time someone gets a charge, everyone's really hyped. I think having that behind the motivation, really just takes away the fear. It's like 'Well, I don't care how tall or big you are, I'm going to stand in from of you and try and do what I can do.'"
Thomas and 10th-ranked Arizona (13-2, 11-2 Pac-12) will try to extend their five-game winning streak on Sunday, when they take on Washington (5-10, 2-10 Pac-12) in McKale Center.
Thomas has developed into one of the best defenders in the Pac-12. Last season, the league's coaches voted her onto the all-defensive team; in fact, Thomas claimed the second-most votes, behind teammate Aari McDonald. McDonald won Defensive Player of the Year honors.
Thomas is the only player in the Pac-12 to average at least two steals and one block per game. She is the Pac-12's active career leader with 151 blocks; no other player has more than 100. Thomas' 193 career steals are second only to McDonald among the Pac-12's active players.
In her four years as a Wildcat, Thomas has guarded the opponent's best player every single game.
Thomas said it's her consistency more than anything that makes her a valuable player.
"(My teammates) always know what they are going to get from me," she said. "My offense might be on, might be off, but you're always going to get defense for me. I'm going to try my best not to turn the ball over on offense to try and help other people — you know, feed them. I just think that's the biggest thing that I do just try to be a leader for them."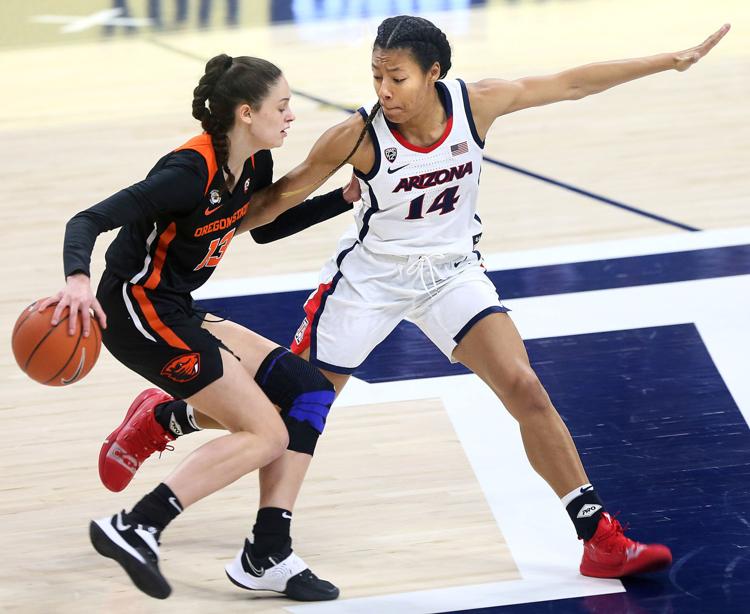 Thomas makes a big defensive play to spark her team in just about every game.
Her teammates call her "The Stat-Stuffer." The numbers don't count her deflections and tips, when she alters shots and in general disrupts plays. Pac-12 analyst and former UA coach Joan Bonvicini has another nickname for her: "Swiss Army Knife."
Thomas' consistency translates to the offensive end, too. Because she plays every position on the court, Thomas knows what each player is supposed to be doing on each set. She directs her teammates and takes care of the ball, sporting a 5-to-1 assist-to-turnover ratio this season.
A month ago, UA coach Adia Barnes challenged Thomas to get to the free throw line more after noticing the forward had attempted just one free throw all year. Thomas took it to heart, and started driving and drawing fouls. In the last five games, she's made 12 of 13 attempts.
Thomas' versatility hasn't gone unnoticed.
Brian Agler, a former WNBA coach who is now the athletic director at Wittenberg University, has watched Thomas since her freshman year. He likes her competitiveness, her length on the perimeter and that she is defensive-minded. The fact that Thomas' 3-pointers are improving — she is shooting nearly 43% over the last 12 games — helps, too.
Agler compares Thomas her to a few current and former WNBA players, including Alysha Clark, Alana Beard and Ariel Atkins.
Thomas and Aktins, a Washington Mystics guard, have the same build.
"Sam is more versatile defensively than Atkins and can guard multiple types of players," Agler said. "It's the intangible things she does that impacts the game with her energy, toughness and effort. The intangibles like hustle plays."
Agler said while it's hard to make a WNBA squad — there are only 144 roster spots available — Thomas has a shot if she can find the right organization.
She found a good fit at Arizona. From the start, when Thomas was named a captain her freshman year, Barnes believed in her.
"Coach Adia was like, 'I'm always going to have your back, no matter what you say. I trust you — shoot the ball as many times as you want.' Just her constantly saying things like that over and over again let me be confident in myself. So then on the court, I'm able to be consistent," Thomas said.
Sunday might be Thomas' final game on her home court at McKale. She said she won't decide until after the season if will take advantage of the extra year of eligibility the NCAA gave to all winter sport athletes.
Barnes said that Thomas is "one of the most valuable players in our program."
"Sam does so many things you can teach – it's just part of who she is," Barnes said. "Off the court, she is a perfect role model — great in the classroom and the community. She represents our program with class. On the court, it's her consistency. I know what she brings every single day. She never cuts corners.
"I said it before, Aari, Sam and Trinity (Baptiste) are my top recruits. I was joking, but really if any of them want to stay, I would find a way to keep them. Sam is a good soul and someone I love to coach."
Rim shot
Sunday is Senior Day, and McDonald, Thomas and Baptiste will all be honored. The ceremony will be shown on the Wildcats' Facebook page after the game.
Arizona invited a few members of each family to attend this weekend's games. Friday night, Thomas apologized for her dad's cheering. "Everyone heard him on the court," she said. "I listen to him and when I want to block him out I can, but I feel bad for everyone else that had to listen to him the whole 40 minutes."