When freshman Semaj Smith laces up her shoes Sunday afternoon at Long Beach State, it'll feel like a home game.
The 6-foot-6-inch Smith grew up in Long Beach, and her family — aunts, grandparents, godparents, mom and younger brother — will pack the Walter Pyramid to see if the 7-1 Wildcats can extend their six-game winning streak.
The game holds even more significance for Smith and her family. Her mother, Rhonda Smith, still owns two of LBSU's single-season shot blocking records. Smith's grandfather, Sylvester Givens, is so loyal to the 49ers that he planned to wear a T-shirt with both the LBSU and UA logos on it. His wife, Karlin, nixed it. "No more Long Beach State," she said.
Smith may not remember whether she played at the Pyramid as a kid, but does recall attending plenty of alumni games with her mom.
"The court is her home," said Rhonda Smith, who played professional basketball in Israel, Turkey, Croatia, China and South Korea. "When we were in school, my academic advisor would watch her, men on the basketball team would watch her, women on the basketball team would watch her, even women on the volleyball team would watch her or she'd go to class with me. She had no choice."
When it came to picking a sport for her daughter, however, Rhonda was cautious. Semaj Smith started off by playing softball, only switching to hoops when she grew to 6 feet in the fifth grade. She made an impact right away.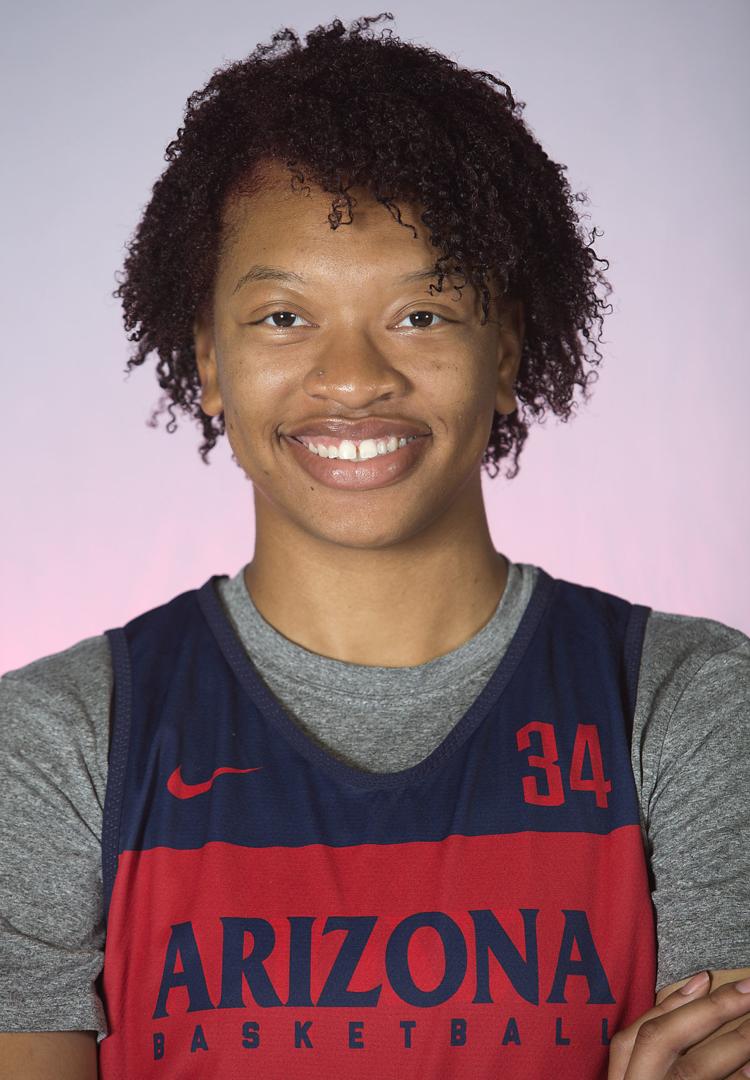 "She had the ball and the ref asked for it and she threw it like a softball. He jerked to catch it as she threw it hard to his face and that's when I knew she'd be an athlete in the game of basketball," Rhonda Smith said.
Smith is. Just look at her performance through her first eight games of the season.
Smith scored eight points and had three blocks in her third-ever college game, a win over Seattle — a line she repeated two games later against South Carolina State. Against Montana, Smith recorded 13 points, one steal and one block.
Smith is the first true center coach Adia Barnes has recruited to Arizona. While her game is still developing, her size — and skill — are too great to keep on the bench.
"She's not a kid who retains everything, but she just turned 18 and she picks up on the most important things," said Morgan Valley, one of Smith's position coaches. "I think it's impressive that she's 6-6 and moves pretty well and just keeps getting better. She alters shots and she doesn't have to block it, just be in an area and making others more timid.
"She can run the floor very well, she's long and does a good job at altering shots. She has a great demeanor and is great to be around. That's what you want on any team. Day-by-day she is becoming more and more competitive. She has a chance to do something special and be special by the time she leaves here."
A number of factors have led to Smith's increased playing time, most recently a concussion suffered by fellow post player Destiny Graham. Smith played 23 minutes against Montana, matching the amount of playing time she received in her first three games combined. She's averaging 3.9 points and 2.9 rebounds per game. Her 12 blocks are the most on the team.
"The greatest teacher can be experience," Valley said. "Getting more touches on offense and defense is helpful."
Smith showed two different aspects of her developing game earlier against Montana, nailing a 3-pointer and stealing a ball and going coast-to-coast for the layup.
"In practice we work on denying the pass and I usually get beat. I am not happy with that," she said. "So when I got the steal, I didn't have total control of the ball and I got nervous. You couldn't hear me on the court, but I was like 'Ahhhh!' I was excited I got the coast-to-coast for the layup."
Smith credits her coaches for her growth. Barnes, for one, has taught the freshman to be confident on the court — even though she's learning on the fly. Smith has found out, for example, that she doesn't need to post up every time down the floor.
"It's the hardest thing to learn — not always staying on the block," Smith said. "It's taken a while to learn to post where I want to post, not where they want me to post. In this game (against Montana), I was getting into position by the elbow, then release and go back to the block. It's getting easier as I get more time."
Smith's competition includes her mom. The two have played just once, when Semaj Smith took her official visit to the UA. The young standout won, something she won't let her mom forget.
Next, Smith wants to beat Rhonda Smith's shot blocking mark of 229. Rhonda Smith reminds her daughter that she did it in "two years, not four. It'll take a little … a lot of work to do it in two."
Said Semaj Smith: "I'm going to beat her record in two years. We'll see what happens."