The 24th-ranked Arizona Wildcats are known for their swarming defense.
It was all on display Friday afternoon, when the Wildcats defeated UC Riverside 70-27 at McKale Center in front of 4,417 people.
The UA (7-0) allowed just nine field goals. Before Friday, no Wildcats team had ever allowed fewer than 11.
The 27 points Arizona announced was its fewest since the UA joined the Pac-10 in 1978.
"I feel like we always want to punch first in the game. So that's why we came out aggressive," senior guard Lucia Alonso said. She finished with five assists, three rebounds and three points.
The Highlanders took a 6-5 lead early on and held it for 36 seconds before the Wildcats responded. Senior forward Dominique McBryde gave Arizona a lead it would never relinquish on a jumper.
Then the defense took over. Sam Thomas got the first of her five steals and went in for a layup. Freshman Helena Pueyo picked the Highlanders' pocket and Cate Reese finished. Then Thomas got another steal and Reese scored again — this time a jumper outside the paint — as Arizona took a 13-6 lead.
The Wildcats finished with 15 steals. They haven't had fewer than seven steals all season. Star guard Aari McDonald finished with four steals, Pueyo added three and Mara Mote had two.
"We have some really solid defensive players in our starting lineup," Barnes said.
"If you look at Aari, she's one of the best players in the country that changes the game on both sides of the floor, which is very rare. Defensively she's our catalyst. And then Sam Thomas — her long arms and good timing. She finds a way to get deflections, and I don't even know how she does that. … Cate's improved so much defensively. She guards some good players. And Dominique does what she does well."
"I think sometimes we had to encourage them to pressure the ball a little bit more, because that's when we're forcing turnovers. I think when they had a little bit of a lead, they relaxed a little bit. And that's kind of just young mistakes. But then we said, 'Hey, pick it up' or call the timeout or sub people out, and they came back with more of a sense of urgency, because that's the expectation."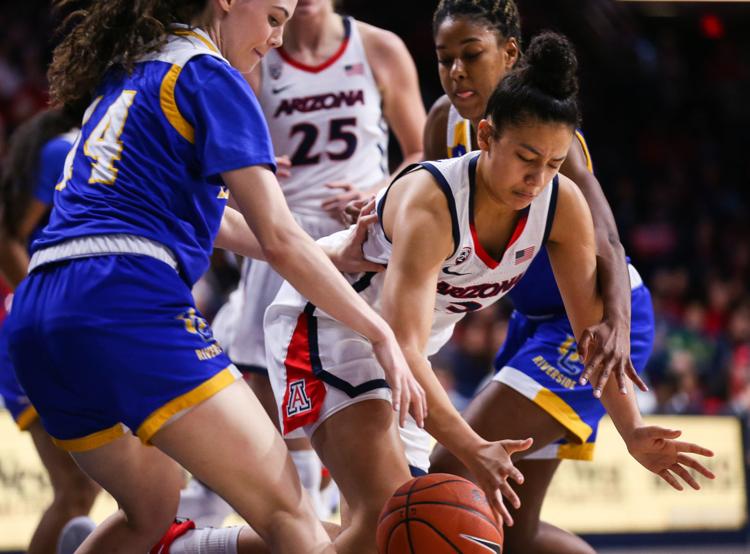 Arizona forced a season-high 29 turnovers, 18 of them in the first half. Riverside shot just 21% from the field.
The Wildcats scored the final 17 points of the first quarter.
In the second quarter, the Wildcats gave up another six points — all on free throws. The Highlanders went 0 for 6 from the field.
Arizona outscored UC Riverside 20-2 in the third, narrowing the passing lanes and forcing a pair of shot clock violations.
The defense sparked the offense, and 11 Wildcats scored. McDonald led all scorers with 14 points.
Mote came off the bench and went 4 for 5 from beyond the arc to finish with 12 points. She was the player of the game, and — as part of a new UA tradition — got to bang the drum seven times for Arizona's seven wins after the game.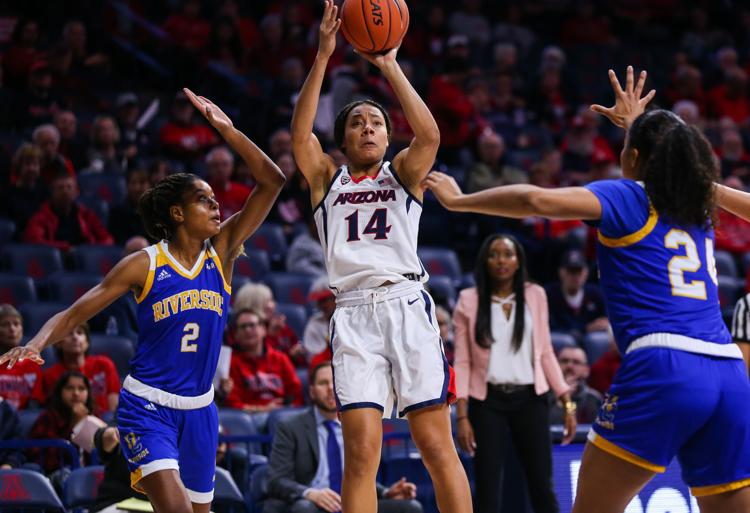 "It was fun," Mote said of banging the drum. "I had a good game, shot my shots and I was excited. … After the second shot, I saw my teammates were trying to find me. And I was like, 'Oh, I gotta hit those shots.' They're actually looking for me. I think after the second one I knew every shot that I'm going to take is going to go in."
Rim shots
Bre Workman took in Friday's game. She is now the director of operations for New Jersey Institute of Technology.
Thomas has made 100 3-pointers in 73 games. Her teammate, Alonso, has hit 108 in 98 games.
Going into this game, the UA led the Pac-12 in scoring defense, allowing only 48.7 points per game.