As the Wildcats keep playing in the WNIT, one thing is for sure: The freshmen don't look like freshmen anymore.
Cate Reese, Bryce Nixon and Semaj Smith aren't quite sophomores yet, but they're putting it all together consistently.
Nixon's outlet pass to Reese for an easy basket in the Wildcats' WNIT opening-round win over Idaho State opened eyes. So did Reese scoring the first four baskets in the beginning of the fourth quarter of Sunday's win over Pacific.
But it's Smith, the tallest player on the court in the UA's first two WNIT games, who has grown the most.
The 6-foot-6-inch center has noticed a difference on the court. The Wildcats will continue their WNIT run at McKale Center on Thursday with a round-of-16 game against Idaho.
"The whole team is trying to win," she said. "I like contributing to my team a lot. I've been working with the coaches more and more. It's just working and trying to win."
Smith played a little more than six minutes against Idaho State, scoring four points, grabbing four rebounds and adding a steal. Smith's playing time doubled against Pacific, and she finished with six points and eight rebounds. The Wildcats scored 34 bench points in the two WNIT wins.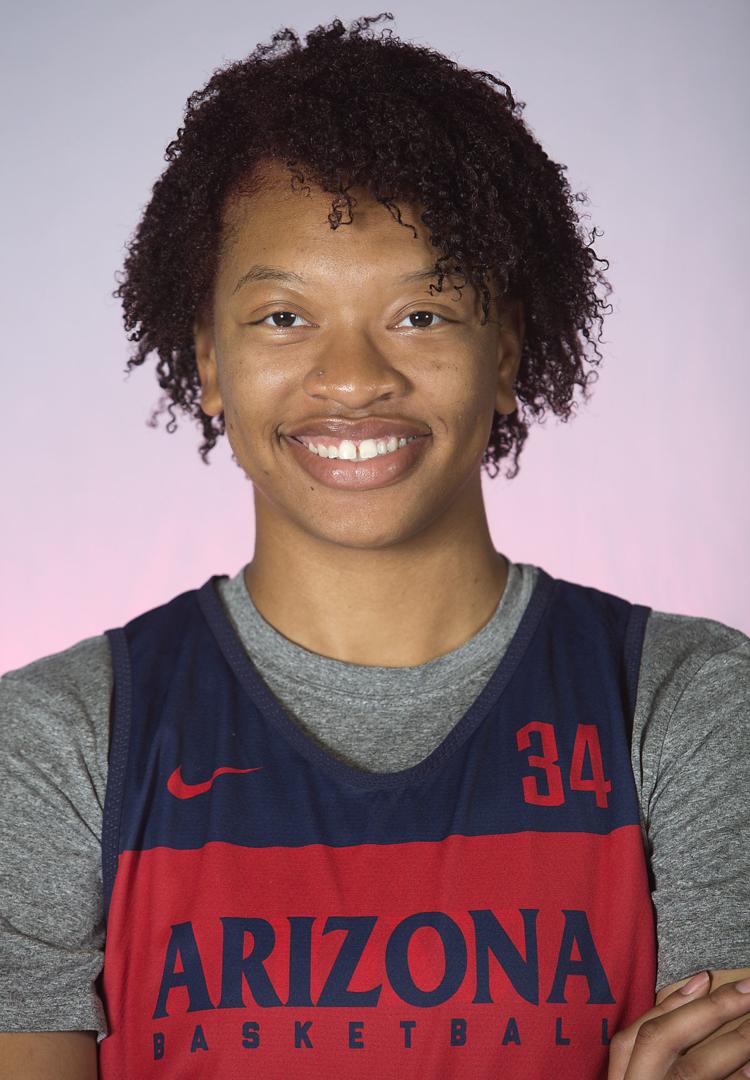 Arizona coach Adia Barnes said she is proud of Smith's growth this season.
"She kept the rebounds high," Barnes said after Sunday's performance. "So you can see she is getting more experience. Look at Semaj in October and look at her now. She still sometimes fumbles the ball a little bit because she is thinking about the move before she catches it. I think that will come with experience. She kept the ball high. She stuck with it. She didn't give up. She had some great rebounds.
"I mean 6-6, that's really tall when she's holding it up and getting those rebounds, no one can jump with her."
Hearing words like those from her coach keep Smith hungry and wanting to work harder and keep going. Which is especially helpful in a long, extended season. Thursday will be the Wildcats' 34th game.
"(The biggest thing) Coach Adia has shared right now is to stay motivated," said Smith. "I think of my family — my mom (Rhonda) and my brother (Shia). They seem proud of me. … My family is definitely my motivation."
Smith said her teammates — and even UA fans — help her confidence in games. While she doesn't see the signs during the game or the fan who wears a red "Semaj afro," she knows they are there.
"It's extremely cool. That means I'm doing something right," she said.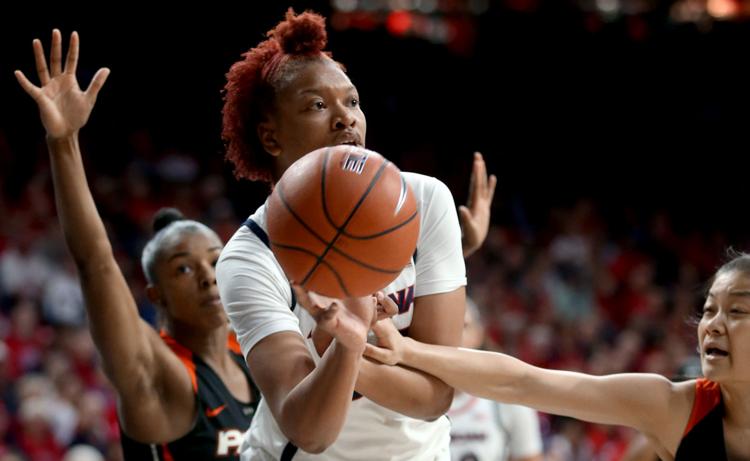 Showing love for Barnes
Two UA fans sitting behind the public address announcer Sunday wore their love for Barnes on their sleeves. Well, their shirts, at least.
Wanda Siemer wore a blue T-shirt with ADIA in dark blue letters; her sister, Virginia Piper, wore a red shirt with ADIA in blue.
Siemer had the shirts made a year ago. She and her sister have worn them to games throughout the season.
"Look at what she's done in three years (as UA's head coach)," Siemer said. "She's done a lot for women's sports and for this program. It's nice to see her make this the quality program is it. You have a team that fans are able to connect with. Adia built the connection through a lot of community outreach — an opportunity to get to know the team off the court. A lot of season ticket holders left and now they've come back because they know Adia. They know what she's doing and they applaud her when she comes out on the court" before games.
Siemer watched Barnes play at UA 20 years ago, and followed her professional career afterward. Siemer said Barnes is in many ways the same now as she was then.
"I remember going to lunch and little girls would recognize her and come up to her," said Siemer. "She was kind, polite and humble off the court. …
"Adia is a very good person on the court, and an excellent person off the court."
Siemer and Piper are planning to attend Thursday's game. Will they wear the T-shirts again? Siemer isn't saying.
"They will play well whether I wear it or not," she said. "I have another one I like that says 'Basketball was invented by men — perfected by women.'"
Still playing
The Arizona Wildcats practiced for the first time in August, and played their first game Nov. 9. Now it's nearly April.
Barnes is finding new ways to keep her players rested, both mentally and physically. The Wildcats watched basketball and shared a meal Saturday. Monday, they took the day off. Barnes said rest and camaraderie are keys.
"That's why teams are successful in postseason or not," she said. "You are either ready for the season to be over or if you are a heavy-senior team and you're not in the NCAAs and in the WNIT. Some good teams lose because they are ready to be done or get upset because they are not in the (NCAA) Tournament.
"I'm hoping with this group we are hungry. We have a chance to play four more games. … I think we have potential to win it. I think that would be a great accomplishment for this team."
More promotions
The UA's athletic department is asking fans to buy tickets that will be donated to local military families. Fans have until noon Thursday to participate and help reach the attendance goal of 5,000.
Members of the Zona Zoo can again get in for free. The student section is hosting a spring kickoff event, complete with food from El Charro, prior to Thursday's game in the courtside club inside McKale Center.