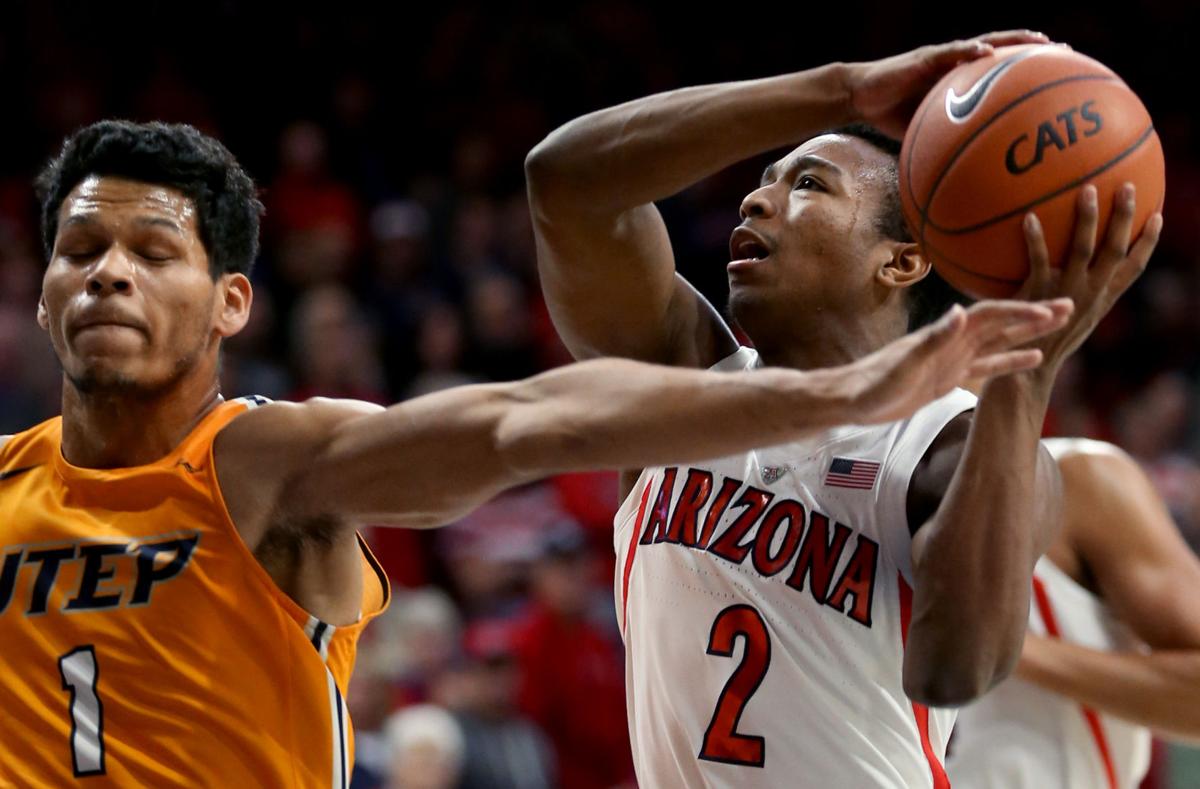 Freshman guard Brandon Williams and sophomore Brandon Randolph each scored 21 points to lead Arizona to a 79-46 victory over UTEP on Wednesday at McKale Center, the Wildcats' final tuneup before next week's Maui Invitational.
Williams shot 6 of 12 from the field and hit 7 of 9 free throws, rediscovering his shot after two off games from the field. Williams had scored 23 points on 9-for-16 shooting in UA's Nov. 4 exhibition game with Chaminade but was just 6 of 20 overall and 2 of 9 from 3-point range over the Wildcats' first two regular-season games.
Randolph scored his 21 points on 7-for-12 shooting while hitting all six free throws he took. Center Chase Jeter added 15 points and five rebounds for Arizona.
Leading by 11 and keeping the Miners scoreless for six minutes late in the the game, the Wildcats shot 50 percent overall from the field. UTEP shot just 34.8 percent and committed 22 turnovers, which led to 15 Arizona points.
Paul Thomas led UTEP in scoring with 14 points while center Efe Odigie had 13 points and 11 rebounds.
Thanks in part to Odigie, the Wildcats were able to gain only a 37-33 rebounding edge over UTEP.
In the first half, Williams scored 15 points to lead Arizona to a 34-23 halftime lead, shooting 5 for 9 from the field overall and hit both 3-pointers he took.
As a team, the Wildcats shot 45.2 percent, while keeping UTEP to just 37.5 percent, and helped force 10 UTEP turnovers, off which UA scored six points. However, the Wildcats made only 3 of 8 free throws and were tied with the Miners in rebounding at 17.
Arizona jumped out to an 8-0 lead while UTEP missed its first four shots and committed two turnovers, both of which UA converted into easy layups – one by Randolph and another by Williams.
Arizona built a 10-point lead, 21-11 when Ira Lee dunked with 10:32 to go but couldn't put the Miners any further away until Williams hit a jumper with 46 seconds to go in the half to put UA ahead by the 11-point margin it carried into halftime.
Before the game, five-star point guard Nico Mannion signed his letter-of-intent to play for the Wildcats next season and three other committed players could follow during the fall signing period that started Wednesday and runs through Nov. 21.
Five-star guard Josh Green will sign on Friday, according to Zagsblog, while four-star forward Terry Armstrong will sign sometime during the fall signing period, his uncle told the Star. Three-star center Christian Koloko is also expected to sign this week but his sister, Stephanie, said he has not signed yet and is away from home until Saturday.
Contact sports reporter Bruce Pascoe at 573-4146 or bpascoe@tucson.com. On Twitter @brucepascoe
Be the first to know
Get local news delivered to your inbox!