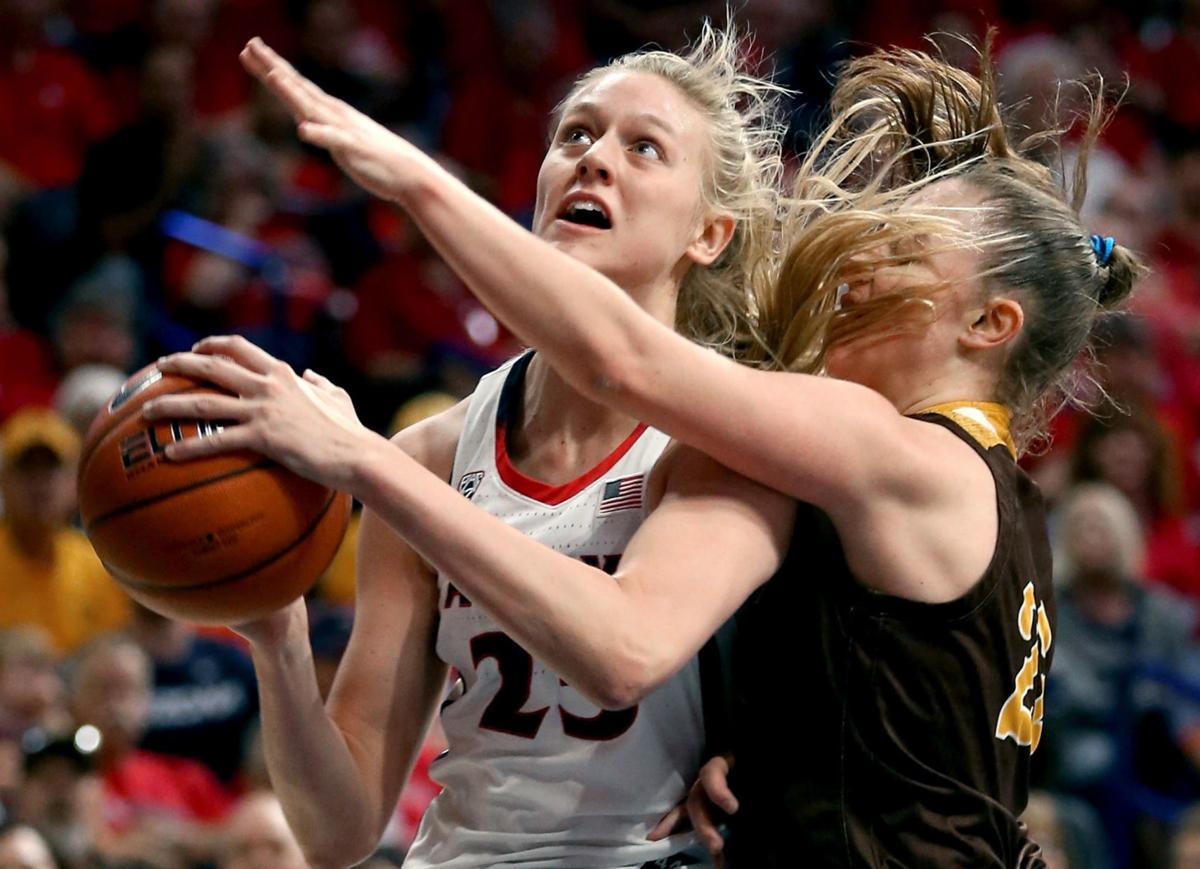 That's Adia Barnes' philosophy these days when it comes to wearing the "A" — practice gear with Arizona emblazoned across it. Her players must earn the right to wear it.
In many ways, this year's Wildcats are starting over. There's no time to rest on past success — most notably, Arizona's WNIT Championship. Barnes is looking forward.
"It was a great thing, but that was last year," Barnes said. "I think we have bigger plans, bigger objectives, bigger goals and we're going for them this year. … So, our goal is we want to be a (NCAA) Tournament team. We haven't been to the tournament in … a long time. So, that's our goal. We don't look at the big picture, we look at the small victories. It's daily. It's getting better every day, sticking to the process, doing things the right way, and then things will take care of themselves."
Barnes opened season training for the 2019-2020 season Tuesday. So far, six of the Wildcats' 15 players have earned the right to wear the "A": Aari McDonald, Sam Thomas, Bryce Nixon, Tee Tee Starks, Mara Mote and Sevval Gul. They earned their gear via a team vote; players must receive 19 of 21 possible votes to get it.
"(It's) based off of different things like how you are doing in practice, how you are helping out your teammates off the court, too," said sophomore Cate Reese, who has yet to earn her "A".
Players say the earn-your-"A" approach has led to more energy and aggressiveness in practice. Reese and McDonald battled so hard for rebounds in Tuesday's practice that at times they were diving over each other.
Barnes thinks there may be a little more to Reese's aggressiveness than an "A."
"If you watch her now she's practicing with a chip. She's on a mission, and she has something to prove, and I love that," Barnes said. "That's what Cate is, and that's what she stands for. I don't know more of a competitive player, a player who plays with more heart, and she brings all that. I think what's been good is that now she has some freshmen to push her.
"I think in the past we didn't really have that. But now, Sevval's coming in and Sevval is a good player. So Sevval is pushing Semaj (Smith), and she's pushing Cate and Dominque (McBryde). There is a lot more competition. And Birna (Benonysdottir) is doing that. So that's good.
"But expectations from Cate — (I) expect a lot from her. … I want her to set the bar, and I've talked to her about that, about practicing every day … diving on the floor (and) doing all those things. That's what I expect from Cate, because she's the one who can do that consistently."
A different look
This year's UA team has 15 players, the most Barnes has had during her tenure. That means a deeper bench and, in theory, more rest time for the starters.
"It's going to help a lot," McDonald said. "It won't be so hard on my body. I won't be bruised and sore like I used to. I think it will help me be more efficient."
Barnes says this year's team should shoot better. UA players have also added more size and depth inside and outside.
It may take a little longer for it to all come together. Barnes is putting in a new scheme, one that four of the five freshmen — Gul, Mote, Helena Pueyo and Benonysdottir — and transfer Shaina Pellington are just picking up after spending their summers playing internationally. They have four weeks before the team's Oct. 27 exhibition game.
"What people don't realize is that we haven't together long. It's only been a few weeks," Barnes said. "Because the first week or so was just assessments, lifting and starting school. Normally, in a typical year where it's not all foreign players, they are here from the end of June. So you have June, July and then you have August. For us, they got here the end of August, so we only had the last three weeks.
"So we are behind on a lot of stuff in that sense. But, the positive thing is that they were all playing high-level basketball … they came in better shape, came in more prepared, just game-wise. But with seven new players there is a lot of teaching. It's a lot slower. That's a little bit of a challenge early on."
Rim shots
McDonald and Starks will accompany Barnes to Pac-12 media day in San Francisco on Oct. 7.
For the first time in Pac-12 history, all conference games will be televised this season on Pac-12 Networks and ESPN. This is a significant change: 11 of Arizona's 18 Pac-12 games were on TV last season.
The Wildcats will open Pac-12 play on Dec. 29, when they take on ASU at noon in Tempe. Their first home weekend is January 10-12, when they host the Oregon schools. Arizona plays Stanford and Cal just once apiece — at home the last weekend of the regular season.
As of Wednesday afternoon, more 2,500 season tickets had been sold. There has been such a high demand for tickets that for a second time in a week, UA has put more reserved and general admission season tickets for sale. They've already sold all courtside seats.
"We're encroaching on 3,000. So that's the goal. I want to push for 3,000," Barnes said. "The fans and the support in Tucson has been amazing. I love this city. I love the people here. It's everything … they've supported us more than I could have ever imagined."