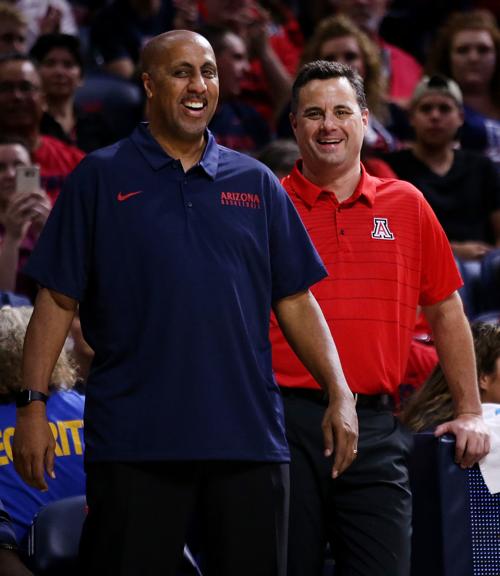 For the first three seasons of his Arizona career, Sean Miller had no bigger coaching nemesis than Lorenzo Romar.
Romar's Washington Huskies beat the Wildcats five of the first seven times Miller faced them, including a memorable overtime win in the championship game of the 2011 Pac-10 Tournament, when Isaiah Thomas hit a fadeaway jumper at the buzzer.
Then Miller returned the favor by winning eight in a row over the Huskies between 2013-17.
They faced each other a total 15 times, often with something at stake in the Pac-12, and on Thursday they'll go at it again when Romar takes Pepperdine into a first-round Wooden Legacy game against the Wildcats.
Except this time it's different.
Miller and Romar are friends, bonded from their service together during the Wildcats' unusual 2017-18 season.
"It's something I'm not looking forward to," Miller said. "I wish we didn't have to play."
Fired after 15 mostly successful years at Washington at the end of the 2016-17 season, Romar accepted Miller's overtures to replace Joe Pasternack as the Wildcats' associate head coach rather than spend a year off from coaching as a television commentator or scout.
But before Miller and Romar could even start coaching together, the FBI investigation became public that fall.
On the court, thanks to eventual No. 1 draft pick Deandre Ayton and a cast of other pros-to-be, the Wildcats won the Pac-12 regular season and tournament titles. But they were bounced in a first-round NCAA Tournament game and faced heckling wherever they went on the road.
Especially during one particularly difficult game at Oregon in February 2018.
The night before that game, ESPN published a story saying Miller discussed paying Ayton $100,000 and … well, you've probably heard all that.
The immediate result was that Miller sat out the game while UA officials started looking into what happened. Romar coached the Wildcats against the Ducks while Oregon fans booed Ayton every time he touched the ball, with one waving a fake $100,000 check and another carrying an oversized "100 Grand" candy bar wrapper.
A fiercely determined Ayton responded with 18 points and 16 rebounds and Romar, in the postgame news conference, said the Wildcats "were phenomenal" in how they handled it all.
"Our leader isn't with us, so it's tough," Romar said then.
But Oregon still won 98-93 in overtime. Romar also had to coach the Wildcats for the next three practices while UA continued to look into Miller's situation.
"It was different," Romar said. "I had never gone through anything like that before but I had gone through experiences before where things weren't going the way you wanted them to be, and you had to deal with them.
"But the respect that I had for Sean and the administration just really moved me to want to do whatever was best for the program. I just considered myself just a servant to try to help wherever I could."
Of course. That's the ever-upbeat Romar talking, describing that one season with Arizona with nothing but good memories despite whatever happened.
"I don't mean to make it sound like a pie-in-the-sky situation at all," Romar said. "But in spite of things that were going on at the time, I looked forward to going to work, being in that office with the coaching staff, and the guys that we worked with, from managers on. I enjoyed the players, and the fans were unbelievable.
"Getting to know Sean more and the rest of the staff was something that I'll never forget. I just enjoyed my experience."
Less than three weeks after that Oregon game, Romar was hired to take over Pepperdine, where he had begun his head coaching career in 1996-97.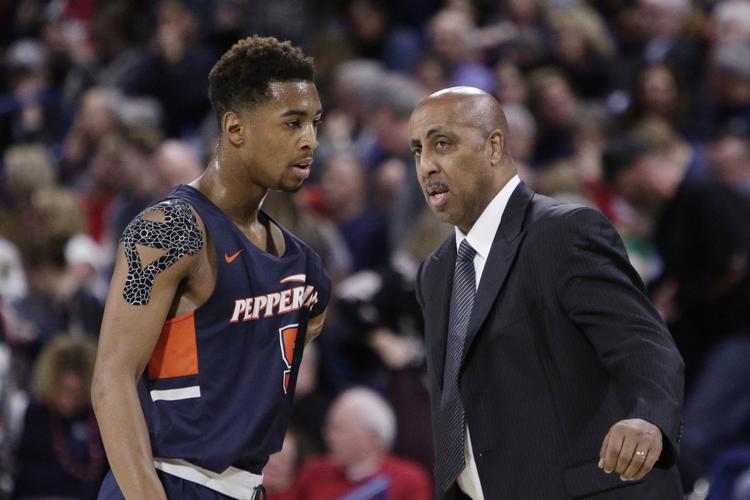 It was then that he also carried over a few things he learned at Arizona, both offensively and defensively. Romar's Washington teams were known for pressure defense and aggressively lunging for steals, but with the NCAA's rules emphasis on offensive freedom of movement, Romar says that style is tougher to play now.
"We've changed a little bit there (defensively) and offensively we've changed a little bit," Romar said. "Being with Sean for a year really opened my eyes to a lot of things, things that I've brought here to Pepperdine with me.
"The way Coach Miller coaches, his teams may play the pack-line (defense) but they still come across as really aggressive, too. They've got a pretty good blend to it. You really feel them."
In his first year in his second stint with the Waves, Romar coached them to a 16-18 record — a 10-win improvement.
Expectations are even higher this time. With three starters back, Pepperdine was picked to finish fourth in the WCC this season in the league's official coaches poll and by multiple preseason publications, just outside the WCC's top three teams of Gonzaga, Saint Mary's and BYU.
However, they are only 3-3 so far this season after stumbling in a home loss Saturday to Sacramento State.
"It's a compliment to our program that people may view us that way but like we tell our team, the last I remember is we finished eighth," Romar said. "We haven't done anything yet, and it's a tough league."
Miller probably wouldn't be surprised if Romar reaches those expectations anyway. Saying he respected Romar for what he did on the floor with the Huskies, Miller also found he grew to know him better in 2017-18.
"Especially when you're dealing with tough situations," Miller said, "and in that year there was a lot going on."
The FBI investigation became public in September 2017, resulting in the immediate removal of assistant coach Book Richardson, a position that wasn't permanently filled until after the season.
Then UA's 2018 fall recruiting class fell apart, with five-star talents dropping the Wildcats from their lists while commits Jahvon Quinerly (Villanova) and Shareef O'Neal (UCLA) eventually headed elsewhere and Brandon Williams decommitting before coming back.
Then there was that Oregon game. And the other road games, with fans wearing mock "FBI" or "U of Pay" gear following them everywhere, it seemed.
Through it all, Miller said Romar became something of a "guiding force," along with Romar's wife, Leona.
"He's one of the classiest, best people I've ever me, and he was here at a very critical time in our program," Miller said. "Sometimes I look back and it's almost like it was like a gift for him to be here.
"We really look at them as great friends, and he probably doesn't know how much he means to me because we were together for a very short time. But a big reason we came together is I've always respected who he is as a person, how much he cares about his players and how he coached at Washington."
Of course, right now is not the time for Miller to tell Romar any of these things directly.
Or anything at all really.
On Thursday, they're competitors again. So their friendship must be suspended, at least until Friday.
"Sometimes when you play somebody (you like) early in the year, you don't converse as much," Miller said. "It's human nature, just because some of the things you're talking about basketball-wise might apply to preparation for the game. But, you know, I love Lorenzo."