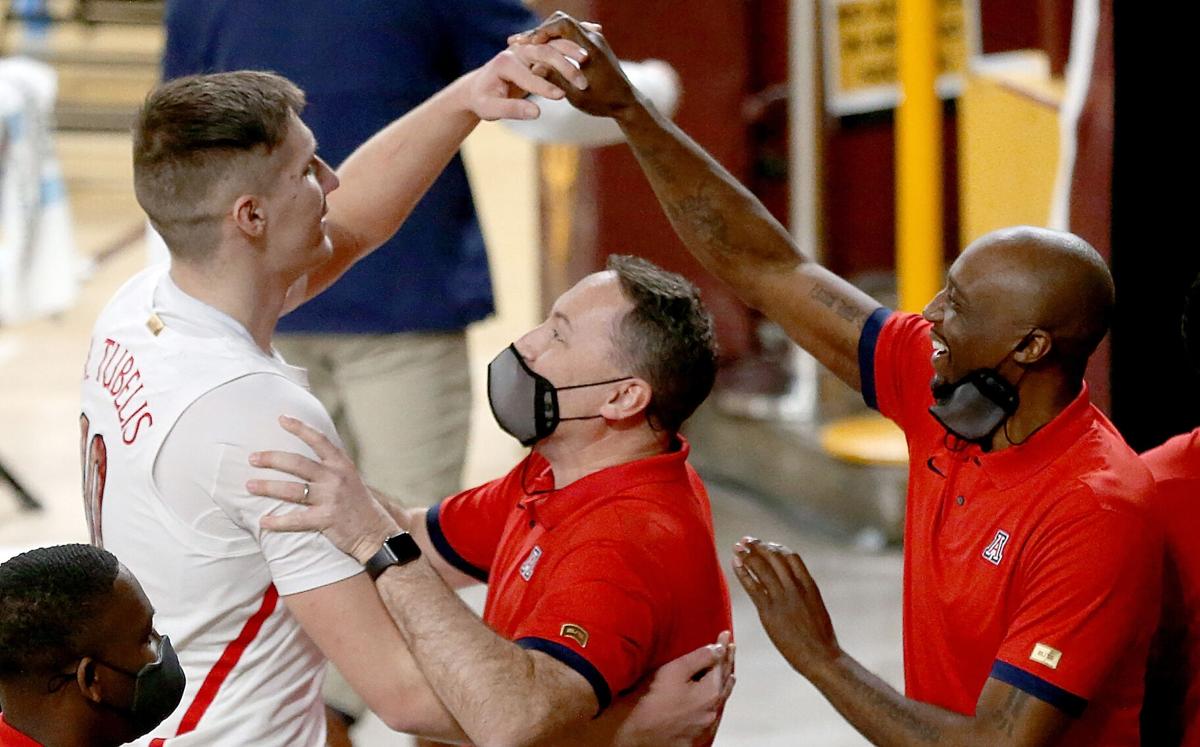 Jack Murphy's long association with Arizona basketball will continue on the coaching staff of new head coach Tommy Lloyd.
UA confirmed Monday that Murphy will return as the Wildcats' associate head coach, a role he took in June 2019 after leaving NAU as the Lumberjacks' head coach. A former UA manager and aide under Lute Olson, Murphy has also worked as an assistant coach at the University of Memphis and with the Denver Nuggets.
Murphy, a Las Vegas native whose wife Michelle is the daughter of former UA athletic director Jim Livengood, was unavailable for comment Monday. But upon re-joining UA in 2019, Murphy said he and Michelle wouldn't have left NAU for any other school.
"Being an Arizona Wildcat, it's in the fabric of who you are always," Murphy said then.
Murphy, 41, had been expected to remain with the Wildcats since he has a previous relationship with Lloyd and experience in international recruiting, an area that Lloyd says he will mix in at Arizona after focusing heavily on foreign players at Gonzaga.
Murphy served as interim head coach in the week after Sean Miller was fired on April 7, and has assisted in the recruitment of Gilbert Perry High school's Dylan Anderson, who committed to the Wildcats on April 16.
Murphy earned $335,000 last season as part of a two-year contract set to expire this month.
It remains unclear if either of Miller's two other assistants, Jason Terry and Danny Peters, will stay.
Both Terry and Peters have contracts through April 2022 that will pay them through next season regardless, with Terry earning $280,000 and Peters $275,000. However, if they accept another coaching job, their contracts stipulate that the full amount of their new salaries will offset the amounts that UA owes them.
Player decisions upcoming
While guard Kerr Kriisa opted to enter the transfer portal last Thursday, on the same day Lloyd was being introduced at McKale Center, the Wildcats' new coach began meeting with players individually last Friday.
Lloyd said retaining the current Wildcats was his top priority, and workouts later this week could also aid the decision-making process.
"I've got some ideas, maybe how we can supplement (the roster) with some other recruiting things that might be available out there," Lloyd said last week. "But I also don't want to go crazy and make bold predictions and this and that because I really want to honor and respect these guys."
Lloyd said he might have come across some of the Wildcats in their recruitments but said he knew from his years as Gonzaga's lead recruiter "how genuine" relationships have to be with recruits.
"So I want to get to know them," Lloyd said. "I want them to get to know me and I want them to be excited about staying here. The re-recruiting deal is just going to start sitting in my office, talking about families, letting our guards down a little bit and then going from there.
"And then after we kind of get to know each other a little bit, then maybe we can start talking specifics. Basketball specifics, for sure."
Arizona's roster situation remains completely unsettled. Six of Arizona's 13 scholarship players last season have already entered the transfer portal, while point guard James Akinjo is also testing the NBA Draft.
Assuming Akinjo and Kriisa do not return, the Wildcats have 10 players lined up for next season, counting their three fall signees — all of whom are on the fence with their commitments.
Washington puts UA in Top 6
The departure of Kriisa and Akinjo would also completely clean out all of UA's point guards, with Terrell Brown already having left for Washington and Jemarl Baker headed to Fresno State.
But the Wildcats made the Top 6 of TyTy Washington, a four-star class of 2021 point guard at Phoenix Compass Prep.
A 6-foot-3, 185-pound guard formerly of Laveen Cesar Chavez High School, Washington also listed Baylor, Kentucky, Kansas, Oregon and LSU as possible choices in a tweet Sunday night.
Gonzaga game in limbo
Before Miller was fired, the Wildcats were scheduled to play at Gonzaga on either Nov. 12 or 13 in what would be their second game of the season.
Not surprisingly, Lloyd may put the brakes on that, at least for a while.
The game is the second half of a two-game contract agreed to in November 2016, with Gonzaga already having appeared at McKale Center on Dec. 14, 2019 and beating the Wildcats 84-80. It was initially to be returned to Spokane on Dec. 5 last season, but both sides agreed to push it to 2021-22 largely because of COVID-19 issues.
Lloyd said the UA-GU game didn't come up in his discussions with Few over the Arizona job, but that it "might come up in a conversation out on his dock this summer."
"Maybe we'll figure that out," Lloyd said. "Obviously, that would be a really emotional deal and that place has a special, special place in my heart. I'm going to be pulling for them and rooting for them, second only to Arizona."
Contact sports reporter Bruce Pascoe at 573-4146 or bpascoe@tucson.com. On Twitter @brucepascoe