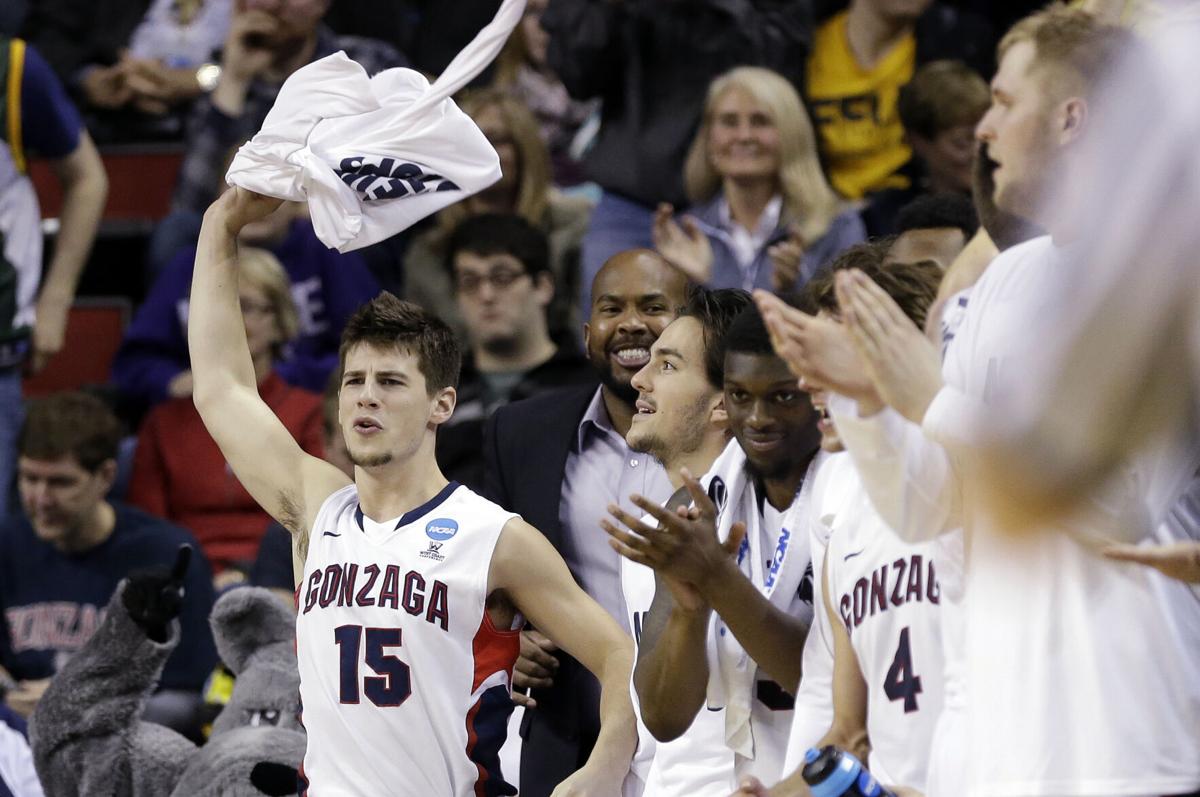 While new coach Tommy Lloyd retained Arizona alums Jack Murphy and Jason Terry as assistant coaches, his support staff not surprisingly will have a strong Gonzaga flavor.
Arizona announced Wednesday that Lloyd, the former Gonzaga assistant coach, has hired TJ Benson, Gonzaga's coordinator of basketball administration last season; Ken Nakagawa, the Zags' video coordinator last season, and former Gonzaga walk-on Rem Bakamus.
Benson was officially named UA's special assistant to the head coach and recruiting coordinator, a role that was advertised as "director of basketball operations" in the UA's job posting site, while Nakagawa will be UA's director of advanced scouting and Bakamus the Wildcats' director of player development.
The three hires will essentially replace operations director Ryan Reynolds, on-campus/analytics director David Miller and student-athlete development director Anthony Richards. However, Reynolds will be retained in an assistant AD role outside men's basketball.
Gonzaga's coordinator of basketball administration last season, Benson was a former assistant coach at Grand Canyon, where his younger brother Casey transferred after having helped Oregon reach the 2017 Final Four.
TJ Benson played at Mesa Community College, Weber State and GCU, graduating from Weber State in 2009. He served as an assistant director of basketball operations at Boise State in 2011-12 before spending the next seven at GCU as operations director and assistant coach.
"He was a great asset to the program at Gonzaga and I'm thrilled he is joining our staff here at Arizona," Lloyd said of Benson in a statement. "He has a wide range of experience and is from the state of Arizona so it's great that he is able to come back home and help our program."
Nakagawa was a graduate assistant at Gonzaga for two seasons before spending the last three as the Zags' video coordinator. He is a 2016 graduate of Long Beach State, where he served as a manager and graduate assistant under head coach Dan Monson, the former Gonzaga head coach.
"Ken was an integral part of the Gonzaga program the last five seasons," Lloyd said. "He works as hard as anyone in our program and I'm happy to have him with us in Tucson."
Bakamus was a walk-on player at Gonzaga who graduated in 2017 and spent the past three seasons as a graduate assistant at Baylor.
Not surprisingly, Bakamus expressed mixed emotions over facing the Zags in the championship game last season.
"It's unique. It's weird. It feels right, but not right in a sense," Bakamus told KREM. "I just have so much love for Gonzaga. I obviously wouldn't be where I'm at today without my experiences there and my coaches there and my teammates there. I've just been blessed."
Lloyd said Bakamus "brings a ton of energy and excitement to everything he does," and knows how to impact winning.
"He will be an outstanding resource for our players because he has a great ability to relate to them on a personal level and I look forward to watching him continue to grow in this role," Lloyd said.
Bakamus and Lloyd also have a long history. Bakamus' father, Bill, is a hall of fame coach in Washington who coached against Lloyd when Lloyd was a star at Kelso High School.
Under the terms of his proposed contract, which still has yet to be approved by the Arizona Board of Regents, Lloyd has a total of $285,000 to offer his support staff in addition to administrative assistants, managers and graduate assistants.
Lloyd also has one final assistant coaching position to hire. His assistant coach budget is $1.05 million for the three assistant coach spots, so he has up to $435,000 to offer if Murphy ($335,000) and Terry ($280,000) remain at the same salaries they were contracted to receive last season.
IARP could take another year
If Arizona gets hit with any additional penalties by the NCAA's Independent Accountability Resolution Process, they might not affect the Wildcats until the 2022-23 season.
The NCAA said Tuesday evening that its Board of Governors now expected all six cases within the IARP structure to be completed within a year.
An alternative to the NCAA's standard resolution track intended for complex cases, the IARP has not settled any cases yet. It first took on Memphis' infraction case in March 2020. N.C. State's case arrived a month later, then it was Kansas in July, LSU in September and Arizona in December. The sixth case, Louisville, was added in February.
"Decisions in all six cases are expected within the next 12 months," the NCAA said. "The chief panel members will continue discussions with membership regarding the commitment to timeliness, fairness and consistency in the processing of cases."
If UA's case is not settled by this fall, any possible penalties would not likely affect the program until 2022-23 or beyond. UA already imposed a self-ban for the 2020-21 postseason but if the IARP processes its case as "aggravated Level I," as the NCAA Notice of Allegations suggested the standard track would have, the NCAA penalty matrix calls for a 2-5 year postseason ban.
Simpson picks Colorado
Former Arizona signee K.J. Simpson announced Wednesday he will instead play for Colorado next season, moving the Buffs' 2021 recruiting class to No. 9 overall in 247Sports.com's team rankings.
Colorado was a finalist to land Simpson, a four-star combo guard from Chaminade High School in the San Fernando Valley, before he committed to Arizona in August 2020.
"When he came on the market, we had to look into it," Colorado coach Tad Boyle told Buffzone. "We want to have a great team next year, and when you have an opportunity to sign great players, you have to do it. K.J. is definitely in that situation."
Simpson was the first class of 2021 player who committed to the Wildcats and was the first to ask out of his letter-of-intent after Miller was fired on April 7. Guard Shane Dezonie decommitted on Tuesday while a third UA signee, Shane Nowell, remains tentative.
Contact sports reporter Bruce Pascoe at 573-4146 or bpascoe@tucson.com. On Twitter @brucepascoe