WHITE PLAINS, N.Y. — With his Westchester Knicks team trailing the Capital City Go-Go by three points in the final seconds of an NBA G League game Sunday afternoon, Kadeem Allen dribbled up court and let fly a 3-pointer over Chris Chiozza. The shot banked in off the window and tied the game, forcing overtime.
Allen and the Knicks lost in the extra period to the Washington Wizards G League affiliate 90-89, but the former Arizona standout finished with 15 points, seven rebounds and five assists for Westchester (16-9), which is tied for first place in the Eastern Conference.
Moments after the game, Allen emerged from the locker room and, with a smile on his face, sat down at a table in the lobby of the Westchester County Center. He began signing autographs for 20 or so fans, including a number of children. Some of them had been eating chicken fingers and wings at tables right next to the court during the game. One father thanked Allen for taking a photograph with his young son. "Thank you, bro, appreciate it," the father said.
"It's cool," Allen said after the autograph session was over. "You're an idol, and you got people looking up to you, and you have to set yourself at a higher standard sometimes. When kids come in and look up to you sometimes, it's a good feeling."
Such is life in the NBA G League for the 6-foot-3-inch Allen, who played at Arizona from 2015 to 2017 before becoming the No. 53 pick, by the Boston Celtics, in the NBA draft and then spending most of last season with the Celtics' G League affiliate, the Maine Red Claws.
After being waived by the Celtics last July, he signed with the Knicks. Allen, 25, went through training camp alongside fellow Arizona product Allonzo Trier, but they waived Allen in October. Allen then signed with Westchester, which plays its games in Westchester County about 30 miles North of Madison Square Garden.
"It's good, man," he said of his experience with the team, where he's averaging 14.2 points, 5.8 assists and 5.3 rebounds. "It's the second-best league in the world for basketball, and we (are) all right there, trying to get to the NBA, and we're very close."
Asked if his ultimate goal was to get back to the NBA, Allen said, "Yeah, just every day try to stay consistent, try to get better, and hopefully I can get back to the league."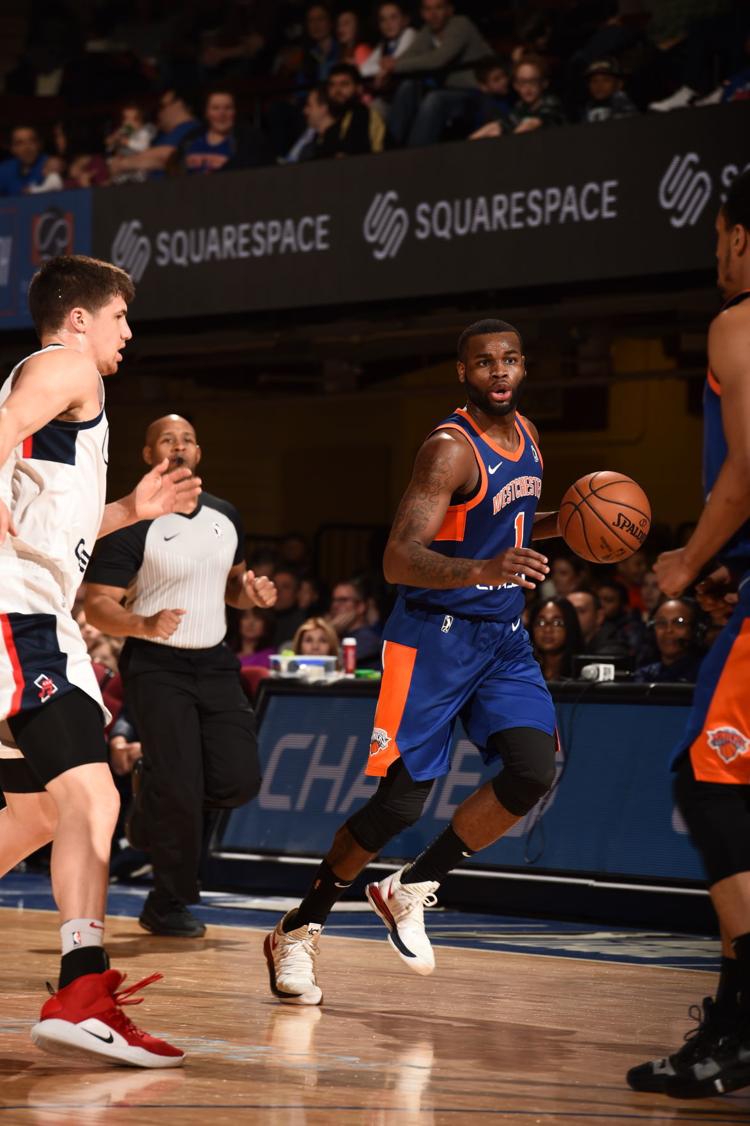 Allan Houston, the former Knicks star who is now the general manager for the Westchester Knicks, said he has been impressed with Allen.
"He's a tough competitor," Houston said. "When we've talked a few times, it's about keeping defenses honest, that you can make the shot. He did that early in the game, he had a couple mid-range shots.
"But I was impressed with him last year," Houston added. "He just competed. Coming out of Arizona, you knew he was a competitor. He's continued to grow. I like the way that he's been able to run the team. He's shown that he can lead the team both offensively and defensively."
As for Allen's immediate future, it remains unclear. The Knicks signed Trier last month to a standard NBA contract, meaning they now have an open two-way contract. Former North Carolina big man Isaiah Hicks is the team's only player on a two-way deal.
Asked if Allen might be in line for that second two-way contract, Houston said, "That's something for (president) Steve (Mills) and (GM) Scott (Perry) to talk about. I can't speculate on roster stuff, but as far as Kadeem, I definitely like the way he's been able to progress."
Allen said he was happy to see Trier go from an undrafted player to a contributor to the rebuilding Knicks. Trier is averaging 10.3 points and 2.9 rebounds for the Knicks, who appear headed back to the NBA draft lottery.
"I was happy for him, especially for him being in his situation, a McDonald's All-American," Allen said. "He went undrafted. He bettered himself, and in the end it paid off. He worked hard, he deserved it, and it paid off for him."
Allen said he and his teammates knew that Trier was never meant to be in the G League with them.
"Everybody knows Zo doesn't really belong in this league," Allen said. "His offensive game separates him from a lot of guys in this league. He makes shots and in space he's good, so he's better than our league."
Ultimately, Allen would love to follow Trier into the NBA, but he says he's not obsessed with that at the moment.
"I ain't really, really focused on that right now," he said. "I'm just trying to win, and whatever happens, happens."