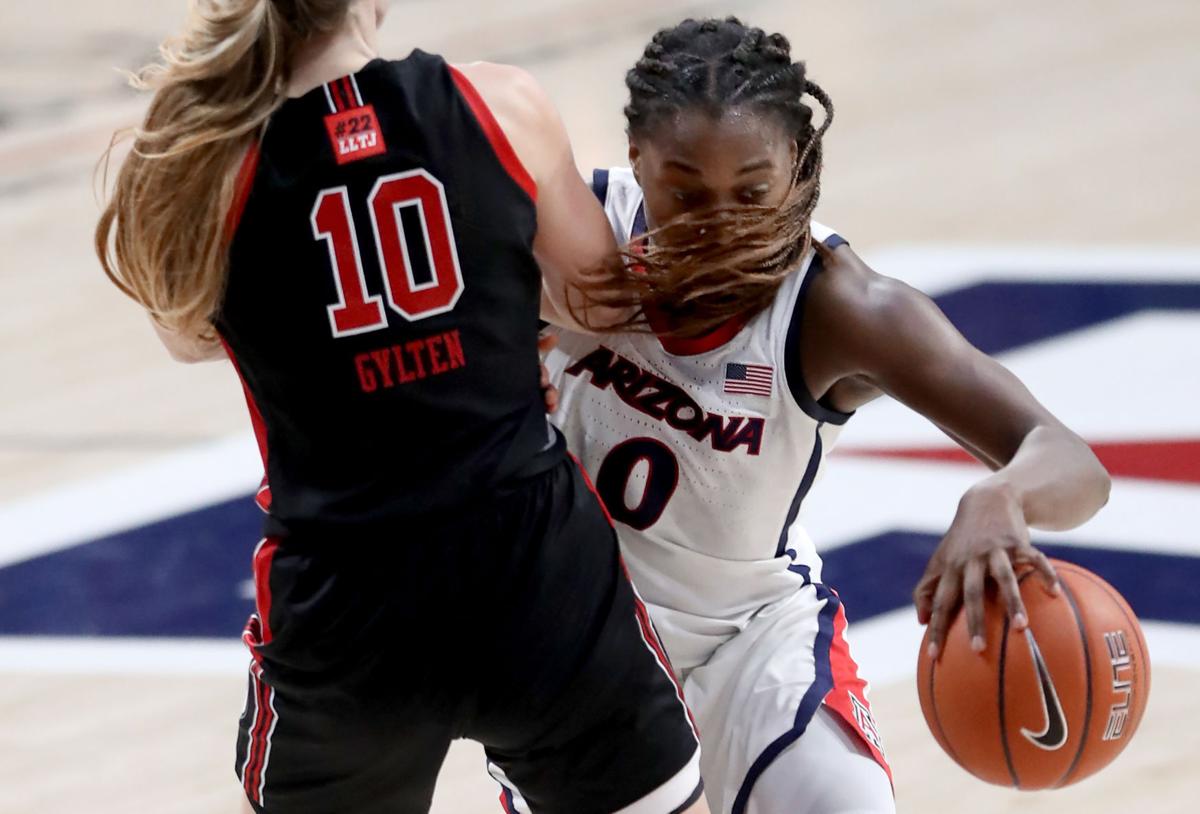 Trinity Baptiste's phone lit up. She looked at the caller ID and saw a familiar name.
The very first thing Baptiste did — even before picking up the call — was show her grandmother, Sylvia Darby, who was calling.
It was Tamika Catchings, the former WNBA champion who is now the Indiana Fever's general manager. The team had just taken Baptiste, the UA's senior forward, with the No. 24 pick in Thursday's WNBA Draft.
"I answered the phone and then I asked her immediately, 'Can we FaceTime?' And we got on FaceTime," Baptiste said. "I spoke with everyone and just basically just said, 'Thanks for the opportunity. And now I'm just going to show you what I can do with it.'"
Baptiste, who spent one year as a grad transfer at Arizona after starting her career at Virginia Tech, will be in Indianapolis Sunday to start her pro career.
While Baptiste may not have known she would end up in Indianapolis — she didn't talk to the Fever leading up to the draft — she was excited nonetheless. Her family jumped up and down, cheered, hollered and took photos and videos with their newly-minted professional player.
What made the night even sweeter was getting the call from Catchings.
"I grew up watching the Indiana Fever and Tamika Catchings and the way that she could score — she's just a winner," Baptiste said. "I watched her a lot. And I love her game. To get a call from her was amazing. But for the organization I know they're all about winning. I'm very familiar with (former Fever guard) Erica Wheeler — she's from my home state, Florida. I'm a fan first and now that to get drafted and now I am just going to prove myself."
Baptiste will be battling for a spot on a roster that includes veterans Jessica Breland and Jantel Lavender, Lauren Cox and two other rookies in Unique Thompson and Chelsey Perry.
Coach Marianne Stanley and Catchings watched Baptiste from afar for two years. They liked what they saw.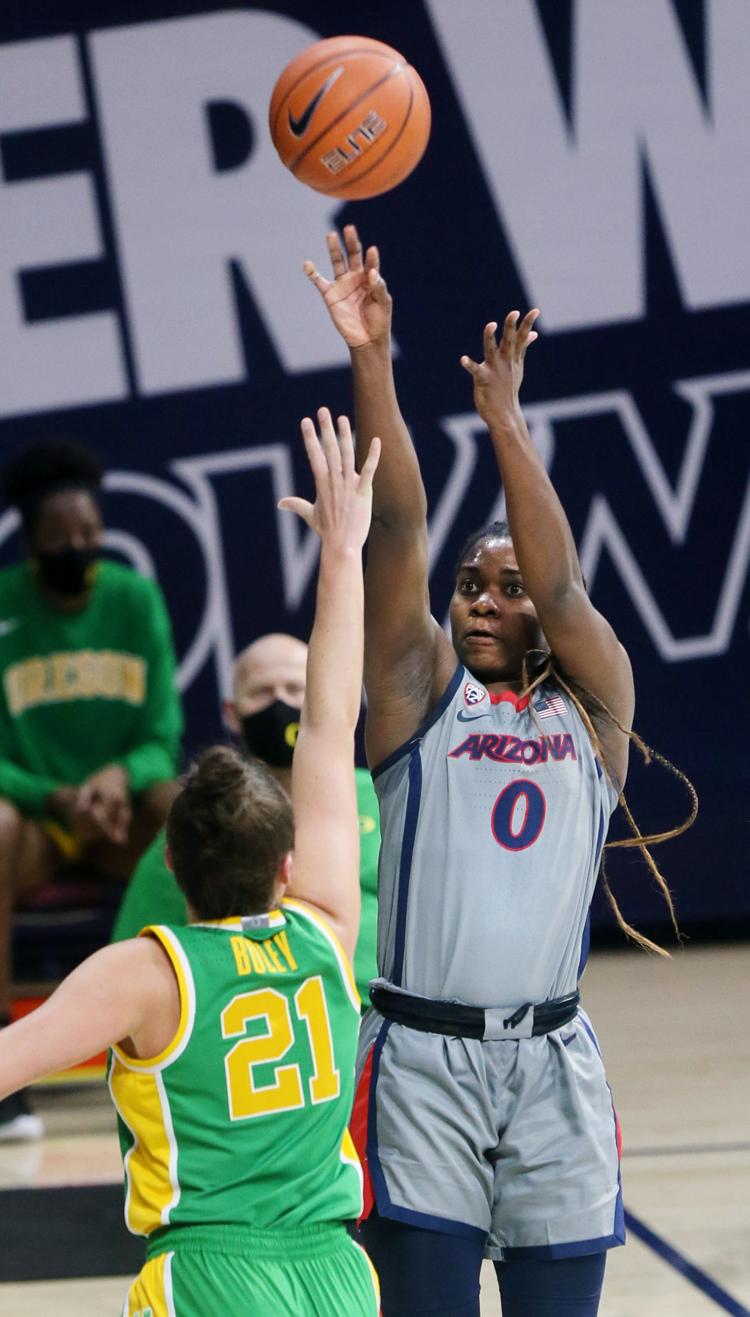 "I said, 'You know what she brings things to the table? Maybe you can't put it all down in a quantifiable thing. But energy, effort, versatility, hard-nosed, wants to compete every day.' And that's what the pros are, you got to earn your keep each and every day," Stanley said. "I think Trinity brings that mentality and that understanding of nothing's given, but you get out there and go work for it, you go take it."
Besides competitiveness, one thing that Baptiste has that stood out was her presence.
"You're watching a game and you're watching other people, and then you keep seeing her. Your eyes keep gravitating back what she's doing — now she's doing something," Stanley said.
That's what Arizona fans and opponents saw from Baptiste all season long. Baptiste worked down low, from mid-range and even beyond the arc. She finished as the Wildcats' third leading scorer and the top rebounder. In the NCAA Tournament, she averaged 9.5 points and 7.3 rebounds per game as the Wildcats advanced to the national title game.
Stanley watched the UA's improbable run in the tournament. She said "the Arizona program proves a point of don't count anybody out. Don't underestimate people."
"It's very hard to measure the heart of a champion. And they had that heart made it all the way to the championship game, and they didn't let naysayers or anybody else influence their approach," Stanley said.
"I think that it's why we all love sports, isn't it? If it was all predictable and said and done before you even started, why would we even compete?"
Baptiste called her selection "a dream come true."
"It was a big moment for me and my family and my community," Baptiste said. "Just them seeing somebody that looks like me — somebody in my community make it and get drafted, it was a dream come true.
"But for Arizona, the program, I have so much love and respect for Coach Adia (Barnes). When I decided to transfer from Virginia Tech to go to Arizona, it was mainly it was because of her. … I'm always talking to them and let them know I'm here if they need anything."
Rim shots
Aari McDonald travels to Atlanta Saturday for training camp. The No. 3 overall pick said Friday that she is "still trying to process what happened" in Thurdsay's draft, adding "it still feels surreal."
• McDonald said she's most looking forward to battling the Phoenix Mercury's Diana Taurasi. "I'm so excited to play against her. I heard about her on the court and stuff but I'm up for the challenge," McDonald said.
Someone who will be watching the Atlanta Dream closely this season is Kailyn Gilbert, the first recruit in UA's Class of 2022. She said earlier this year that her two favorite players in women's basketball were McDonald and her Dream teammate Chennedy Carter.
There were still questions swirling around McDonald's height on draft night. Dream coach Nicki Collen has no issues with it.
"As a 5-5 former point guard, I don't feel like she's too short," Collen said. "I think I always say, you know, we're vertically challenged, but if you have heart, you know, she's so fast. We're not going to ask her to guard 6-foot players. I can tell you this about her: I think if you asked her to guard a 6-foot player, she'd get on top, she'd fight like heck, because that's kind of who she is as a player. I think she really is all about winning."