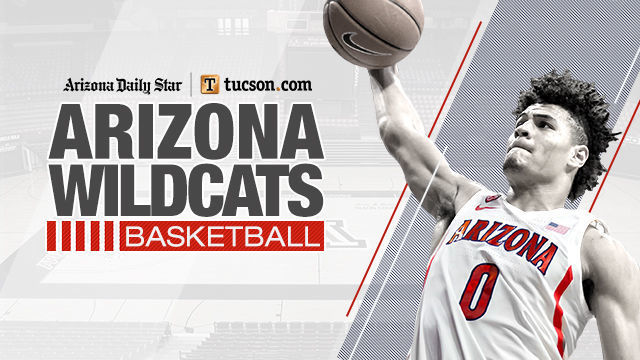 Arizona said Wednesday that HBO's documentary about the federal investigation into college basketball does not change its approach to dealing with allegations surrounding its men's basketball program.
"The Scheme," a two-hour-long documentary that began airing on HBO on Tuesday evening, includes some previously unheard audio of UA coach Sean Miller speaking with agent-runner Christian Dawkins.
In one conversation, after Dawkins says the coaches of a top recruit's club team "definitely want to get some (expletive) for themselves," and Miller responds by asking "Miami doesn't have an advantage over us in that area, do they?"
In "The Scheme," Dawkins — who was paid to provide archived materials for the film — said Miller was lying when he made his March 1, 2018, statement that he had "never paid a recruit or prospect or their family or representative to come to Arizona." Dawkins also said "there's no way you can separate Sean" from any belief that then-UA assistant coach Book Richardson broke NCAA rules.
Richardson admitted to taking $20,000 in bribes and spent three months in federal prison last year.
Arizona's statement did not say specifically whether or not the school is looking at any new information presented in the movie, however. When asked if it was, a school spokesman said the following statement was the extent of its comment:
"The HBO documentary which aired last night does not change our approach to allegations surrounding our men's basketball program," the statement said. "We have cooperated fully with the FBI investigation and continue to cooperate with the ongoing NCAA investigation. We look forward to the conclusion of the process."
A Sports Illustrated report last week quoted a top NCAA enforcement official saying staffers would be watching and taking notes on the documentary, which also included conversations between Dawkins and LSU coach Will Wade.
In one conversation, Wade tells Dawkins of a player that "we could compensate him better than the rookie minimum." Wade also says of a recruit that he "went to him with a strong-ass offer about a month ago."
According to the New Orleans Times-Picayune, LSU athletic director Scott Woodward said Wade's status did not change as a result of the movie.
"We are aware of the documentary first aired on March 31, 2020, on HBO," Woodward said in a statement. "There is no change to coach Will Wade's employment status at LSU and we will continue to cooperate with all reviews into this matter."
Miller has not commented on anything related to the FBI or NCAA investigations for over two years, and a spokesman said this week that the coach's stance has not changed. Richardson did not return a message seeking comment and his attorney, Craig Mordock, declined to comment.
On Twitter, however, Mordock said "The Scheme" "is a great story and certainly points out some injustices but this is not an all-inclusive nor will it be the definitive take on the subject."
NCAA extends dead period
The NCAA extended its coronavirus-prompted recruiting dead period from April 15 to May 31 on Wednesday, a move that could make it trickier for teams such as Arizona that are in need of multiple players this spring.
The dead period forbids in-person contact of any sort on or off campus, restricting coaches to electronic communication only.
However, it could help the Wildcats in the sense that they already have long relationships with many of their key targets.
"It didn't really surprise us because we were hearing whispers about that earlier this week," UA associate head coach Jack Murphy said Wednesday. "We prepared for it by communicating that to the young men we're recruiting, whether it's kids who haven't visited or have already visited."
Murphy said UA's video production crew has turned out "amazing" basketball recruiting videos to send recruits, and that coaches have been directing recruits to virtual online visits that the school makes available publicly.
Most notably, Miller and his staffers have been taking the customized PowerPoint presentations they normally prepare for in-home visits and delivering them virtually. The presentations typically show recruits how they would specifically be used on the floor, with video examples of comparable players who have already played for the Wildcats.
"We'll send the presentation and then we kind of go through it with them over the speakerphone," Murphy said, "whether that's myself, Coach (Danny) Peters, Coach (Justin) Gainey or Coach Miller leading the charge."
Arizona has eight players lined up so far for 2020-21, a number that drops to seven if guard Brandon Williams does not return. However, the Wildcats already have long-established relationships with high school targets Ziaire Williams and Kerwin Walton, while Long Beach State transfer Joshua Morgan actually played at McKale Center earlier this season.
Arizona was also involved with multiple international players before the coronavirus shut down recruiting.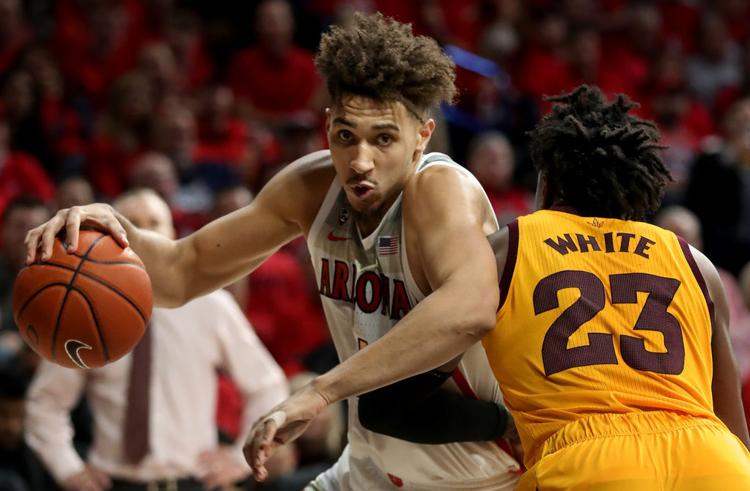 Jeter moving on
Senior center Chase Jeter didn't exactly have the finish to his UA basketball career he was envisioning, and not just because of the coronavirus.
Since being removed from the starting lineup after Arizona was swept in Oregon during the second week of Pac-12 play, Jeter played a total of just 26 minutes over six games because of issues with rebounding and a sore back. He wound up averaging 6.5 points and 4.2 rebounds this season.
"It was unfortunate what had happened with my back," Jeter said after the Wildcats' season ended last month. "Obviously, as a player my main focus is getting on the court and playing, and I did everything in my power to make that happen.
"I can't change what happened and I'm just going to move forward and leave Arizona with a good positive vibe. And then everybody's gonna go on. We'll see what next year's like for everybody."
Jeter said he was working to finish his master's degree in educational leadership next month and would sign with an agent to explore professional options.
Be the first to know
Get local news delivered to your inbox!