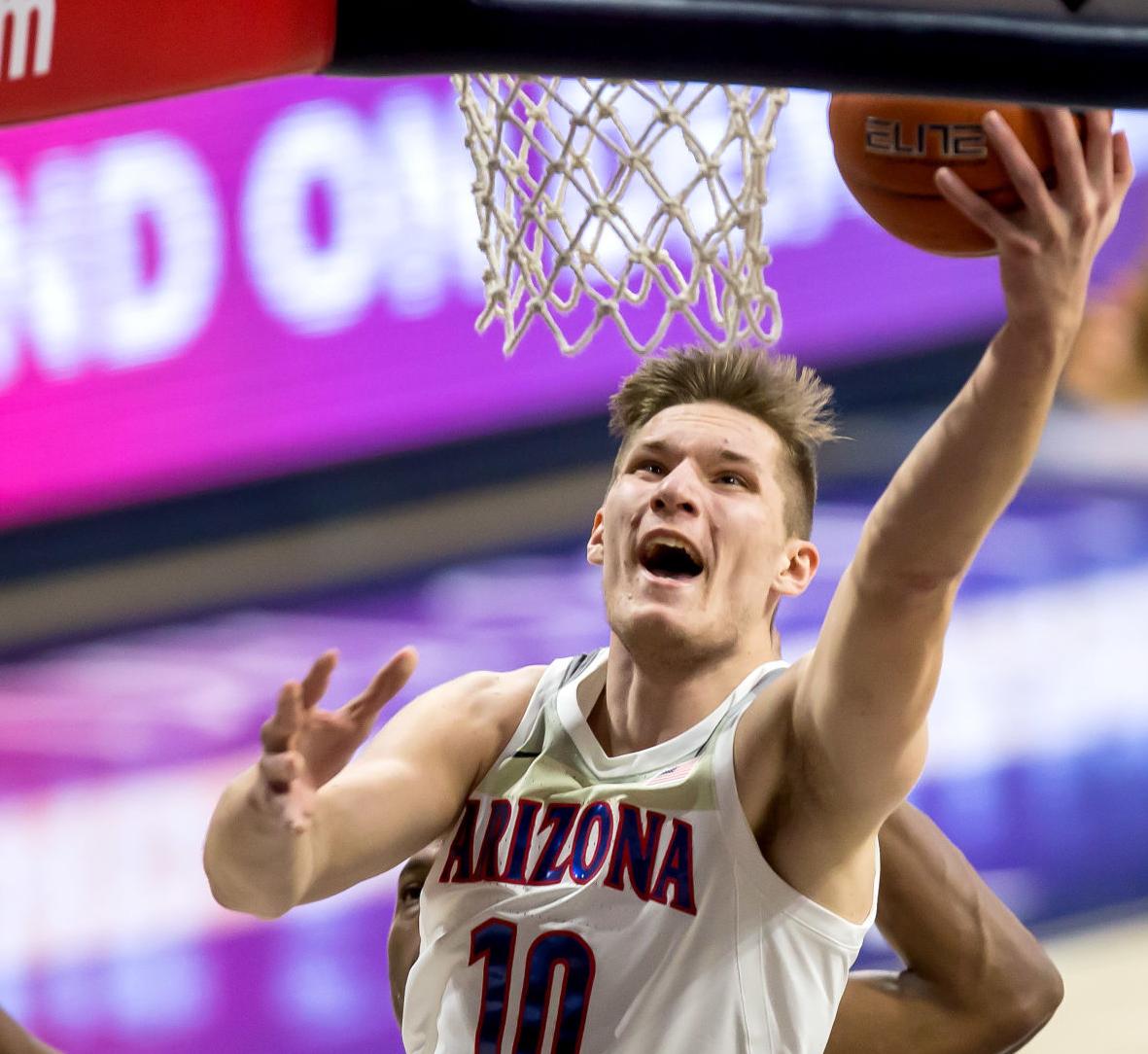 Because the bulk of Arizona's roster hails from halfway around the world, sending guys home for the holidays was never much of an option this season.
"Lithuania is far away, so I don't know," freshman forward Azuolas Tubelis said of his homeland. "It's impossible."
Thanks to COVID-19 protocols that mean players can't really leave without isolating upon their return, it's actually impossible for nearly the entire team. So the Wildcats are enjoying a staycation Christmas with three off days this week, mostly free of travel and family gatherings — but also free of daily 7:30 a.m. COVID-19 tests.
"Just not have to get up early, I think, is a victory for them at this point," UA coach Sean Miller said. "I wish every one of them could go home for Christmas. I think we all kind of need a break, but certainly they do."
The adjustment may be toughest on Tubelis and the Wildcats' five other European freshmen — Tubelis' twin brother, Tautvilas; Parisian forward Daniel Batcho; Estonian guard Kerr Kriisa; and wing Tibet Gorener of Istanbul.
But on and off the court, Azuolas Tubelis has been adjusting quickly over the first month of the season. So much so that he moved into Arizona's starting lineup in the Wildcats' 70-64 win over Montana on Tuesday — and showed no signs that he'll be moving back to the bench anytime soon.
Indicating the move was something he could stick with, Miller replaced center Christian Koloko with Tubelis, putting the Lithuanian at power forward while moving forward Jordan Brown over to center.
"I think it gives us more of a scoring punch," Miller said. "It allows Jordan Brown to guard the five man, and I think Jordan is much more fluid, much more sure of himself. I think it helps his offense when he guards the other team's five. ... (and) Azuolas can do a lot of different things and we see his progress right now almost on a daily basis."
On Tuesday, Tubelis' visuals included eight points on 3-for-7 shooting, nine rebounds and three assists, with the highlights including a corner 3-pointer and a feed he zipped from the high post to Bennedict Mathurin for a second-half dunk.
"I always can pass the ball and we have some different options," Tubelis said. "So tonight, I pass (to) him."
According to StatsPass, Tubelis on Tuesday became one of only four players to have posted as many as eight points, nine rebounds, three assists, three steals and two blocks in a single game this season — and the only one who did while playing less than 30 minutes.
Tubelis is averaging 7.6 points, 5.0 rebounds, 1.1 steals and 0.9 blocks per game despite averaging just 18.2 minutes a game. He's shooting only 63.3% from the free throw line after going 1 for 6 on Tuesday.
Miller said Tubelis is also "coming into his own" defensively.
"One of the biggest plays down the stretch (on Saturday against Stanford) is Oscar da Silva drove the ball hard with his right hand against Azuolas and Azuolas had a great block that gave us a chance down the stretch," Miller said. "Tonight he did the same thing … three steals, two blocks, nine rebounds, four offensive rebounds. He made a 3.
"What he didn't do was make his free throws. If he would have, he would have had a great game. But you guys can see it — he's a very talented young player."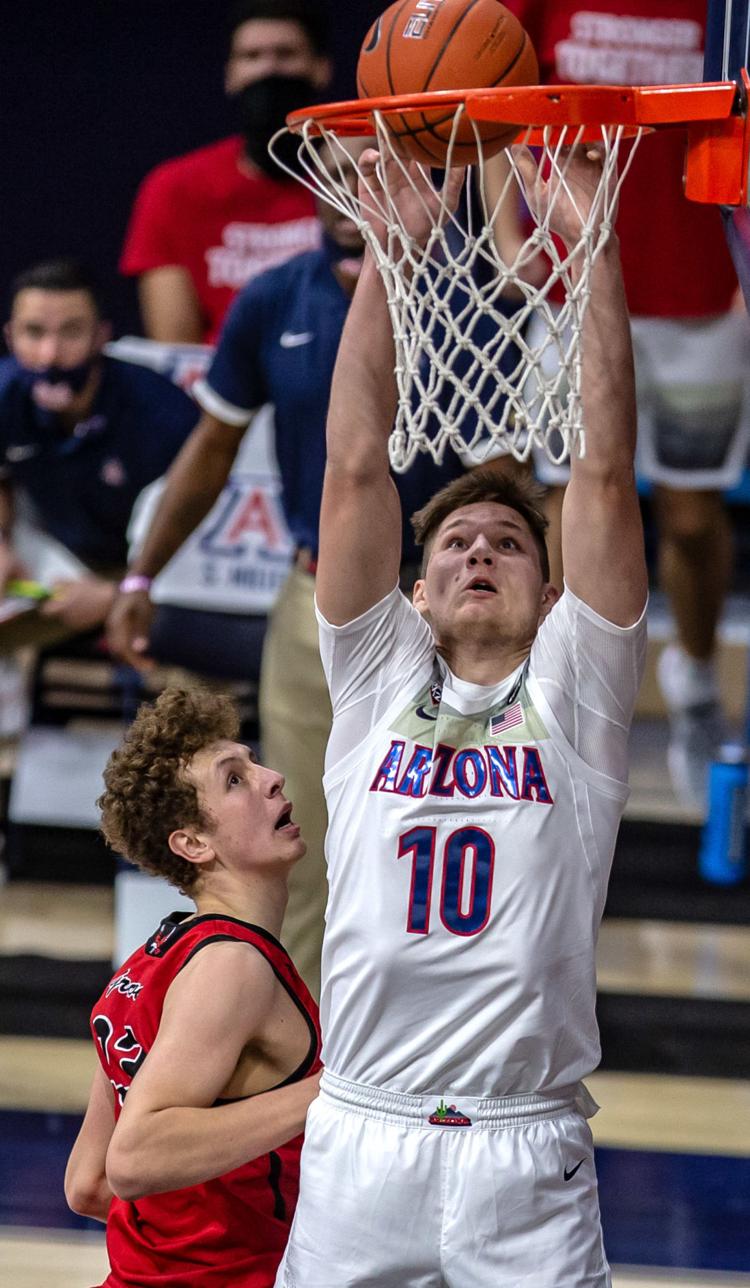 Miller wasn't about to fault Tubelis for getting a technical Tuesday when he hung on the rim following a dunk.
That, too, was an adjustment.
"Keep in mind, if we're over in Lithuania right now, there's a lot of things we're still getting used to," Miller said. "He had no idea that he got a technical foul, even after it was called."
During a postgame Zoom interview Tuesday, Tubelis said he was a good defender but wasn't able to show it while he adjusted.
"I'm physical too, so it's not that hard to adapt, but it's different with rules," Tubelis said. "I don't know. I got that tech for a dunk. I don't know how, why, but I need to learn some more, I think."
That response drew a few sympathetic chuckles, the kind Miller probably can relate to, having dipped into the FIBA world with USA Basketball.
"I almost feel bad as his coach because one time at our end he touched the basketball on the rim," Miller said.
"In FIBA, you can touch the ball while it's on the rim and you can hang on the rim. And that's why games are so important for this year's team because we just have such inexperience."
Kriisa relieved by decision
Miller said Kriisa will be eligible to play starting Feb. 6 regardless of whether the Wildcats run into further postponements or delays — even though the NCAA's decision appeared to be based on Kriisa sitting out 70% of UA's games because of his previous arrangements to play with a Lithuanian club.
While Miller declined to detail what held up the decision, he said Kriisa was deeply relieved after so many months of uncertainty.
"You know, in his mind it's not just whether he's going to play or not," Miller said. "You start to stress: 'Am I going to be allowed to stay in the country? Am I going to be allowed to keep my scholarship? Am I going to be allowed to attend Arizona? When I do go back, how does that work?' It's really stressful, really.
"I was actually heartbroken when I saw his reaction just because you forget every night he goes to bed he's wondering like, 'Am I OK or am I not OK?' He doesn't live in California. I'm happy that he has a chance to play. We've supported him all the way and he's a big part of our future, he's a very good player. But he could be a great player down the road as he gets stronger."
Kriisa hasn't been available for comment since UA's media days in early November, before the school revealed he had not been cleared to play.
Kriisa sat with the Wildcats again on the team bench Tuesday, and will be allowed to travel even before he becomes eligible to play.
Akinjo keeps going
Going 2 for 8 from the field and 2 for 9 from the free throw line against Stanford did not make point guard James Akinjo shy on Tuesday against Montana. The point guard hit a 3-pointer 56 seconds into Tuesday's game, added a 2-point jumper less than four minutes later, and wound up scoring 18 points on 5-for-16 shooting.
He also made all six of his free throws.
"Two for nine (against Stanford) is more of an outlier from the free-throw line," Miller said.
"He's very confident, sure of himself and keep in mind he hasn't played real games in a long time. It's gonna take him like all of our players getting used to it."
Akinjo said he wanted to stay aggressive and "get the best shot possible" on every possession.
"His 16 shots, I thought he had some good looks but he probably had a couple that maybe he could pivot and make a pass or maybe dribble out and then play it safe," Miller said.
"But he doesn't have a confidence issue. I was excited to see him come out in play the way he did at the beginning for sure."