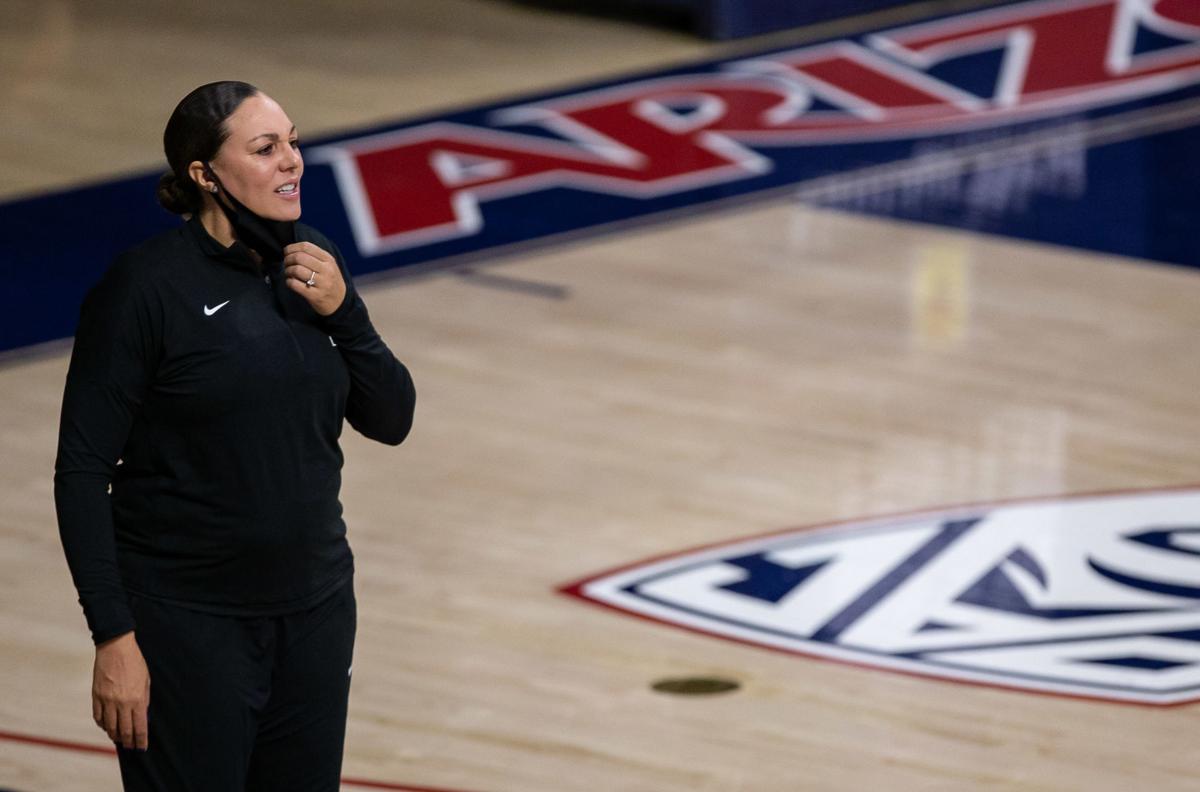 Adia Barnes called it one of the hardest weeks of her career. And, really, who could blame her?
COVID-19 had finally crept into her program.
Barnes and Salvo Coppa, her assistant coach and husband, were exposed to someone within the program who tested positive for COVID-19. Barnes and Coppa quarantined; even though no Wildcats players contracted the virus, they were forced to postpone three games.
They'll miss a fourth, too. Friday's scheduled game between No. 9 Arizona (11-2, 9-2 Pac-12) and Oregon State (6-5, 4-5 Pac-12) was postponed Thursday evening because of COVID-19 concerns within the Beavers' program.
"Our team was doing so well," Barnes said this week of the Wildcats' own cancellations. "It was affecting everybody, but it wasn't affecting us. You know it's going to happen, but you are not prepared for it."
Barnes has been a homebody since last March, avoiding trips to the grocery store and only leaving the house for basketball things. Barnes gave birth to a baby girl, Capri, in September. Neither set of the baby's grandparents have been to Tucson to meet her.
Barnes wore a mask during practice and games. Still, contact tracing showed she was close to the COVID-positive person for too long during a Jan. 22 win over Utah in McKale Center.
"The next day at practice, Boom, someone tested positive," Barnes said. "… I think the first thing was, 'Is that person OK? And that person was OK.' The second thing was from my standpoint, I have kids. I have a baby and I was scared we could get COVID. We were quarantining in my house and had masks on. Salvo and I had to sleep with masks the first couple of days because (Capri) sleeps in our room. It was really scary for five or six days straight not knowing if I'm going to catch COVID."
The Wildcats then canceled last week's trip to UCLA and USC. Los Angeles County has a 10-day quarantine rule, meaning the team could not travel to California.
With Barnes and Coppa sidelined, the Wildcats lifted weights and focused on their shooting.
"I want to shine a light on this past week — I think it brought us closer together as a team," forward Trinity Baptiste said. "We just found a way to stay focused — staying positive and healthy."
Senior captain Sam Thomas said the Wildcats realized they still had to work. These were not off-days.
"We have to stay in shape — it takes like two off days, to be out of condition," Thomas said. "We just try to keep our conditioning and get our shots right so we stay consistent and it wouldn't feel like a drop-off for when we play these next coming games.
"(Game day) was definitely weird, being at home and seeing all the other teams play. … We tried to kind of mock if we had a game. For the Sunday games, we lifted a little bit earlier. Try to get in extra shots as a team a little bit early — during the time of game time. Just so we can kind of keep with it a little bit."
At the time of the positive test, Arizona was sitting on top of the Pac-12 standings, a half-game ahead of Stanford. Not playing has dropped the Wildcats back into second place.
While nobody wants to miss time because of the virus, the timing — and the circumstances — could end up being a positive. The Wildcats got a little rest, tended to nagging injuries that come up this time of year, refocused and reset.
"If I'm looking at, 'Could there be better timing?' Probably not," Barnes said.
"But I think that the reason why it is a little bit tough timing is that we were just starting to play better. We're starting to click a little bit more — we were kind of rolling. That's why I don't like the timing of it. But I'd rather it now than at the end of February or March, for sure. I do think it was a time for our players to get some rest, mentally and physically."
Barnes knows there has been a little luck involved for her players not to have COVID-19 during the season – especially in Arizona, which has been the worst state for virus cases.
The Wildcats must stay vigilant. Barnes received the first dose of a COVID-19 vaccine and has added a few more precautions, like turning on the beepers for the SafeTags — the wearable devices that track how long people are in close contact with each other.
Her biggest lesson learned: "Don't trust anybody, and assume everybody has COVID."
"No one's coming near me," Barnes said.
"I need to coach my team. I think that it's natural in your circle … I was a little bit closer to players because we're testing every day. … Now, I'm teaching them and learning myself (that) you can't let your guard down.
"I felt like — and I hate to say this — I felt like I let the team down. It wasn't my fault that someone caught COVID at all. But it was my fault that I let someone within six feet of me because if I wouldn't have been wiped out, I could've coached the team. I was disappointed. I blamed myself in that sense. I can make that adjustment. I'm sad that I didn't do that the whole time. …
"I think this has made us even better. The main thing is for us to be healthy."