The Arizona Board of Regents has paid lawyers more than $1.2 million over the last year for work in connection with the ongoing college basketball scandal.
ABOR has paid $1,280,891.51 to both the firms of Steptoe & Johnson and Jackson Lewis over the last year. Between Oct. 1, 2017 and April 30, Steptoe & Johnson billed ABOR $651,800 for work performed during the investigation. Jackson Lewis billed ABOR $629,092 for work performed between Oct. 1, 2017 and Sept. 30, according to the documents.
UA assistant coach Book Richardson was arrested in September 2017 after federal prosecutors say he took money from a sports agent and used it to bribe recruits to come to Arizona. He was charged with multiple felony counts of fraud.
Shortly thereafter, UA president Robert C. Robbins announced that the university had retained Steptoe & Johnson, an international law firm with a Phoenix office, to review all allegations made against Richardson in the federal complaint and "any related legal issues or compliance concerns arising from these complaints."
Robbins indicated that another firm, Boston-based Jackson-Lewis, was hired to handle the NCAA issues that may arise from the federal complaint.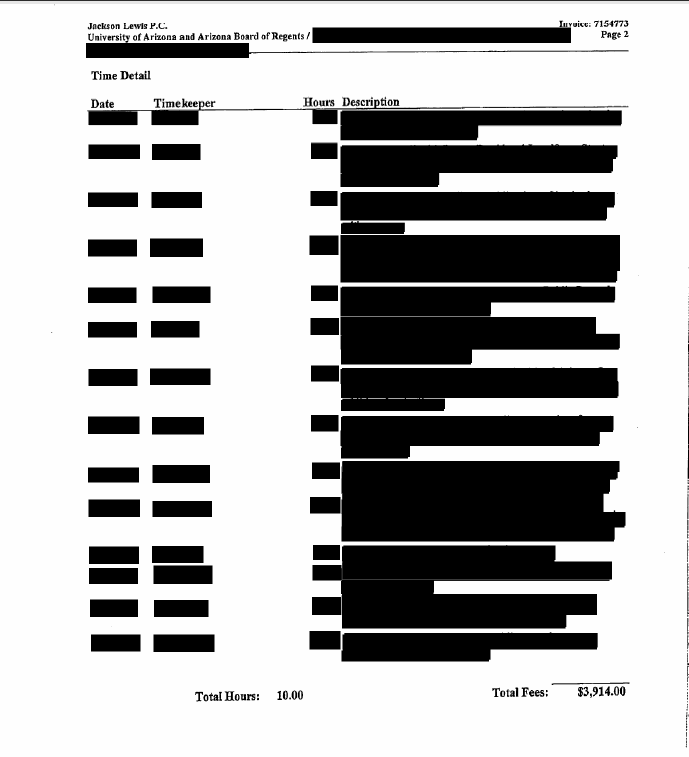 The UA produced the heavily-redacted billing statements on Nov. 20, more than a year after the Star first requested information related to the internal investigations. The Star began requesting information about the two firms in October 2017, and issued additional public records requests in March and August.