Seen and heard at McKale Center in the Wildcats' narrow loss to Gonzaga.
Arizona target breaks San Diego Section record with 77 points
He won't be eligible to play college basketball until 2023-24, but Arizona Wildcats target Mikey Williams is turning heads in his first high school season.
Friday night, Williams scored 77 points and led San Diego San Ysidro High School to a 116-52 win over Kearny.
Williams' 77-point performance is a single-game CIF San Diego Section record, which was previously set by Tyrone Shelley in 2005.
Williams made 29 shots, nine 3-pointers, 20 two-pointers and 10 free throws.
On Thursday, Williams scored 51 points in a 108-61 win against Brawley. In Williams' first two high school games, he scored 41 points followed by 50 three days later. Through nine contests this season, Williams is averaging 35.1 points, 2.6 assists and 1.7 steals per game.
The 6-foot-1-inch, 175-pound guard isn't ranked yet by 247Sports.com and Rivals.com yet. Williams already holds offers from the UA, Arizona State and San Diego State.
---
Christmas vibes
The ZonaZoo got UA students in the holiday spirit Saturday night by handing out free Arizona-themed ugly Christmas sweaters to the first 250 students.
It was a simple design, but you could do worse at your next family function. Would you wear your ugly Christmas sweater to a basketball game?
---
Sign of the night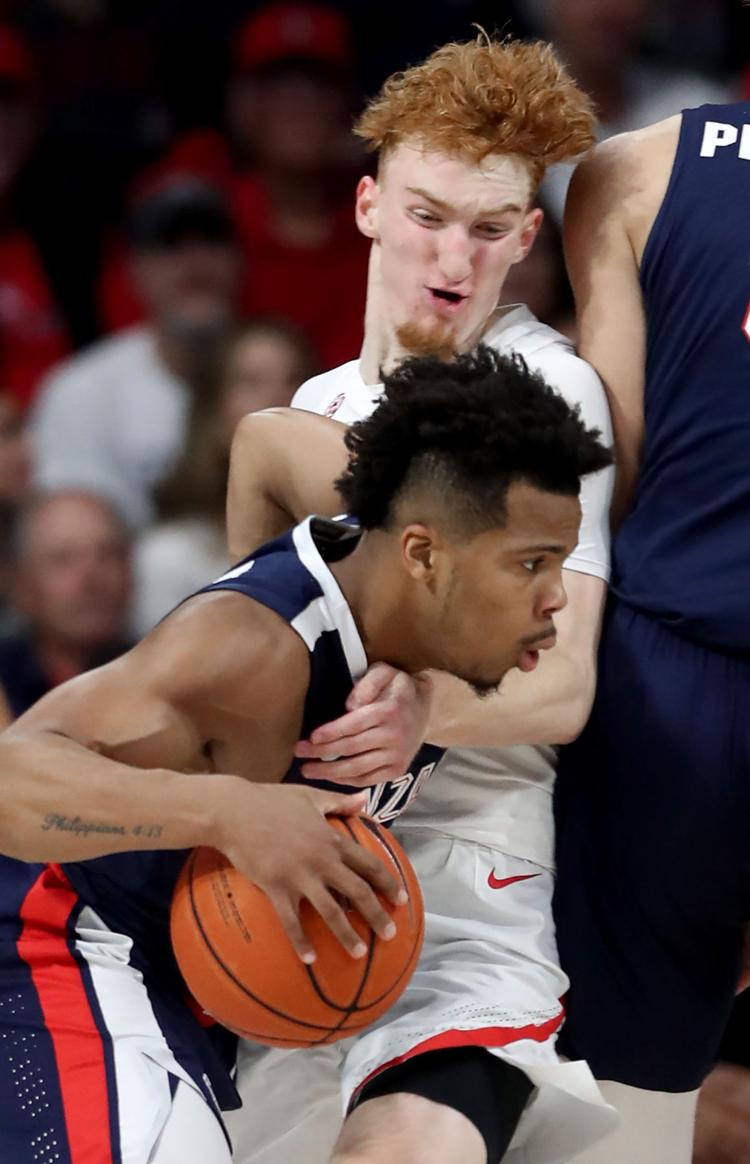 A primetime matchup at McKale Center called for a raucous crowd. Usually the students sitting in the Zona Zoo hold up signs and fat head posters of the UA players. One fan sitting about a dozen rows behind Gonzaga's bench had a "Grand Mannion" sign.
---
First sellout of 2019-20 season
A full-house of 14,644 showed up to McKale for the top-15 matchup, which marks the first time this season that there hasn't been an empty seat at a Wildcats home game.
---
The big number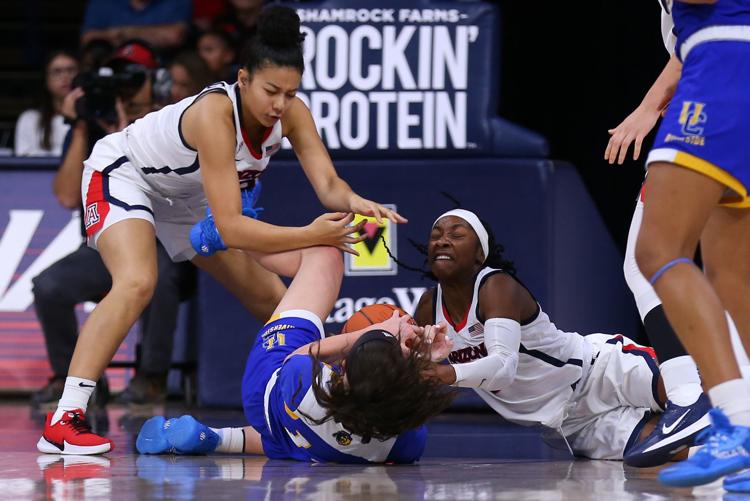 21
The combined McKale Center winning streak by Arizona's men's and women's basketball teams that ended with Gonzaga's victory. Sean Miller had guided his team to seven straight wins at home coming into the game, while Adia Barnes' team has won 14 (and counting) in a row. The UA women play one more home game before Christmas, a Saturday afternoon game against UC Santa Barbara.
---
OT thriller in Ann Arbor goes the Ducks' way
No. 10 Oregon and No. 5 Michigan needed overtime to decide one of the best games of the early college basketball season Saturday. Ducks point guard Payton Pritchard scored 19 of his 23 points in the second half as the Ducks prevailed 71-70.
Oregon now has wins over No. 13 Memphis, No. 22 Seton Hall and the Wolverines.
---
A not-so-good number
3 of 33
UA's 3-point shooting through 60 minutes against Top 25 opponents this season. The Wildcats shot 2 of 18 against No. 18 Baylor last week and 1 of 15 in the first half vs. Gonzaga.
— Justin Spears and Alec White
Be the first to know
Get local news delivered to your inbox!