Watch: 7 best things Arizona Wildcats said after beating Pacific in second round of WNIT
Best postgame video clips after Arizona's win over Pacific in the second round of the WNIT. 
Cats win two postseason games in same season for the first time since 1998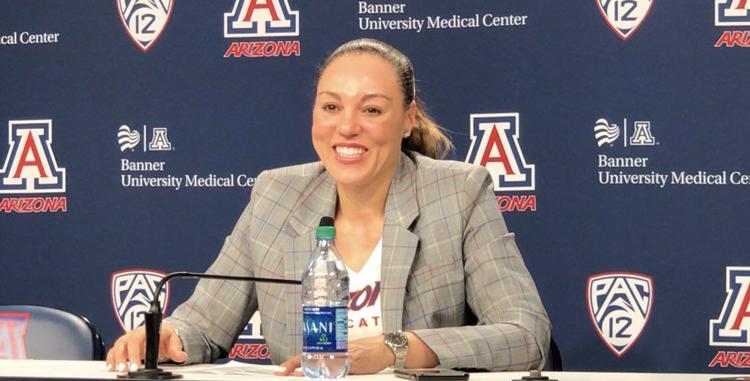 Arizona was tested, but the Wildcats pulled away from Pacific 64-48 in the second round of the WNIT on Sunday in front of a crowd of 3,524 at McKale Center. 
Sophomore guard Aari McDonald led UA with 20 points, 12 rebounds and seven assists. Along with McDonald, freshman Cate Reese contributed 16 points on 70 percent shooting and five rebounds. 
Forward Domonique McBryde missed the WNIT opener due to having flu-like symptoms, but returned Sunday and had two blocks and three steals in the win. 
The Wildcats return to McKale Center on Thursday and will host Idaho for a 6:30 p.m. tipoff. McDonald, McBryde and head coach Adia Barnes spoke to the media after the game, here's what they had to say. 
Hyper Wildcats
Arizona head coach Adia Barnes on the Wildcats' effort on Sunday: "They were really pumped. ... They were really hyped and the energy was good." pic.twitter.com/riMXDH6CIa

— The Wildcaster (@TheWildcaster) March 25, 2019
Lack of students attending games
Adia Barnes says gaining student support from the @ZonaZooOfficial for #WNIT "has been difficult" despite donated free tickets. "Pizza and a free ticket, you better come out. We don't sell alcohol, maybe that's what's missing. ... I don't know what the solution to that is." pic.twitter.com/wg9uSbpkkg

— The Wildcaster (@TheWildcaster) March 25, 2019
Return of McBryde
Adia Barnes on having Domonique McBryde (flu) back into the lineup: "She's very valuable and we need her to be successful." pic.twitter.com/fdRNr3Iug1

— The Wildcaster (@TheWildcaster) March 25, 2019
Aari McDonald's milestone
After scoring 20 points against Pacific, sophomore guard Aari McDonald officially has over 800 points on the season. Adia Barnes. "I could never dream of scoring 800 points in a season." pic.twitter.com/pqWyT0vPvK

— The Wildcaster (@TheWildcaster) March 25, 2019
McDonald's multidimensional skill set
Aari McDonald finished Sunday afternoon with 20 points, 12 rebounds and 7 assists. McDonald on scoring and facilitating: "I've been playing like this since I started playing basketball." pic.twitter.com/tDhCxaTruE

— The Wildcaster (@TheWildcaster) March 25, 2019