Watch: 9 best things Arizona Wildcats said after fending off Utah
Dusan Ristic, Parker Jackson-Cartwright and Sean Miller spoke at the postgame press conference after No. 11 Arizona held off Utah.
Dusan's day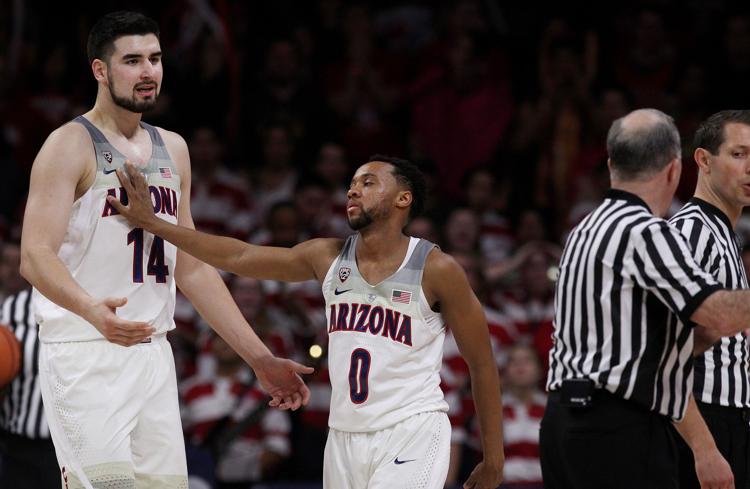 By Justin Spears / Arizona Daily Star
When Arizona center Dusan Ristic entered the press conference room, he made it clear as day to everyone, that Saturday's 74-73 win over Utah was his best game of his career at UA. And rightfully so. 
Ristic recorded a career-high 23 points and became the 52nd player in program history to reach 1,000 career points. Ristic also shot 3 of 3 from 3-point range. The last time Ristic made a 3-pointer was Jan. 12, 2017 against Arizona State so him making three of them in a game was like finding a four-leaf clover. 
Once Arizona went up by 13 early in the second half, the Utes scratched back into the game and took a one-point lead with four minutes left to play. The Wildcats needed someone to step up that wasn't named Allonzo Trier or Deandre Ayton and with Rawle Alkins out for the second game in a row with soreness in his right foot, Ristic rose to the occasion. 
It's unclear when Alkins will return to the starting lineup, but head coach Sean Miller is optimistic and provided an update after the game Saturday. 
Miller, Ristic and Parker Jackson-Cartwright spoke at the postgame press conference, here's what they had to say. 
Ristic's best game at Arizona
Dusan Ristic set the record straight! Today was his best game at Arizona. Ristic also adds on being the 52nd player in program history to reach 1,000 career points. pic.twitter.com/QIkuW2XD21

— The Wildcaster (@TheWildcaster) January 28, 2018
Ristic is Arizona's heart and soul
Sean Miller on Dusan Ristic's career performance against Utah: "He's our team's heart and soul ... today is his day." pic.twitter.com/BpH9skOJ0k

— The Wildcaster (@TheWildcaster) January 28, 2018