Watch: 6 best things Arizona Wildcats said after holding off Utah Valley
Key moments from Arizona's press conference following its 80-69 win over Utah Valley. 
Brandon Williams' double-double, Brandon Randolph's 3s lift UA over UVU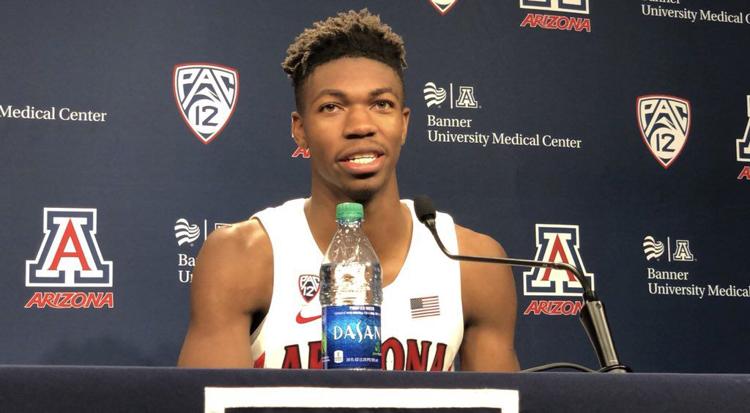 Arizona outscored Utah Valley 51-28 in the second half to win 80-69 on Thursday night at McKale Center, securing the Wildcats' seventh win of the season. 
The UA trailed 41-29 at halftime, but Brandon Randolph's four 3-pointers in the opening minutes of the second half lifted Arizona back into the game. Randolph finished the night with 16 points and made 4 of 6 3-pointers. 
Freshman guard Brandon Williams recorded his first collegiate double-double with 15 points, 10 rebounds and five rebounds. 
As a team, the Wildcats shot 60.7 percent from the field and 57.1 from 3-point range in the second half. Next up, Arizona will travel to Alabama for a Sunday matinee at 11 a.m.
Williams, Randolph and Sean Miller spoke to the media following Thursday's win; here's what they had to say. 
Randolph on his second-half shooting performance
Brandon Randolph on his second-half performance against Utah Valley: "I was determined to win." pic.twitter.com/7Fzs1DnuQC

— The Wildcaster (@TheWildcaster) December 7, 2018
Randolph reminded Miller of Gabe York
Sean Miller says he hasn't seen a shooting stretch like Brandon Randolph's (4 consecutive 3-pointers) since Gabe York on senior day vs. Cal in 2016. pic.twitter.com/3lv8OLavkp

— The Wildcaster (@TheWildcaster) December 7, 2018
Williams' cool characteristic
Sean Miller on Brandon Williams' double-double: "He's unflappable. ... It's a great characteristic to have. I actually wish I had that characteristic sometimes." pic.twitter.com/UjQhM2XBDJ

— The Wildcaster (@TheWildcaster) December 7, 2018
Nonconference schedule prepping UA for Pac-12 play
Sean Miller on Arizona's 7-2 start: "A lot of us feel good because we've earned the record that we have." pic.twitter.com/3ucCer2uku

— The Wildcaster (@TheWildcaster) December 7, 2018