Watch: 8 best things Arizona Wildcats said after winning WNIT opener
Best clips from Arizona's postgame press conference after winning the WNIT opener at McKale Center. 
UA wins program's first postseason game since 2005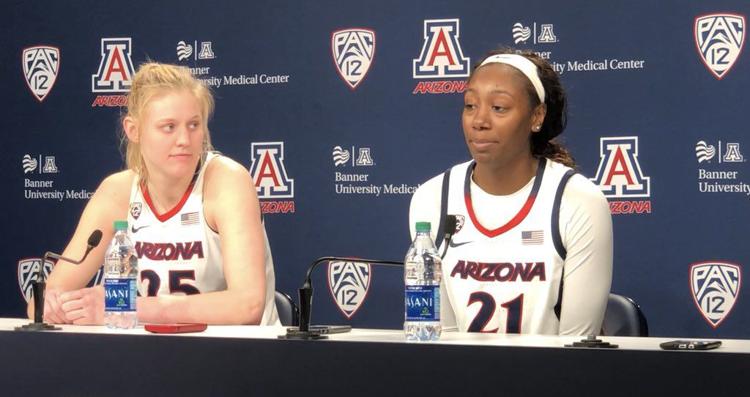 Arizona's women's basketball hadn't won a postseason game since 2005 until Thursday night's WNIT opener, when the Wildcats beat Idaho State 66-56 in front of 3,265 fans at McKale Center.
The Wildcats were led by freshman forward Cate Reese who finished the night with her seventh double-double of the season: 20 points and 10 rebounds. Sophomore guard Aari McDonald recorded 15 points, five rebounds, five assists and three steals. 
After Arizona jumped out to a 38-20 lead at halftime, Idaho State went on a 13-0 run to start the second half while trimming Arizona's lead to seven. But the Wildcats were able to pull away in the fourth quarter.
Arizona advanced to the second round of the WNIT and will now host Pacific at McKale Center at 3 p.m. Sunday.
ISU made it a game
Adia Barnes on Arizona's defense holding off Idaho State despite the Bengals cutting the UA lead to 7 in the second half: pic.twitter.com/osKPkiEo35

— The Wildcaster (@TheWildcaster) March 22, 2019
'Passionate' McKale Center crowd
Adia Barnes called Arizona's crowd at McKale Center tonight "passionate." "I'm excited to see that because I don't think people have been excited about Arizona women's basketball for a long time." pic.twitter.com/b3ZVxlkdYd

— The Wildcaster (@TheWildcaster) March 22, 2019
Reese stepped up with Domonique McBryde out with illness
With Dominique McBryde out (illness), freshman Cate Reese stepped up for Arizona. "As a whole, we all had to step up on defense." pic.twitter.com/hYgx7bLnw5

— The Wildcaster (@TheWildcaster) March 22, 2019
Day in the life of a student-athlete
Destiny Graham and Cate Reese on the @NCAA's "Student and athlete — a day in the life" video: Graham: "If my day was like that, I'd love it. But it's not." Reese: "You don't really know what an athlete goes through unless you're an athlete." pic.twitter.com/MS3kOD4gDF

— The Wildcaster (@TheWildcaster) March 22, 2019