Watch: 7 best things Justin Coleman, Sean Miller said in Arizona's press conference
Key moments from Sean Miller and Justin Coleman's pre-Utah Valley press conference. 
Wildcats prepare for Utah Valley, Alabama this week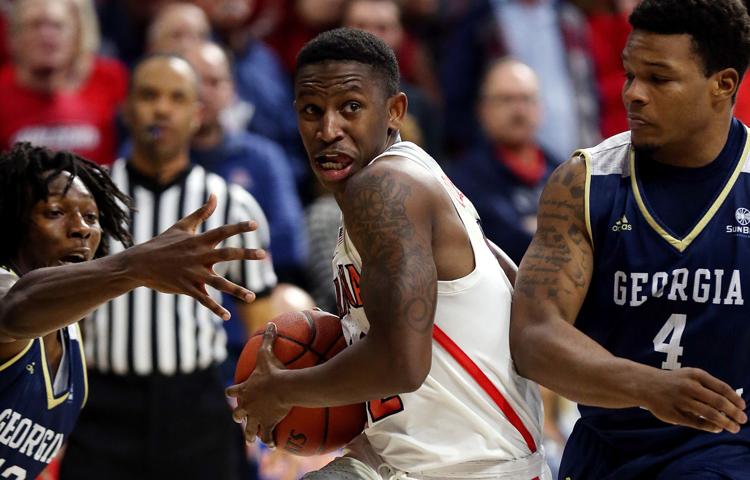 Arizona escaped a hostile environment at the XL Center to close out UConn 76-72 Sunday afternoon. Despite not making a field goal in the final 6:43 of the game, the Wildcats shot 12 of 13 from the free throw line. 
Sophomore guard Brandon Randolph finished with a career-high 20 points on 9 of 9 shooting from the free throw line. 
Now Arizona returns home to face a Utah Valley team that has won five consecutive games after losing three straight in early November. After that, the Wildcats hit the road once again to play Alabama for another Sunday afternoon tipoff at 11 a.m.
Arizona point guard and co-captain Justin Coleman, a Birmingham native, played at Alabama from 2014-16 before transferring to Samford the previous two seasons.
Coleman and Arizona coach Sean Miller held a pre-Utah Valley press conference on Tuesday, here's what they had to say. 
Miller impressed with Arizona's confidence
Sean Miller was impressed with Arizona's "poise, belief and confidence" down the stretch against UConn. pic.twitter.com/eFBfSN9H46

— The Wildcaster (@TheWildcaster) December 4, 2018
Advice for Devonaire Doutrive
Justin Coleman has taught patience to freshman Devonaire Doutrive. Coleman says Doutrive will be an NBA player in a couple of years. pic.twitter.com/v7xQVQkOL1

— The Wildcaster (@TheWildcaster) December 4, 2018