Watch: 9 best things Rawle Alkins and Sean Miller said in Arizona Wildcats' press conference
Miller and Alkins talked discussed Arizona's No. 4 seed in the South Region. 
Win or go home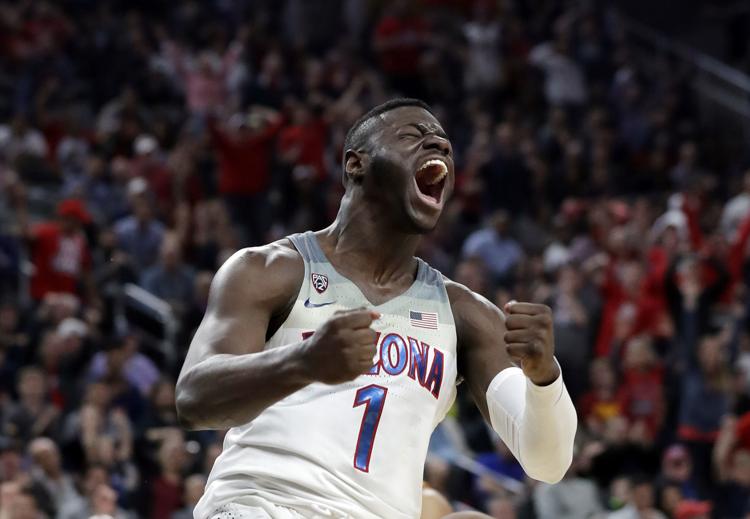 By Justin Spears / Arizona Daily Star
Everything up until this point for Arizona is in the rear view. Every team is 0-0 and it's win or go home. 
The Wildcats are the No. 4 seed in the South Region and will battle No. 13 Buffalo in Boise, Idaho this Thursday at 6:40 p.m.
For the seventh time in nine years, Sean Miller has taken the Wildcats to the NCAA Tournament and with lots of uncertainty surrounding the program's future, this could be the final crack at a national title at least for a couple of years.
If the UA beats Buffalo, it could potentially play No. 5 Kentucky in the Round of 32, top-seeded Virginia in the Sweet 16 and No. 2 Cincinnati in the Elite Eight, which won't be easy by any means.
Sean Miller and Rawle Alkins held a press conference Monday afternoon to preview Arizona's trip to Boise. Here's what they had to say. 
Miller surprised with the seeding?
Sean Miller on if he was surprised with Arizona being placed as the No. 4 seed in the South Region: pic.twitter.com/vDDOflR13k

— The Wildcaster (@TheWildcaster) March 12, 2018
3 is better than nothing
Rawle Alkins on USC being left out of the NCAA Tournament: "We had 3 teams from the Pac. We could've easily had none." pic.twitter.com/8f8CAoOQr9

— The Wildcaster (@TheWildcaster) March 12, 2018
Alkins showing Ayton the spin move
Rawle Alkins on his favorite Deandre Ayton story and Ayton learning moves from playing 2K. pic.twitter.com/SaIdWDsYJC

— The Wildcaster (@TheWildcaster) March 12, 2018
Sean Miller on Lorenzo Romar accepting the Pepperdine job
Sean Miller says "we're elated" for Lorenzo Romar for accepting the head coaching position at Pepperdine. pic.twitter.com/kaRVg5mUNX

— The Wildcaster (@TheWildcaster) March 12, 2018
Arizona's rotation
Sean Miller says he's going to use the same lineups he used in the Pac-12 Tournament. Ira Lee didn't play and Brandon Randolph only had 3 minutes against Colorado. pic.twitter.com/IDl82iB0ny

— The Wildcaster (@TheWildcaster) March 12, 2018