Best clips from Arizona's weekly press conference as the Wildcats prepare to take on ASU for the final game at McKale Center this season. 
Wildcats look to end regular season on right note when hosting rival ASU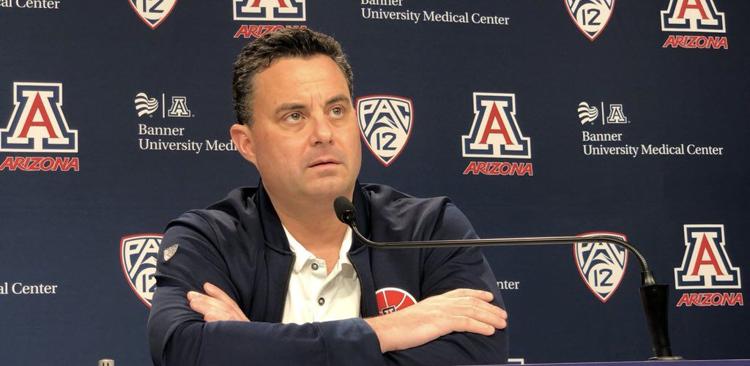 The Arizona Wildcats will look to put a bow on their down year when they host rival Arizona State in the final regular-season game Saturday.
UA is coming off a 26-point loss to Oregon and currently sits ninth in the Pac-12 standings, while the Sun Devils overcame a seven-point deficit to beat Oregon State on Sunday and locked up the No. 2 seed in the conference.
Last time Arizona played ASU, the Wildcats lost 95-88 in overtime without freshman guard Brandon Williams, who missed the game with a right knee injury. Ryan Luther made 5 of 8 3-pointers for 19 points, but ASU's Remy Martin scored a career-high 31 points and had eight assists. ASU's win over Arizona was the first time Bobby Hurley beat Sean Miller since taking over the program in 2015.
Miller held his weekly press conference on Monday along with Justin Coleman, here's what they had to say before Saturday's matchup with ASU. 
Status for Chase Jeter and Brandon Williams
Sean Miller says Chase Jeter (knee) is questionable against ASU and won't practice. Miller also says Brandon Williams "has no minute limit restriction." pic.twitter.com/O9Wb3odqld

— Justin Spears (@JustinESports) March 4, 2019
Loss to Oregon, Chase Jeter's knee
Sean Miller on the 26-point loss to Oregon and Chase Jeter (knee) only playing 6 minutes: pic.twitter.com/JC3fcCnXHY

— The Wildcaster (@TheWildcaster) March 4, 2019
Coleman on senior day and playing in rivalries
Justin Coleman on playing his final game at McKale Center this week and rivalries: pic.twitter.com/K1RZhUirvN

— The Wildcaster (@TheWildcaster) March 4, 2019
Getting tans
With the UA on spring break, how does Arizona handle free time during the week? Justin Coleman says getting sun tans. ☀️ pic.twitter.com/jg76XEYrK5

— The Wildcaster (@TheWildcaster) March 4, 2019
Bringing Coleman and Luther over as graduate transfers
Sean Miller on recruiting Justin Coleman and Ryan Luther to Arizona: pic.twitter.com/LTiiooFqr1

— The Wildcaster (@TheWildcaster) March 4, 2019
No comment Pt. I
Sean Miller when asked about if the public should know about his involvement in April's federal trial: "No comment." pic.twitter.com/kjakvHSUGh

— The Wildcaster (@TheWildcaster) March 4, 2019
No comment Pt. II
Sean Miller when asked about "off-the-court" distractions: "No comment."Miller then told the @abc15 reporter "Make sure you come to the next game" when walking out of the press conference. pic.twitter.com/t6BCNYlnRn

— Justin Spears (@JustinESports) March 4, 2019