Top moments from Arizona's player availability on Thursday. 
UA's 'unfair' backcourt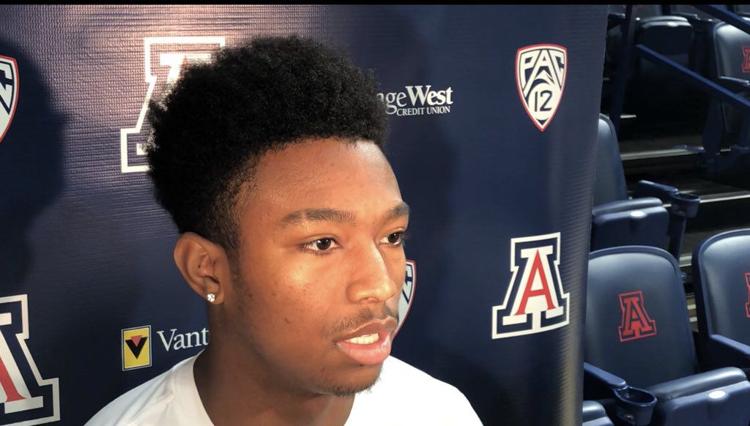 College hoops season is around the corner and the Arizona Wildcats are preparing for their first game. UA will host Western New Mexico on Tuesday for an exhibition. 
The Wildcats will have another exhibition against Chaminade on Nov. 4, before their season opener against Houston Baptist on Nov. 7. 
Arizona's starting backcourt could feature team captain Justin Coleman at point guard and freshman Brandon Williams as the scorer, although he was recruited as a point. 
Coleman, a 5-foot-10 graduate transfer from Samford, and Williams experienced McKale Center's atmosphere as players for the first time during the annual Red-Blue Game. The two met with the media Thursday to discuss their chemistry and established relationship.
High expectations for Williams
Justin Coleman has high expectations for Brandon Williams. "He's gonna be one of the better scorers to ever play at Arizona." pic.twitter.com/jXYKaQbrZd

— The Wildcaster (@TheWildcaster) October 25, 2018
Williams-Coleman chemistry
Brandon Williams on playing with Justin Coleman during practices: "It's kinda unfair when coach puts us on the same team. ... We go along good." pic.twitter.com/zEGpjG2mzd

— The Wildcaster (@TheWildcaster) October 25, 2018
Exciting time for Coleman
Arizona PG Justin Coleman is eager to get his career started as a Wildcat. "Just to be here a couple days away from my first game, it's exciting." pic.twitter.com/yjKY0Nq1UG

— The Wildcaster (@TheWildcaster) October 25, 2018
Who's playing small forward for UA?
Brandon Williams says Dylan Smith, Brandon Randolph and Emmanuel Akot have been playing SF during practices. Williams on the advantage of having three guards on the floor: pic.twitter.com/XN7fg6wV6p

— The Wildcaster (@TheWildcaster) October 25, 2018
Best friends
Justin Coleman on freshman guard Brandon Williams: "He's kinda like my best friend. I help him out a lot with experience and the growing pains that I went through." pic.twitter.com/5ZS4ZRGcxL

— The Wildcaster (@TheWildcaster) October 25, 2018