Watch: Ex-Arizona Wildcats Miles Simon, Richard Jefferson talk Lute Olson's statue, NBA season, and hosting The Catsys
It was all smiles in Richard Jefferson and Miles Simon's return to Tucson. 
Hosts of The Catsys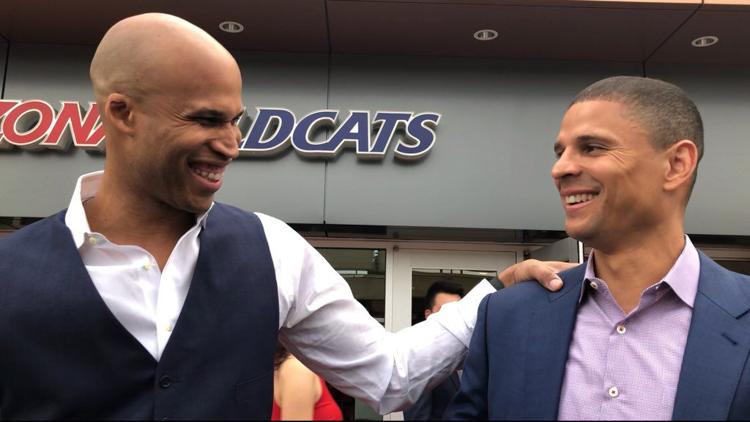 By Justin Spears / Arizona Daily Star
Monday was the second annual Catsys, an award show at McKale Center for UA student-athletes of the 2017-18 school year.
Last year's host was former Wildcat standout, and Los Angeles Lakers head coach Luke Walton. This year, the basketball trend continued as the 1997 NCAA Tournament Most Outstanding Player in Miles Simon, and Richard Jefferson were the hosts. 
Jefferson just wrapped up his 17th season in the NBA, and played with the Denver Nuggets after spending three seasons with the Cleveland Cavaliers, which included an NBA title in 2016. Simon finished his first season as an assistant on Walton's coaching staff with the Los Angeles Lakers.
Despite being in the NBA, both of their teams missed out on playoffs, which gave them an opportunity to return to their old roots to host The Catsys. The Wildcaster caught up with Jefferson and Simon on the red carpet, here's what they had to say.
Being in Tucson, and getting waived for 'peanut butter and jelly'
Richard Jefferson on returning to Tucson, and his season in the NBA: "I got waived for peanut butter and jelly." 😂 pic.twitter.com/AZ7SDpZeh0

— The Wildcaster (@TheWildcaster) April 17, 2018
Lute Olson's statue
Miles Simon and Richard Jefferson on Lute Olson's statue: Simon: "It's well deserved and about time." Jefferson: "He put Tucson on the map. ... He made the best athletes and future millionaires want to come to Tucson, Arizona." pic.twitter.com/ROS6a6hljT

— The Wildcaster (@TheWildcaster) April 17, 2018
Lute the legend
What made Lute Olson and Arizona stand out when Miles Simon and Richard Jefferson were being recruited in high school? pic.twitter.com/Q0kT0tnDoD

— The Wildcaster (@TheWildcaster) April 17, 2018
Having a drink with the statue
Richard Jefferson says he's going to have a drink with the Lute Olson statue. Miles Simon also talks about Olson's statue pose. pic.twitter.com/J2sFH2utBi

— The Wildcaster (@TheWildcaster) April 17, 2018