Watch: 'It almost brings a tear to my eye,' as Arizona punches ticket to WNIT championship
Best video clips of Arizona's postgame press conference after Wednesday's win in the WNIT Final Four. 
10 best things UA said after beating TCU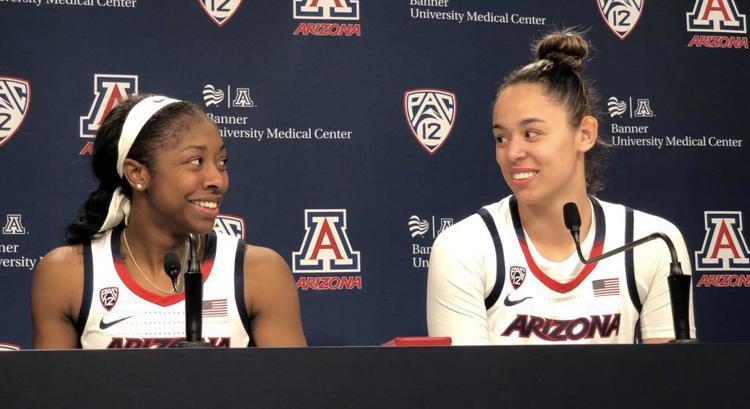 When the Arizona Wildcats took the floor at McKale Center on Wednesday night for their WNIT Final Four matchup against TCU, 10,135 fans filled the arena. It was the highest attendance in program history.
The Cats delivered and beat TCU 59-53 for a spot in the WNIT championship game against Northwestern. 
UA guard Aari McDonald finished the night with 19 points and went of 8 of 23 from the field. She led the team in rebounds with nine and tallied four assists. Dominique McBryde added had 13 points in the win. 
Up next, Arizona will host the title game at McKale Center at noon Saturday. The game will be televised on CBS Sports.
Head coach Adia Barnes, McDonald and McBryde spoke to the media following the win, here's what they had to say. 
Big picture for Arizona
Adia Barnes says Arizona's #WNIT run is important because the team is gaining tournament experience while picking up momentum for next season. pic.twitter.com/iW0DbGKkEY

— The Wildcaster (@TheWildcaster) April 4, 2019
Aari McDonald's passion
Adia Barnes on Aari McDonald's "grit" and passion: "She's someone I want to go war with anytime, anyplace." pic.twitter.com/dcHgOdWrYN

— The Wildcaster (@TheWildcaster) April 4, 2019
Coming full circle
The last time Arizona battled for a #WNIT championship, Adia Barnes was a player. Guess who UA played? Northwestern. Arizona's opponent on Saturday. "If we can find a way to get a win, that's an even greater story." pic.twitter.com/3W9UuhJU88

— The Wildcaster (@TheWildcaster) April 4, 2019
(Bonus): McKale Center being a special place
Arizona head coach Adia Barnes on walking out to see 10,135 fans at McKale Center for the #WNITFinalFour: "This place is special. ... To walk out and see that, it almost brings a tear to my eye." pic.twitter.com/sI8qEJc1s4

— The Wildcaster (@TheWildcaster) April 4, 2019