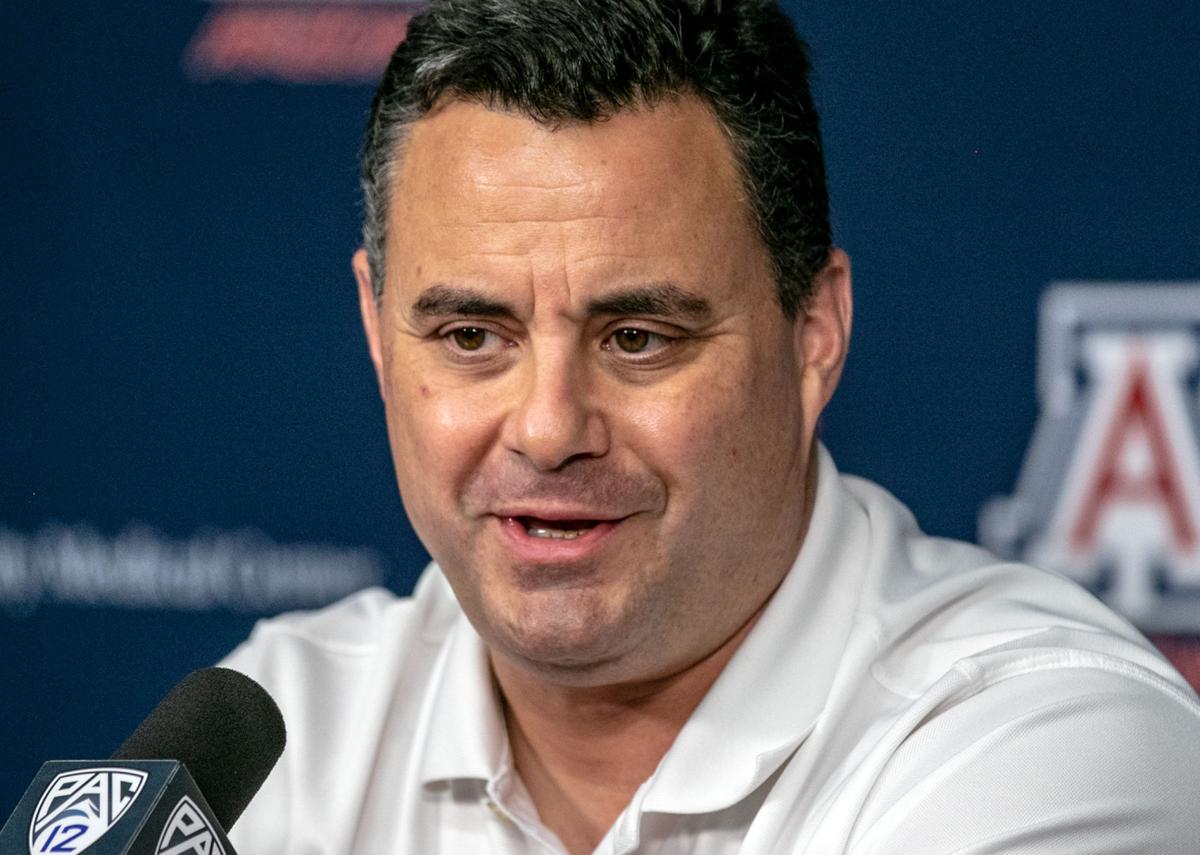 Tuesday was a teaser for the Arizona Wildcats' upcoming basketball season as Sean Miller addressed the media for the first time since the end of the 2019 season. 
The Wildcats lost four players from a season ago, including Brandon Randolph, Justin Coleman, Ryan Luther and Alex Barcello, but welcome a batch of newcomers who will heavily contribute this season. The new guys: five-star guards Nico Mannion and Josh Green, four-star forward Zeke Nnaji, three-star center Christian Koloko and transfers Max Hazzard, Jemarl Baker and Jordan Brown. Cornell transfer Stone Gettings will also be eligible to play this season after joining the team in the spring. 
Hazzard is a graduate transfer from UC-Irvine and will have one season of eligibility, while Brown will sit out, per NCAA transfer rules. Miller said in his press conference on Tuesday that Arizona is working on getting Baker a waiver through the NCAA to make him available for this season, which could help the Cats' depth in the backcourt considering Brandon Williams is out for the year with a lingering congenital knee issue. 
The returning cast for Arizona: Chase Jeter, Ira Lee, Devonaire Doutrive and Dylan Smith. 
Miller previewed the upcoming season on Tuesday, here are a few snippets from his press conference. 
---
'Best environment in college basketball'
---
Blocking outside noise
---
Losing Brandon Williams for the season
---
Josh Green's impact
---
Arizona's most improved player
Sean Miller says Devonaire Doutrive might be Arizona's most improved player entering the season. Miller also talks about Doutrive's "talk to himself" and the sophomore returning to the UA after he nearly transferred. pic.twitter.com/kyJVGMV2Oh

— Justin Spears (@JustinESports) September 24, 2019
---
Christian Koloko better than Miller thought
---
Chase Jeter's track record
---
Said, but not recorded
Sean Miller on Jack Murphy's familiarity with Tucson: "He knows what River Road means. ... He knows to bring water on a hike."

— The Wildcaster (@TheWildcaster) September 24, 2019
Sean Miller is entering his 10th season at Arizona. "It feels like 100 years."

— The Wildcaster (@TheWildcaster) September 24, 2019
Sean Miller confirms that Jemarl Baker and his family are looking into trying to see if he can become eligible this season. He declined further detail but Baker has to win appeal based on his injury history at Kentucky. Could play major combo guard role if eligible.

— Bruce Pascoe (@BrucePascoe) September 24, 2019
Sean Miller says Devonaire Doutrive might be Arizona's most improved player entering the season. Miller also talks about Doutrive's "talk to himself" and the sophomore returning to the UA after he nearly transferred. pic.twitter.com/kyJVGMV2Oh

— Justin Spears (@JustinESports) September 24, 2019
Contact sports content producer Justin Spears at 573-4312 or jspears@tucson.com. On Twitter @justinesports