'We made history today': Arizona Wildcats react to winning WNIT championship
Best video clips from Arizona's celebration after winning the 2019 WNIT championship. 
UA takes down Northwestern to claim WNIT championship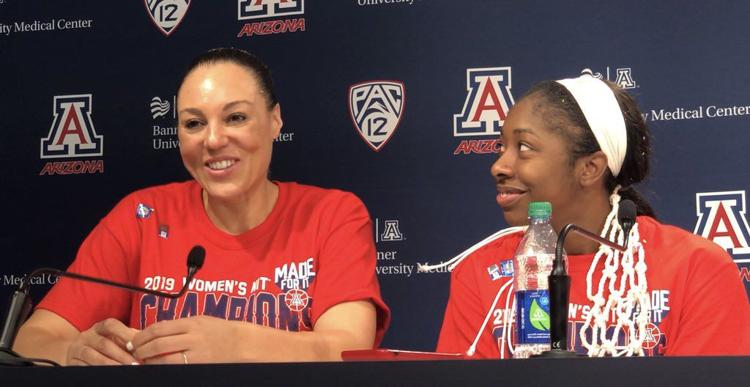 For the first time since 1996, the Arizona women's basketball team cut down the nets after winning the WNIT championship. In front of a sellout crowd of 14,644 at McKale Center — a program and Pac-12 record — the Wildcats cruised by Northwestern 56-42 on Saturday. 
UA sophomore guard Aari McDonald finished the afternoon with 19 points and seven rebounds to be named the tournament MVP and to the all-WNIT team.
Arizona finished 6-24 last season, improving to 24-13 this season after six wins in the WNIT to account for the largest turnaround in program history.
All five starters in McDonald, Cate Reese, Sam Thomas, Tee Tee Starks and Dominique McBryde are set to return to UA next season. Head coach Adia Barnes and her starting lineup spoke during the postgame press conference and sported the WNIT championship t-shirts, here's what they had to say. 
Arizona's 'magical run'
Adia Barnes after winning the WNIT championship in front of a sellout crowd at McKale Center: "It was amazing. It was magical. We made history today." pic.twitter.com/QTBVMjciKU

— The Wildcaster (@TheWildcaster) April 6, 2019
Cats looking forward to summer
Aari McDonald and the Wildcats are eager to return to the gym over the summer and prepare for next season. "We can build something special." pic.twitter.com/EkU61UU86B

— The Wildcaster (@TheWildcaster) April 6, 2019
Arizona's core became leaders this season
Adia Barnes says Arizona's returning cast for next season has matured and become leaders. "Every single one of them has taken a big step towards better leadership." pic.twitter.com/Dgeprwi9FJ

— The Wildcaster (@TheWildcaster) April 6, 2019
Players on Adia Barnes' coaching style
Tee Tee Starks, Aari McDonald and Cate Reese on what makes Adia Barnes a special coach: pic.twitter.com/GQav4Bodek

— The Wildcaster (@TheWildcaster) April 6, 2019
Using the sold out McKale Center as a recruiting tool
Adia Barnes says today's sellout crowd at McKale Center builds momentum for recruiting. "How many places in the country for women's basketball have 15,000 fans? ... This helps. Recruits are watching." pic.twitter.com/2yNZf3qsEK

— The Wildcaster (@TheWildcaster) April 6, 2019