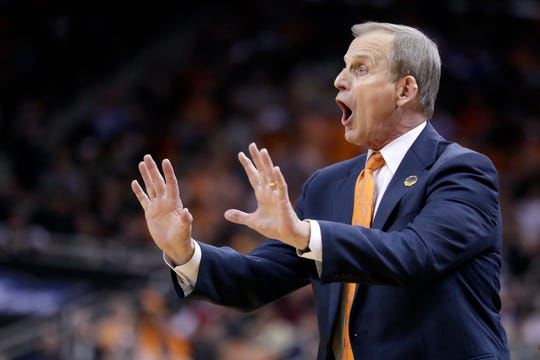 CARTERSVILLE, Ga. — Rick Barnes is 64 years old. He has been a Division I men's basketball head coach for more than three decades.The Tennessee coach has pretty much seen it all when it comes to the college game.
Now that his sport is once again the subject of national headlines and news reports for all the wrong reasons, Barnes wants it known that not all college basketball coaches cheat.
"I think it affects all of us when something like that becomes a federal case," Barnes said at last month's Nike EYBL stop outside Atlanta, referring to the federal bribery case that resulted in aspiring agent Christian Dawkins and Adidas runner Merl Code being convicted on three total felony counts of bribery and conspiracy to commit bribery. "I think it affects all of us. The fact is there's a lot more good than bad, and the fact is not everybody does what everybody thinks that everybody does. That's the part that you don't like.
"There's a lot of guys that have been in this sport a long time … that have always tried to abide by the rules and do things the right way. Nobody's perfect, but they're not trying to circumvent the rules, they're not trying to buy players, they're not trying to do that."
The NCAA is investigating Arizona and other prominent programs named in the federal claim and ensuing two trials. Former UA assistant Book Richardson has pleaded guilty to one federal funds bribery charge; he is expected to be sentenced on Thursday.
Miller has not been charged with a crime. He has declared his innocence for more than a year now, ever since ESPN reported there was an audiotape in which Miller reportedly discussed a $100,000 payment for Ayton. Through two trials dating to last fall, that audiotape has still not surfaced.
Other head coaches were mentioned in the trials, too.
Richardson said LSU coach Will Wade told him he paid to land recruit Naz Reid. Richardson said on a recording that Wade told him, "Look, there's a deal in place, I got $300,000 for (Reid)." Richardson said on tape that he told Wade, "give me half that and I'll make sure he goes there."
Reid declared for the NBA draft after one season. He told reporters at the draft's combine earlier last week that the payment "didn't happen."
Still, Wade was recruiting at last month's Nike event. Clemson coach Brad Brownell was, too — even after one of his assistants, Steve Smith, was the subject of a video shown to jurors during this spring's trial. Smith bragged on the recording about his relationship with recruit Zion Williamson, and talked with Dawkins about what it might take to get Williamson to choose Clemson. Smith was recorded talking about visiting Williamson's house with Brownell and having to pretend like he had never been there before.
When a reporter approached Brownell for comment on Smith, he said, "No, no," and briskly walked away. Clemson later announced that Smith would not return.
Otherwise, it was mostly business as usual at the Nike event.
"You wouldn't know anything's going on," Barnes said. "Everybody keeps going. It'll just be interesting what happens when the NCAA is allowed to get what I guess the FBI has right now. When they get access we'll see what happens and I like to think that what needs to be done will be done."
Those schools include Louisville, Kansas and N.C. State, all all of which were mentioned in the first trial. Arizona was mentioned at length in the second trial. LSU was referenced in both trials.
"We still don't have all the information that we would like to have from those trials. … (Information) is not automatically given to us," Emmert said at last month's Final Four. "They should provide that information so we can get to the facts, since there's so much interest, not just on our part but across the country and knowing what really transpired."
South Carolina coach Frank Martin said his sport needs to get its house in order. Martin is familiar with the federal trials: Onetime South Carolina assistant Lamont Evans was mentioned prominently during the trial. Asked about an alleged $2,500 bribe made on behalf of an NBA agent to Evans, Dawkins told the jury that the money instead was meant to cover the expenses of the family of basketball player P.J. Dozier. Evans left South Carolina for Oklahoma State in 2016. Dozier turned pro a year later, after South Carolina made the Final Four.
Barnes has been linked to some impropriety, too. A 2015 report in the Chronicle of Higher Education alleged that some of Barnes' players at Texas, where he coached from 1998-2015, received improper academic assistance. At the time, Texas officials told Sports Illustrated that they had no information to suggest Barnes was directly involved. Tennessee self-reported a Level III NCAA violation in 2017 after Barnes paid an assistant coach extra money out of his own pocket. He told the USA Today network it was important that the assistant, Des Oliver, made as much as another aide.
Asked if things were any different in college basketball now, Martin said he wasn't sure.
"That's only different for the people that are guilty in any way, shape or form," he said. "And I'm not judge, jury, I'm not the prosecutor, I'm not the investigator. I go home and I sleep pretty good at night. Where it only changes is for the people that have partaken in the ugly side of the business. That happens in every walk of life.
"I got into this business because the majority of coaches that I met as a young high school coach are hard-working, ethical people that want to help young folks. That's why I got into this business. In my heart, I know that there's more of those than the other.
"Every business in every walk of life gets audited. We're getting audited right now, so we gotta fix the problems."
Be the first to know
Get local news delivered to your inbox!