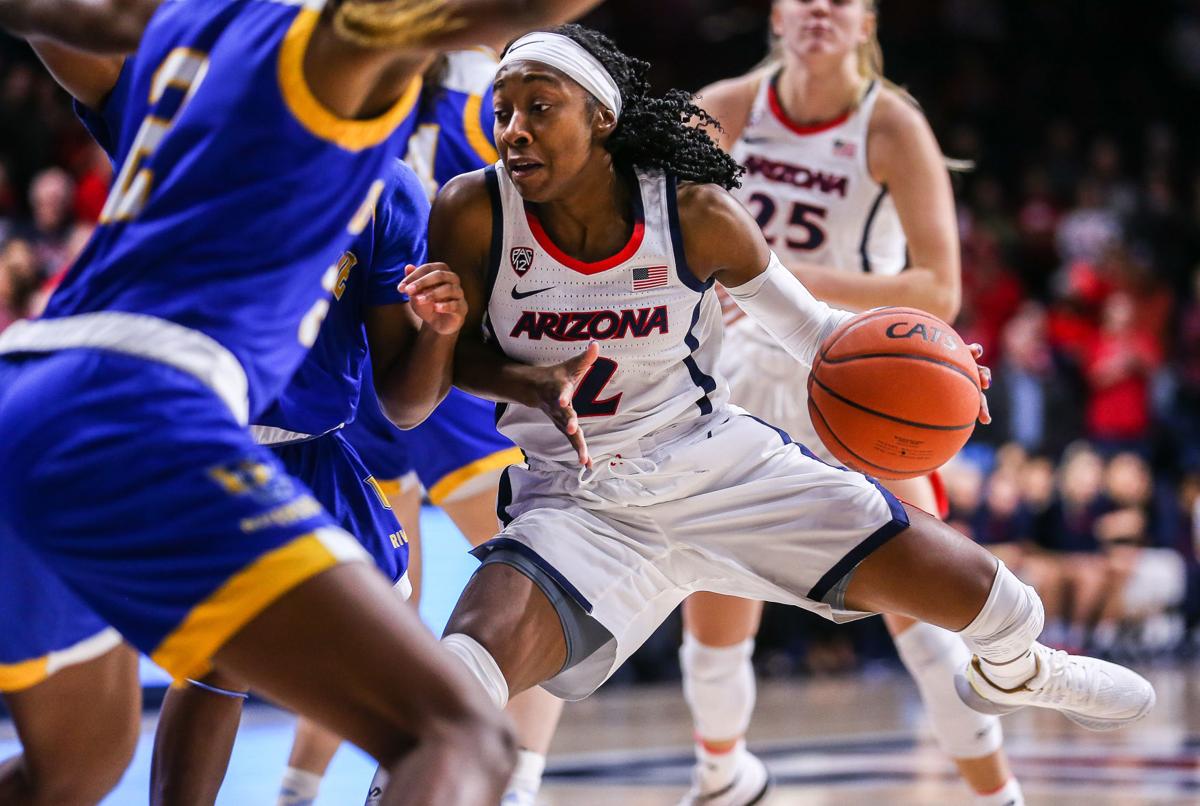 The Arizona Wildcats' perfect season is no more.
On Sunday, Arizona — boasting an undefeated record and No. 18 national ranking — ran into 10th-ranked UCLA. An ugly third quarter allowed UCLA to take the lead, and the Bruins held on to win 70-58.
Arizona (13-1, 2-1) is back home for the first time in nearly three weeks, and the opponents couldn't be bigger. The Wildcats will host No. 3 Oregon State (14-0, 2-0) Friday night and No. 2 Oregon (12-1, 2-0) on Sunday afternoon. This weekend marks the first time in program history that the UA has played two Top 5 teams in the same weekend.
Here's what we learned about Arizona during its 13-0 start, and how it might help the Wildcats against two of the best teams in the country.
1. Dominique McBryde is key to Arizona's success, and her injury has been a big blow. For the last six games, the Wildcats have been without senior Dominique McBryde, one of their key players. The senior forward suffered an ankle injury Dec. 2 against Monmouth and has yet to return.
Without McBryde, the Wildcats have struggled to find their rhythm offensively.
"She's a great post passer and our offense flows very different with her," coach Adia Barnes said.
McBryde's game isn't flashy, but it's effective. She often guards the best post players in the Pac-12, like Oregon star Ruthy Hebard. Offensively, McBryde can score on a layup, an inside jumper or from beyond the arc.
UA guard Aari McDonald said McBryde does "a lot of great things that don't show up on the stat sheet," and that she's been missed during the injury. McBryde has been coaching the Wildcats' post players from the bench while she recovers.
"And, just her spacing — when I drive, Dominique knows exactly where to do ... to be in good position to get a good shot. I really miss her talk and really miss her defense, as well," McDonald said.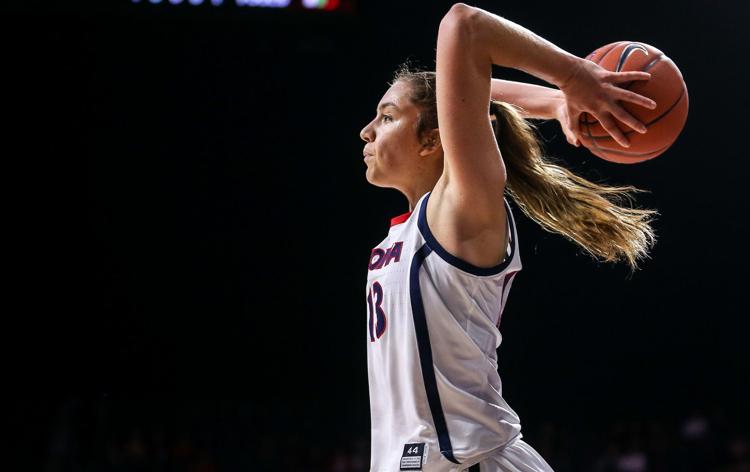 2. The Wildcats keep finding ways to win. McDonald doesn't need to dominate anymore for the Wildcats to prevail in games. McDonald fouled out of her first collegiate game against Arizona State in the teams' Pac-12 opener, and the Wildcats managed to close the game out in the final two minutes. Sam Thomas coolly stepped to the line and knocked down 4 of 6 free throws.
It's not just Thomas: Cate Reese has chipped in with six double-doubles this season, the last coming a week ago, when she scored 17 points and grabbed 11 rebounds against USC. Reese is the only Pac-12 player to win the Player of the Week honors twice this season.
Semaj Smith has stepped up with McBryde out. Against USC, Reese and Smith combined to collect 23 of 35 of the Wildcats' rebounds. Smith has also improved on the glass: She has 77 rebounds so far this season after grabbing 104 all last season.
Freshman Helena Pueyo has come off the bench, and she averages 7.7 points per game.
"Everybody stepped up in different ways. That's what a team does," Barnes said after beating ASU. "We're a better team. We don't rely so much just on Aari having to do everything."
3. And McDonald keeps getting better. Arizona's star guard set a single-game UA scoring record in nonconference play, putting up 44 points in a 83-58 win against Texas and earning ESPNW's Player of the Week. She went 14 of 18 from the field and made all 14 of her free throws.
And yet McDonald's big performance might not be her most impressive moment of the season.
Her communication and leadership have grown, and her teammates have played better as a group as a result. McDonald is also reading and reacting better than ever.
"I spent a lot of time watching film like, 'OK, well if they do this, you need to know exactly what to do after that' — just making sure I have countermoves," McDonald said. "For example, against USC (last week), I kept going baseline and they kept trying to take charges on me, so I had to avoid that."
It worked against USC, as McDonald scored 24 points in Arizona's 65-57 win.
Rim shots
McDonald has been named to the midseason watchlist for the Wooden Award. She is averaging 20.1 points per game, 15th in the nation, and is shooting 48% from the field. She has scored in double figures in 51 straight games; it's the second-longest active streak in the country, trailing Texas A&M's
Chennedy Carter's 54.
Arizona still leads the country in scoring defense, allowing an average of 47.1 points per game. The Wildcats rank third nationally in field-goal-percentage defense; they're holding their opponents to 31% from the field.
As part of The Athletic's women's college basketball midseason roundtable, reporter Danielle Lerner
gave Barnes the nod for national coach of the year. "Barnes led the Wildcats to the WNIT title last season, and now amid a program-best start, Arizona looks primed for an NCAA Tournament run," she said. "