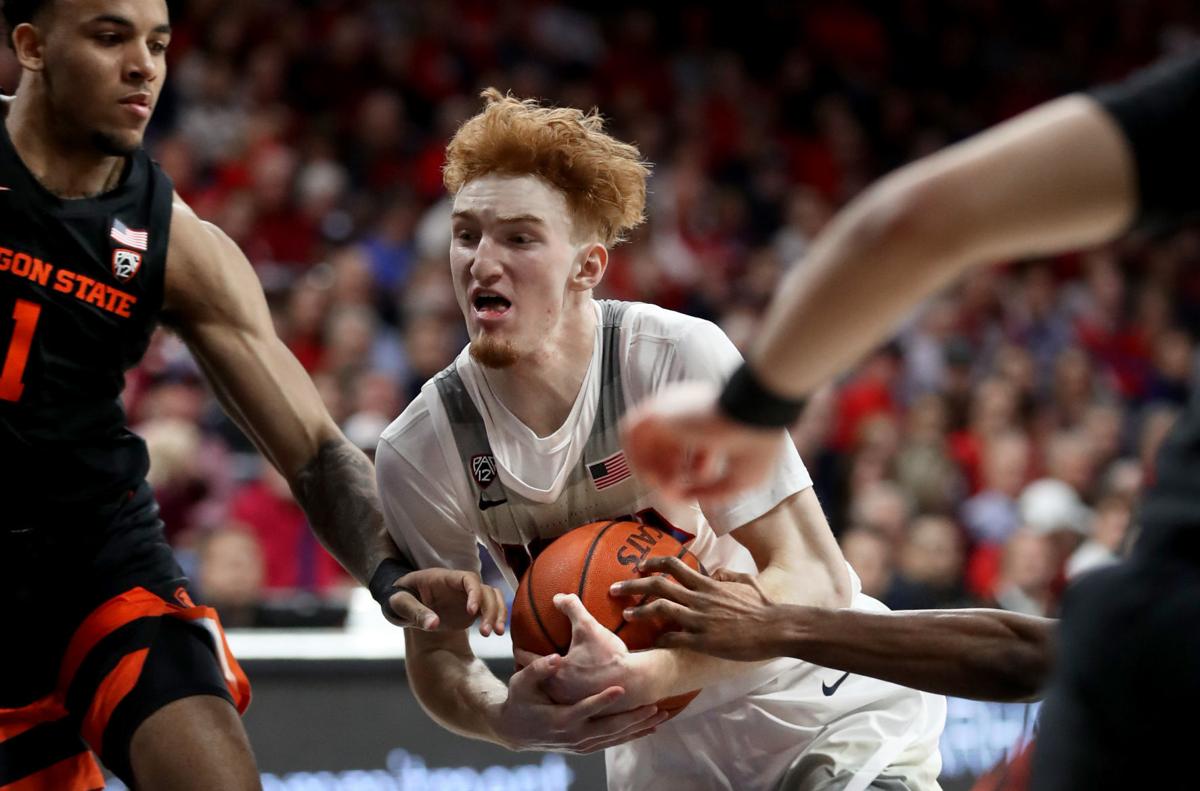 Throughout Arizona's bumpy 2019-20 season, skeptical fans' questions followed the Wildcats' three standout freshmen everywhere.
They usually went something like this:
"Why would Nico Mannion leave for the NBA Draft? His shooting and decision-making are inconsistent, and he isn't strong enough to get to the basket."
"Why would Josh Green leave? He can't shoot."
"Why would Zeke Nnaji leave? He's a 'tweener, too small to play center and not skilled enough to play power forward."
The underlying theme, for all of them, was something like this: "They should stay at Arizona to get better."
They could get better at Arizona, sure, and the Wildcats might be a Final Four contender next season with them.
But all three have considerable reasons to leave for the NBA Draft right now. Not surprisingly, multiple people in and around the NBA told the Star they expect all three to leave barring any major changes to either professional basketball or their decision-making brought on by the coronavirus. UA coach Sean Miller said in January that Arizona was "gonna lose Nico" after one year, and a tweet from CBSSports.com's Jon Rothstein Saturday cited unnamed sources saying Nnaji would join him.
1. They all have NBA goods
More than anything, ESPN analyst Mike Schmitz said during a UA-USC broadcast last month, the NBA is looking for guys with an "elite skill that you can hang your hat on" — something you have or can do better than your peers.
Mannion, Green and Nnaji all check that box.
Mannion has elite-level athleticism and the ability to change speeds and the passing and court IQ that suggest a high ceiling as an NBA point guard, even though he didn't always show it last season.
Mannion averaged 14 points and 5.3 assists per game and had a 2.1-1 assist-turnover ratio while shooting 39.2% overall. He showed in several games the ability to shoot from all levels, in all styles, especially in an 11-for-14 shooting performance against Penn on Nov. 29.
Schmitz and ESPN draft analyst Jonathan Givony could not be reached for comment last week, but Schmitz recently posted video highlights showing why NBA scouts like Mannion.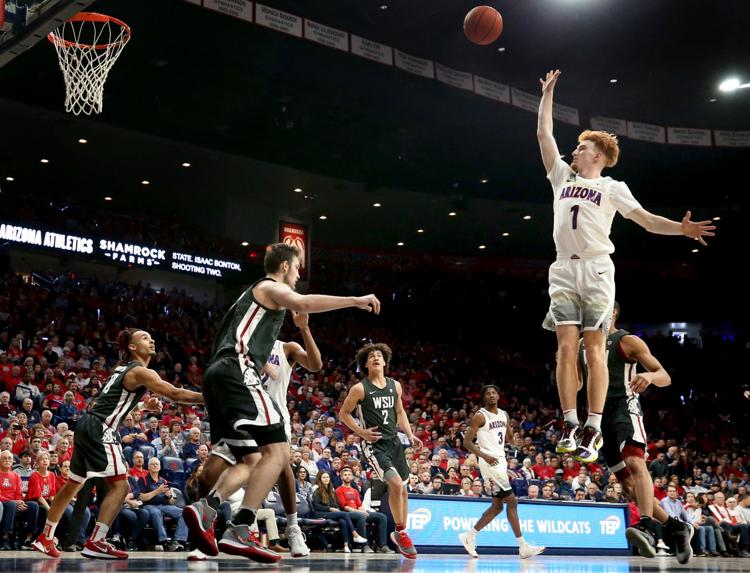 "Mannion's ability to pass off a live dribble allows him to pick defenses apart in space," Schmitz wrote on Twitter. "Fits the ball into tight windows and threads the needle accurately. Off- the-dribble passing makes him dangerous when combined with his pull-up, change of pace.
"Once his pull-up starts falling consistently, Nico Mannion will be a tough cover in space as he can play off of the threat of his jumper with his natural change of pace."
At USC last month, Schmitz told the Star that NBA scouts aren't just drawing on Mannion's Arizona performances either, having seen him play well for the Italian national team and in the Hoop Summit, when he outplayed Cole Anthony.
"They have a familiarity with him," Schmitz said. "Of course, he's going to need to play better to (keep his draft stock high). He's got to make more shots, he's got to defend more. Hopefully he can do those things."
With Green, stat lines don't tell the whole story. The Australian-born wing averaged 12 points per game while shooting 42.1% overall and just 36.1% from 3-point range for the Wildcats, though he grew more selective and accurate from long range as the season went on.
But where Green shines is in the measurables: He's extremely athletic at 6-foot-6 and possesses a 6-10 wingspan. As an old scouting maxim goes, those are things you can't teach, so you take them and try to develop the rest.
"It's hard to find guys like Josh Green," Schmitz said.
Lower rated than Green or Mannion out of high school, Nnaji blew up quickly on NBA radars with a wildly efficient November in which he shot 77% over his first eight games. The Athletic's Sam Vecenie was the first national analyst to mention Nnaji as a potential first-rounder.
Now Vecenie pegs Nnaji at No. 29, despite being an undersized center with questions about whether he can develop enough perimeter skills to play power forward.
"He's a fluid athlete who can move his feet really well, and he's stronger than his slender frame looks," Vecenie wrote last week.
"His body control is also terrific, and that bears itself out around the basket. He's an elite finisher and has terrific touch.
"That touch also extends out into range, where most teams believe Nnaji has real potential, even if he didn't showcase it much this season."
2. There's a lot of money on the table
In part because the 2020 NBA Draft is not expected to be strong, all three UA freshmen are consensus first-round picks. That means guaranteed two-year deals with first-year salaries ranging between $1.7 and $8.6 million; most teams also add the maximum 20% extra on top of those figures, too.
A player taken with the last pick of the first round, No. 30, would make a life-changing $3.5 million guaranteed over two years no matter what happens next.
If any of the freshmen come back to Arizona next season and don't notably improve their games, they could slip on the draft boards and be making less as a rookie in 2021-22. They would have also given up a year's salary and fallen further behind on their "clock" — the years a player needs to put in before being eligible to sign a free-agent deal that can be worth considerably more if he has been productive.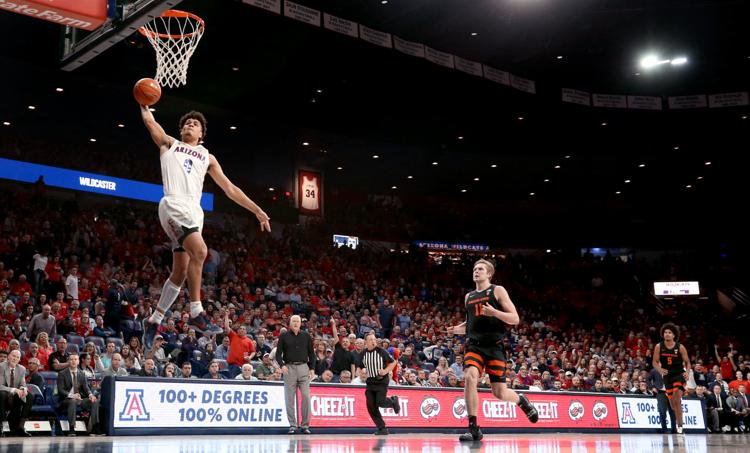 Even if Mannion, Green or Nnaji return to the UA, they still might slip or remain stagnant because the 2021 NBA draft could be stronger — and/or the players could be viewed as having less of a ceiling because they are a year older and more known.
"It's not about how good you are. It's about where you're gonna get drafted," says Jerry Meyer, a 247Sports.com national analyst. "That's how most players look at it. If you have a chance to make a million dollars, you tend to want to do that."
While there's no guarantee that players projected to go in the first round actually will — former UA standout Chase Budinger made a surprising slide all the way to No. 44 overall in 2009 — those taken in the early and middle portions of the second round cash in, too. They often get guaranteed six-figure contracts; UA's Nick Johnson got $2.3 million over three years when the Rockets drafted him 42nd overall in 2014.
In addition, second-rounders and top undrafted picks are often now offered two-way contracts between the NBA and G League that guarantee them at least $77,000 per year.
3. They can keep developing elsewhere
Long gone are the days when players had to choose between continuing to develop full-time in college or risk sitting on a bench somewhere in the NBA as rookies.
More and more, ever-ballooning NBA staffs have developmental coaches and analysts to work with younger players on the side. Teams also have G League affiliates to send players to for live game experience when needed.
If players don't want to sign or can't get an NBA or two-way contract, they can choose from ever-expanding international options. Australia, China and Turkey have all gained popularity with players in addition to traditional top leagues in Spain and Italy.

Those professional teams don't have NCAA-style restrictions on how much players can be coached and, in Arizona's case, also don't have the possibility of sanctions coming down because of the ongoing investigation into the program.
"Fans kind of work with the assumption that a player is going to improve more if he stays in college, whereas I think a lot of players are thinking, 'I'm gonna improve more if I play in the G League and get training from professional coaches,'" Meyer said. "Or, 'Even if I'm not ready to start in the NBA, I'm going to develop more by being on an NBA team.'
"I'm not making the argument of which side is right or wrong. But I think there's always that kind of disconnect, where the fans make one assumption and the players are working with another assumption."
Be the first to know
Get local news delivered to your inbox!